Could Donald Trump Beat DeSantis, Pence, Haley in 2024? What the Polls Show
Former President Donald Trump has emerged as a top contender for the 2024 Republican nomination for president, although he hasn't made any commitment—official or otherwise—to mounting another bid for office.
Trump's consistently hinted that he'll run for office in 2024, noting that a doctor advising against another campaign would be the only thing to prevent him from seeking office. Despite being voted out of office and kicked off social media, Trump commands a strong hold over the GOP so it's likely that if Trump runs, he'll face little to no opposition from other 2024 hopefuls.
A September Harvard CAPS-Harris poll found 58 percent of GOP voters would cast their ballot for Trump. Trump also led in a July Hill-Harris poll, Echelon Insight poll and two straw polls conducted at the Conservative Political Action Conference (CPAC).
There's no clear second place in the race for the GOP presidential nomination and polls indicate there could be a fierce fight to represent Republicans in the 2024 presidential election if Trump does not run.
The Harvard poll found former Vice President Mike Pence was a second favorite with 13 percent support. Florida Governor Ron DeSantis came in third, at 9 percent; and Nikki Haley, Trump's former ambassador to the United Nations, ranked third with 3 percent.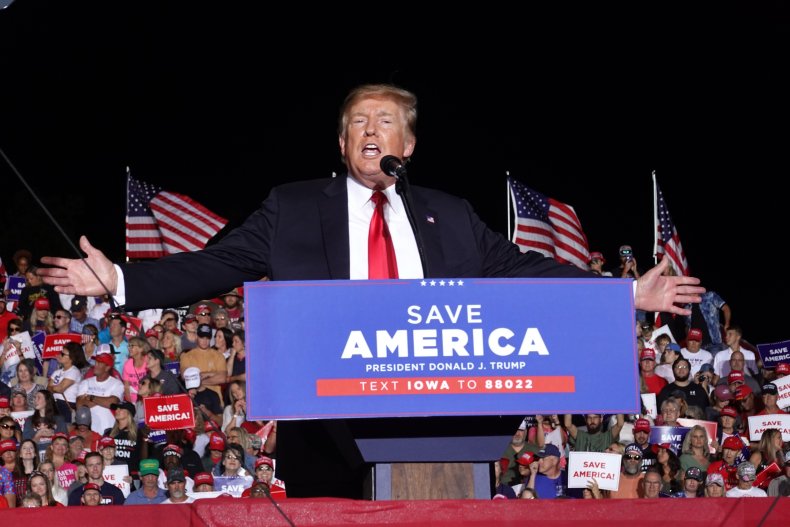 A majority of those surveyed in the Echelon Insight poll would "definitely" or "probably" vote for Trump in the Republican primary and the poll didn't ask voters to choose between Trump and other potential presidential hopefuls. However, if he were not to run, 22 percent of those surveyed, a plurality, picked DeSantis as their top candidate. Pence received 15 percent support, the second most of any candidate and Haley received 6 percent, falling behind the former president's son, Donald Trump Jr., and Senator Ted Cruz.
DeSantis was also the second favorite, behind Trump, of those surveyed in two CPAC straw polls—one taken in February and another in July. Pence received 1 percent support initially but dropped to zero percent in July, the same poll that showed Haley had only 1 percent support.
Pence, who served for four years as Trump's vice president, found himself on the receiving end of the former president's supporters' ire after the Capitol riot. Trump had been urging Pence to send the results of the election back to the states in the hope of securing another term for himself, an interference Pence rejected was his duty to carry out.
Trump blamed his vice president for the "socialist" takeover of the United States, repeatedly targeting him in statements. However, months after being booed at an event, Pence's appeal with voters seemed to grow.
A July Hill-Harris poll found 28 percent of those surveyed would consider voting for Pence. Trump received double the support, at 56 percent, and DeSantis came in third with 19 percent support. Haley received 15 percent.
DeSantis, who Trump said he would beat in a 2024 matchup, told Fox News' Sean Hannity he's running for re-election in 2022. While he didn't explicitly rule out a 2024 presidential run, he said he's "not considering doing anything but my job."
Haley hasn't said whether she'll run in 2024 but told The Wall Street Journal that if she decides to run, she would meet with Trump before announcing.
"I would talk to him and see what his plans are," Haley told the Journal. "I would tell him about my plans. We would work on it together."
Update - 10/11/21 - 4:45 PM ET - The headline on this story was updated to reflect that the story is focused on results from various polls.