An explosion today outside Kabul's airport inflamed the desperation of the thousands of Afghan allies anxiously awaiting evacuation, adding pressure to the United States and its NATO allies as they work around the clock to get as many people out of the country as possible by the August 31 deadline.
Intelligence reports indicate the explosion may have been carried out by a wing of the Islamic State known as ISIS Khorasan, or ISIS-K, with a British Armed Forces Minister telling BBC radio that the intelligence is now "much firmer."
The Taliban moved quickly to deny responsibility for the explosions, a move that came as no surprise to a U.S. official in the region.
"[The Taliban] do not conduct suicide bombings," the U.S. official told Newsweek, "and are attempting to rebrand their image, so they'll distance themselves from the bombings."
ISIS-K first made its presence known in 2015 when former leader Hafiz Saeed Khan, an ex-Taliban member, declared the group's presence in the Khorasan Province, a historical area encompassing parts of Iran, Afghanistan, Tajikistan, Turkmenistan and Uzbekistan. Since then, it has been the largest group claiming ISIS affiliation in the nation of Afghanistan.
While the Taliban has harbored the terror group al-Qaeda in the past, it's relationship with ISIS-K is entirely different. And if ISIS-K continues to assert its presence in the region, this tumultuous relationship could spell doom for a future Taliban government.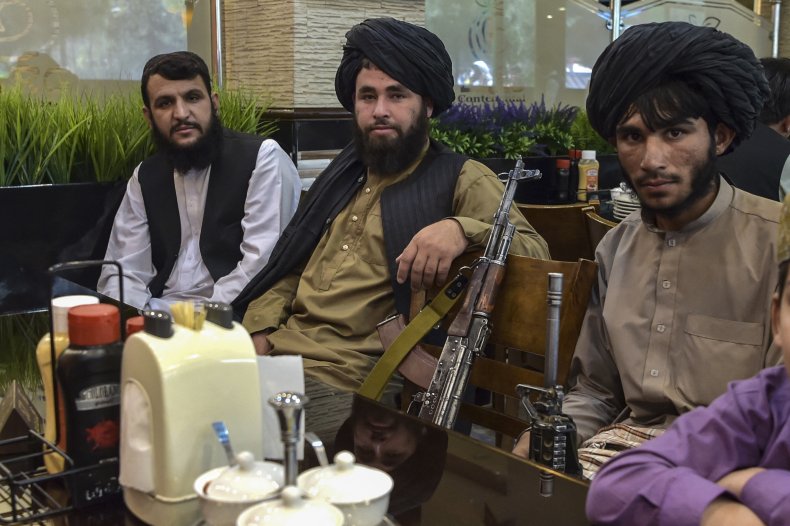 "Basically, the Taliban has consistently considered ISIS as an enemy," Anthony H. Cordesman, an expert on military strategy and the Arleigh A. Burke Chair in Strategy at the Center for Strategic and International Studies, told Newsweek. "It is seen as a non-Afghan group, in terms of loyalty, by the Taliban, [one] that does not confirm to their concept of Sharia."
Cordesman said ISIS-K interprets Sharia, a system of laws derived from the holy Quran, as being a religious justification for a Caliphate. Under a Caliphate, a person considered a politico-religious successor to the Prophet Muhammad would lead the entire Muslim world. Cordesman said this runs contrary to the power structure of the Taliban, which seeks to exert influence over Afghan customs and social practices.
With the Taliban willed by its desire to exercise its interpretation of Sharia over the country, this division leads to stark, fundamental differences between the two groups, differences that could result in violent conflict.
"People of the same faith can be even more violent when dealing with sects of the same faith," Cordesman told Newsweek. "These are much more power struggles than they are religious debates."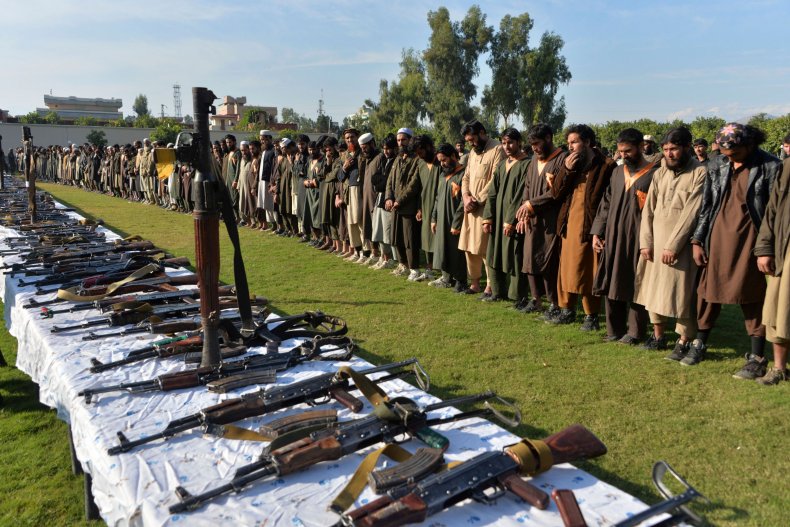 For many rural Afghans, the Taliban's interpretation of Sharia reflects normal social practices. However, with certain regions differing in their views and interpretations of particular aspects of these practices, the group finds its ideology geographically splintered.
While a U.S. military official told Newsweek that the Taliban "quote about not supporting suicide bombers," the group's fractured nature could implicate the larger body if a specific member or faction were to support or carry out an extremist attack.
As seen with former Taliban member Hafiz Saeed Khan, who recruited a number of Taliban defectors, the group is not impervious to outside influence, and is vulnerable to being broken apart in a manner that strengthens ISIS-K. While the Taliban may have no interest in carrying out suicide bomber attacks, ISIS-K has made no such declarations. Were the group to use its Taliban links to implicate Afghanistan's new controlling faction, international backlash could rain down on a future Taliban government.
"One of the problems you have here, and it's inherent in the word terrorist, is that one or two people can sort of alter the entire structure and how people feel and how secure they are," Cordesman told Newsweek. "Almost anything now can be used by ISIS to try to break up the Taliban's ability to appear or be somewhat moderate, affecting its relations with the US and outside powers."