How Tall Is Matt James? Height, Job and More About 'The Bachelor'
Matt James has only just begun his reign as the Bachelor on Season 25 of the reality dating show, but that has not stopped viewers everywhere from obsessing over the man's appearance and personality. Twitter users can't stop talking about James. And as week two starts on Monday night, many more questions about his life outside of reality TV are likely to come up.
James, the first Black Bachelor in the franchise history, is a 29-year-old commercial real estate professional who works for CBRE, or Coldwell Banker Richard Ellis. His birthday is December 5 and height-wise, James is around 6 feet, 5 inches tall, multiple reports claim.
Twitter users have not stopped commenting on James' looks—as well as the events from the dramatic first night of his season. While James was just looking to get to know the 30 plus women who came to meet him, Bachelor Nation was focused on a few individuals. Most importantly, conversations turned to Victoria, a woman who showed up in a crown and immediately put a bad taste in viewers' mouths.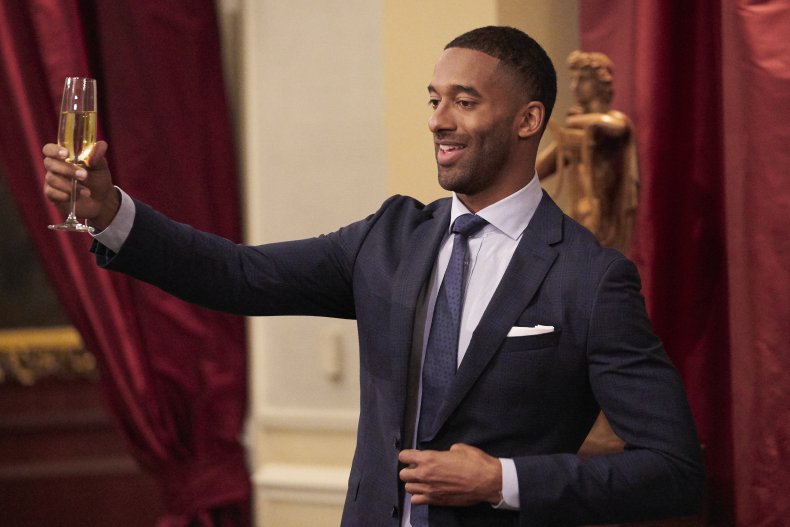 Even a former Bachelor and Bachelor in Paradise favorite, Kristian Schulman, commented on James' good looks. "Just a fewwwww days late to #TheBachelor," she tweeted, "but I am here and ready. Matt James, you are a tall drink of water. Handsome and well spoken, ladies & gents, that's our Bachelor."
So far, James has received mostly compliments from viewers. This isn't unusual at the start of each season, though some Bachelors past welcomed immediate criticism. Peter Weber, who served as the 2020 Bachelor, wasn't necessarily well-received from the start. By the end of his season, Weber had infuriated most of Bachelor Nation by getting engaged to Hannah Ann Sluss, breaking up with her and then dating Madison Prewett publicly for a total of three days and eventually reuniting with a third woman from his season: Kelley Flanagan.
Hopefully, James doesn't take a page from that book, no matter how entertaining it may be to watch on screen. Fans have singled out one front-runner already. Abigail, who received James' first impression rose last week, is deaf and opened up about having a disability right away. Viewers immediately flocked to support Abigail, regardless of if she ends up with James in the end.
Another former Bachelor contestant, Danielle Maltby, already asked for Abigail to be the next Bachelorette, should James pass on a relationship with her. She was supported by others.
The Bachelor will premiere 8 p.m. Monday on ABC.