How Teachers Can Lead Us Out of Our Worst Cultural Excesses | Opinion
As long as there have been teachers, there has been the hope that there would one day be an election in which American voters ranked "education" as their top priority. Last Tuesday night in the Virginia governor's race, we educators finally got what we had long been hoping for. Theories abound about why education rose meteorically in importance—parental backlash to CRT, or parents' deep frustration with school districts keeping their children at home for over a year, or parents listening to school lessons on Zoom that many found objectionable or wholly unnecessary. There were also the heavy handed mask mandates and new vaccine requirements for young children.
But add up these grievances and frustrations with American education and it reveals a far graver concern: American parents have a general but palpable sense they have lost the ability to shape and mold the lives of their own children. And they are angry about it.
Everywhere they look, parents find themselves fighting an uphill battle against a culture making it harder to raise normal, decent, well-adjusted human beings. Washington is awash in cynicism and increasingly populated by provocateurs instead of high-minded legislators. Hollywood monetizes violence, vulgarity, and the cult of celebrity. Silicon Valley supplies meaningless endorphins by the trillions as students spend thousands of hours a year consuming unfiltered content on their devices, all while becoming more miserable, socially isolated, and in some cases, even developing mysterious ticks.
School was supposed to be a break from all that, a sanctuary from the damaging influences and voices that corrupt young minds and veer children off a path of promise. It's supposed to be a place where young Americans are habituated to empowering behaviors that lead to success. Sadly, what American parents are realizing is that schools are now more likely to reflect the excesses of America's permissive culture than serve as a corrective to them.
Thus, in September, schools across the country were battling a new TikTok "challenge" called the "devious lick," in which students attempt to steal property from their schools and teachers; bathrooms in schools across the country were vandalized en masse, in some cases entire sinks were torn off walls and soap dispensers crushed on the ground. And while administrators were still scrambling to figure out how to keep bathrooms open, an October TikTok challenge emerged called "smack a staff member."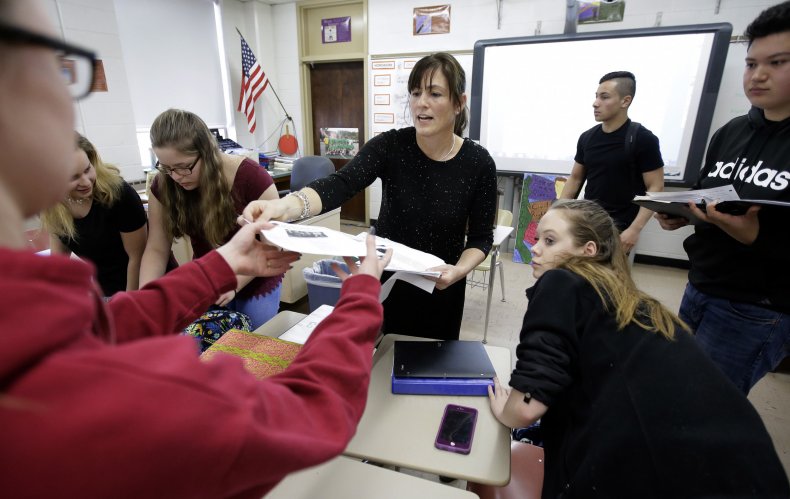 This isn't a farce or joke or even a tragio-comedy. Schools have become juvenocracies in which dysfunction is broadly tolerated under the chic banner of empathy and understanding. We can rhapsodize all day about what American schools are supposed to do until we run out of superlatives, but the brutal truth is something that would have been obvious to Americans living fifty years ago: Schools need to play a large role in producing better human beings. And they are just not doing so.
Amidst the vandalism and endless spigot of foul language, standing in front of students who brazenly take out their phones and start playing video games in the middle of class, walking amongst the trash that is left strewn in stairwells after lunch, phoning security to accompany 17-year-olds to the bathroom because they can't be trusted, is the American teacher who knows deep down they have lost the basic quest for decency on school campuses.
Within the classroom, we have become softies, asking little, tolerating everything, knowing we are expected to take late work, knowing that open book tests are increasingly the norm, group projects are all the rage, and asking students to engage in sustained reading of texts or master large quantities of information is something a post-COVID student probably lacks the acumen to do.
And yet, there are more teachers in America today than people who work at Walmart, McDonald's and the Postal Service combined; American teachers could make a tremendous difference changing the direction and tenor of our culture by doing the little things to produce better human beings.
But how?
Let's start small and stay small. This can be the magical bridge, the elusive elixir, that everyday parents have been asking for—a partnership in which school districts pivot away from some of the trendy and chic reforms of the past few years and towards an alliance with parents who are genuinely frustrated with their own children's behavior.
What should be the common goal?
The English philosopher Thomas Hobbes coined the phrase "small morals" to describe the behavioral norms people should follow when engaging with one another, especially in public. Good manners, respectful behavior, and mindful speech were all expected to be imbued from one generation to the next. These are the types of behaviors a society usually takes for granted—labeling them "Victorian" or "bourgeoise"—until they have all but vanished.
Taking the classroom seriously means asking our students to act like serious people, not to be coddled, and to do what would have been rudimentary just a generation ago.
It's the little things almost every parent would appreciate. Pick up after yourself. Look adults in the eye when you are talking to them. Don't expect all school work to be easy or fun or infinitely negotiable. Learn how to take notes. Learn how to study. Know the difference between appropriate and inappropriate language on campus. Be respectful of your physical surroundings. Take pride in your campus. Be appreciative of everyone who makes a school function, and not just your teachers—the custodians, the secretaries, and bus drivers.
These are not heroic acts. They are not towering ancient virtues. They are, in fact, small by design. But if schools can get the small things right, then maybe, just maybe, the changes we evoke in our society can be large.
Jeremy S. Adams is the author of the recently released book "HOLLOWED OUT: A Warning About America's Next Generation." He has taught high school and college civics for 24 years in Bakersfield, California.
The views in this article are the writer's own.