How to Tell if an N95, KN95 Mask Is Real, Not Counterfeit
The Omicron variant of the coronavirus pushed the ongoing pandemic into another stage, resulting in more demand for protective face masks. The Centers for Disease Control and Prevention (CDC) announced Wednesday that it will soon update its mask guidance to "best reflect the multiple options available to people and the different levels of protection they provide."
Until then, consumers are left to discern for themselves what are the best possible choices among the myriad of masks sold online and in stores. Health officials have advised that cloth masks are much less effective than N95, KN95 and KF94 respirator masks, but experts have also warned that many masks under those labels are counterfeit.
A fake mask is not only a waste of money, but it could also put the unknowing wearer at risk by causing them to believe they are receiving more protection than they actually are. But a few tips can help you avoid picking up a counterfeit.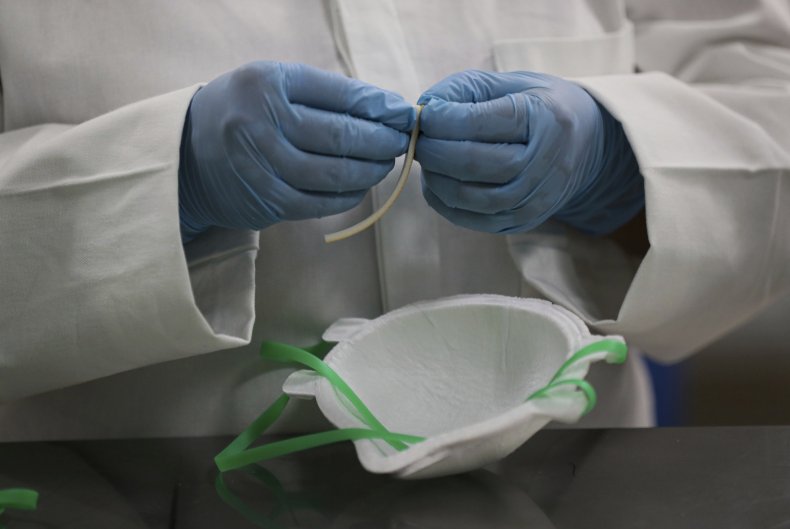 One of the best places to start looking for verified masks is by looking for reputable manufacturers at trusted retailers. When researching the masks, either at a store or online, check that it has passed government tests or independent lab tests.
After a mask is selected, buyers can always check if it is on the CDC list of counterfeit respirators or the agency's list of non-approved equipment. These lists contain photos to help identify fakes, as well as provide tips on how to avoid purchasing a non-authorized face covering.
Another thing to consider is that buying N95s is almost certainly your safest option. These masks pass tests administered by the National Institute for Occupational Safety and Health (NIOSH) and must show 95 percent filtration efficiency.
"Respirators approved by NIOSH are evaluated by NIOSH against a specific U.S. standard that includes a quality requirement," according to the CDC. "International standards do not often have quality requirements."
Even still, there are plenty of fake N95s. In 2020, federal agencies reported seizing 21.2 million counterfeit N95s. It's always best to identify a NIOSH-approved respirator mask by checking for a NIOSH label on the package.
The CDC recommends to also check for a NIOSH TC approval number—the format appears a "TC-XXX-XXXX"—on the face-piece respirator or headband. Another telltale sign of a fake is if NIOSH is spelled wrong on the label.
KN95s do not meet the same standards at N95s. These masks are not regulated by a U.S. agency but instead claim to meet Chinese standards. Similarly, KF94s are supposed to pass South Korean standards.
If a KN95 of KF94 mask claims to be approved by the CDC, it's counterfeit.
"This statement is misleading because CDC, through NIOSH, does not approve KN95 masks or any other respiratory protective device certified to international standards," the CDC wrote.
Anne Miller, executive director of Project N95, a nonprofit clearinghouse that verifies and sells masks, told Newsweek that counterfeit KN95 masks have flooded the marketplace.
"The CDC has said 60 percent of KN95s sold in the U.S. are fake, counterfeit or substandard," Miller said. "Our own research shows that number to be even higher—in the range of 90 percent for masks bought on large e-commerce platforms."
Since K95s and KF94s don't carry the same labeling as N95s, it can be harder to find legitimate masks. However, there are some ways.
When the pandemic first hit, a scarcity in N95s resulted in the Food and Drug Administration (FDA) authorizing some non-NIOSH-approved KN95 masks for emergency use for health care workers. Accredited labs tested these masks, ensuring FDA standards were met.
The FDA eventually lifted that authorization, but manufacturers that once had the approval can still note the distinction.
Miller told Newsweek that buyers should also seek out U.S. manufacturers, since those tend to be a safer place to find masks.
"There are U.S. makers of N95 masks that sell directly from their websites. Some of them also sell KN95s," Miller said. "In this case you should be able to trust the effectiveness of the masks and the supply chain."
If you're shopping online on a site like Amazon, it's also always a good idea to check user reviews. People unsatisfied with the product, or who were duped by misleading packaging, will often call out the seller. Even still, this method is not always a foolproof way to verify authenticity and should never be the only means to check.