How Thomas Keller Transformed American Dining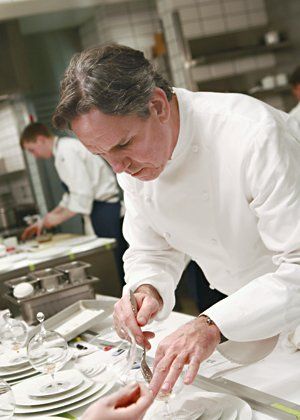 Once upon a time, a young chef, still reeling from a failed restaurant in New York City, found himself in beautiful Yountville, Calif., among the vineyards of Napa Valley. He found a building that had once been a brothel, and then a French steam laundry, but was now a restaurant owned by the local mayor and his wife. Over the next two years this chef, Thomas Keller, raised more than $1 million, and in 1994 his new restaurant, aptly called the French Laundry, opened its doors.
It was the beginning of a restaurateur's dream come true—one that forever transformed the U.S. food scene. By 1997, Ruth Reichl, then food critic of The New York Times, had called the French Laundry the most exciting restaurant in America. The French Laundry Cookbook, published in 1999, is now in its 16th printing. Keller has put together an impressive string of successes, opening a French brasserie, Bouchon, along with the more casual Bouchon Bakery as well as the family-friendly Ad Hoc, all in Yountville. He's since rolled out outposts of Bouchon in Las Vegas and Beverly Hills. He plans to open a second Bouchon Bakery in New York next year.
Alice Waters and Chez Panisse may have started the locavore movement. Jean-Georges Vongerichten perfected high-end fusion cooking, and Wolfgang Puck created the celebrity chef. But Keller, with his emphasis on flights of tiny courses, his application of rigorous classical French technique to both high and low cuisine, created a new style of fine American dining. A decade later, there is still a two-month wait for a table at the French Laundry.
Keller has become the only American chef to be awarded three Michelin stars for two different restaurants, the French Laundry and Per Se (which marked his triumphant return in 2004 to New York City). He is the darling of the James Beard Foundation, with awards for best American chef, outstanding chef, and best new restaurant (for Per Se), among others. "Most anyone who's been to Per Se, and I imagine to the French Laundry as well, has seen how an American, cooking mostly American food, can make a restaurant experience to equal any other in the world," says Sam Sifton, food critic for The New York Times. "For a young nation, that's something."
Yet Keller comes off as exceedingly modest. He didn't attend culinary school, choosing instead to apprentice himself to master chefs in the U.S. and France, landing his first job as chef de cuisine at La Reserve in New York in 1984. He insists that the secret to his success is not talent but hard work and an obsessive dedication to detail. The French Laundry has featured a new menu every day since it opened; Keller will serve asparagus there only during the three or four weeks in early spring when it is at its peak. "It's all about ingredients and execution," he says. "That's the equation for good cooking."
Keller's very success—and the requisite temptation to expand—could ultimately threaten the culinary perfectionism upon which his reputation rests. Ad Hoc's famous fried-chicken recipe is now sold as a kit by Williams-Sonoma stores, alongside cookie mixes from Bouchon Bakery. So far, however, Keller seems to have walked the fine line between cashing in and selling out. "If I have to be a brand," he says, "I am determined to be Hermès."