How Tiffany Trump's Mar-a-Lago Wedding Could Be Ruined by Hurricane Nicole
What should be one of the happiest days of Tiffany Trump's life could be washed out and delayed after Hurricane Nicole swept across Florida.
Donald Trump's daughter is set to marry her partner of four years, Michael Boulos, on Saturday, November 12. The venue is the former president's Mar-a-LagoFlorida home, but torrential winds and severe rainfall may force a change of plans.
On Thursday night, Hurricane Nicole tore across Florida from east to west, and it's now continuing its path north. The storm is expected to hit Georgia, South Carolina and North Carolina on Friday.
According to reports, Donald Trump rode out the bad weather at Mar-a-Lago, as the previously ranked Category 1 storm prompted the closure of schools, airports and theme parks in several Florida counties. Hurricane Nicole was eventually downgraded to a tropical storm.
Even without the physical damage caused by the hurricane, the closure of nearby airports and the storm's continuing path across America could significantly affect the travel plans of guests attending the wedding.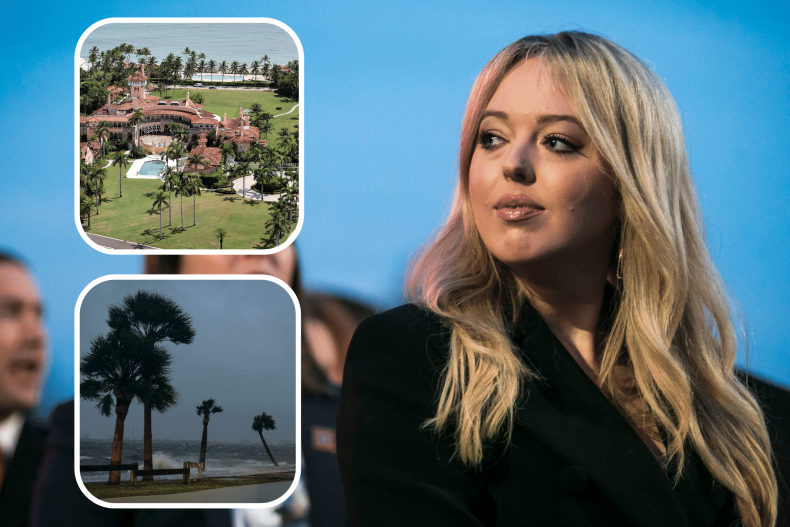 "Poor Tiffany has a real 'whirlwind' to cope with," Carole Lieberman, M.D., a psychiatrist from Beverly Hills, told Newsweek. She shared tips on how she believes Tiffany could deal with the fallout of Hurricane Nicole on her wedding day.
She pointed out that traditionally, rain on a wedding day is "good luck."
Lieberman continued: "Tradition says rain does this in three ways: Tying the knot when it's wet makes it very hard to unravel. So, your marriage will last, rain is a symbol of fertility, so you can have many children, and rain is also cleansing. So, any disagreements between Tiffany and her spouse, the guests, florists, servers, and so on, will be in harmony on her wedding day.
"Additionally, when she and her husband overcome the challenge of Hurricane Nicole, it will give you confidence that she'll be able to overcome all life's challenges together. And lastly If Hurricane Nicole lands on your wedding day, Tiffany, look for rainbows," Lieberman said.
Despite Donald Trump's decision to stay, Mar-a-Lago was evacuated, and staff were sent home on Wednesday, Page Six reported. It isn't expected to reopen until Friday, ahead of Tiffany Trump's wedding at the weekend. "Friday is supposed to be a welcome dinner and they aren't sure it's going to happen ... Tiffany is flipping out," a source claimed, according to Page Six.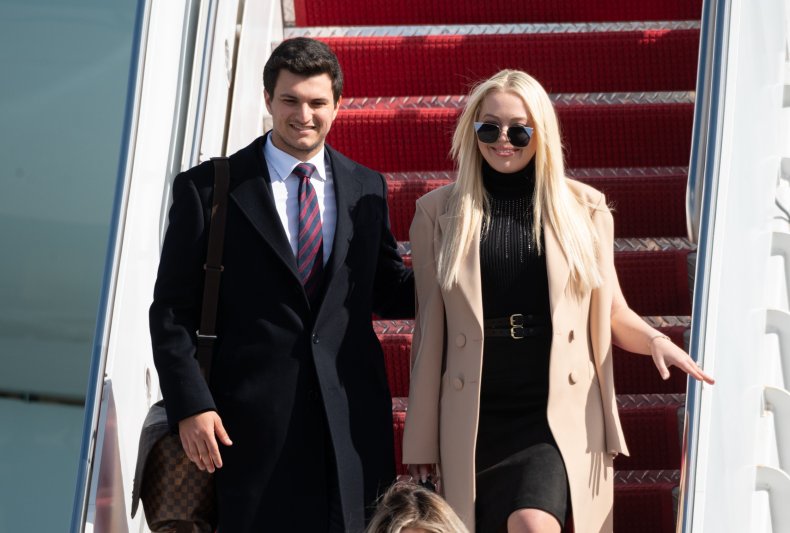 All flights in and out of Palm Beach International Airport, located just a few miles from Mar-a-Lago, were canceled, airport officials said on Wednesday.
There could be a silver lining to all of the drama, according to lawyer Andrew Lieb.
"It couldn't be more of a Trump opportunity than to somehow make money from an insurance policy if he has to cancel his daughter Tiffany's wedding due to Hurricane Nicole," the managing partner of Lieb at Law, P.C., told Newsweek.
Page Six previously suggested that the wedding was expected to have 500 guests from around the world. But as CNN reported on Thursday, 1,300 flights have been canceled, meaning many guests might not make it to Florida.
Tiffany and Michael Boulos have been together since 2018, and their engagement was announced on Instagram on January 17, 2022.