Tour Championship 2018 Leaderboard, Live Stream, TV Channels: Tiger Woods Shoots 65 After Eagle on 18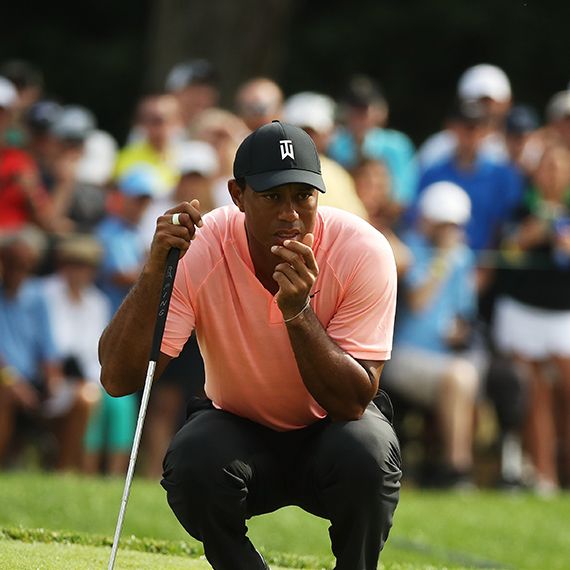 *Update*
Tiger Woods has eagled No. 18, giving him a 5-under 65 in the first round of the Tour Championship. He's tied for first place.
Woods is tied at the top of the leaderboard with Rickie Fowler, who has also completed his first round at 5-under par. Woods bogeyed the first hole but never made another bogey after that, adding four birdies and one eagle.
Woods, who hasn't won on the PGA Tour in five years but has made a strong finish in 2018 with several top 10 finishes, said after the round that he feels better now than he did at the beginning of the year.
"I have earned my way back," Woods said in a Golf Channel interview after the round.
Woods, who thought his career might be over last year after multiple surgeries, said he appreciates crowd support.
"They really want me to play well, and I'm trying," Woods said.
From the AP: The crowd at East Lake was larger and louder than it has been in five years, which was the last time Tiger Woods was at the Tour Championship.
It was no coincidence.
Woods played one of his best rounds of the year in his return to the FedEx Cup finale and caused the biggest cheer of a sun-baked Thursday afternoon by making an eagle putt from just over 25 feet on the par-5 18th for a 5-under 65 and a share of the lead with Rickie Fowler.
It was the second time in as many FedEx Cup playoff events that Woods was tied for the 18-hole lead. He shot a 62 at Aronimink in the opening round of the BMW Championship two weeks ago on a rain-soaked course that allowed just about everyone to go low.
This felt even better on a dry, tougher East Lake course.
"This was by far better than the 62 at Aronimink," Woods said. "Conditions were soft there. This, it's hard to get the ball closer. If you drive the ball in the rough, you know you can't get the ball close. You just can't control it."
*Original Story*
It's game on today at the Tour Championship 2018 at East Lake in Atlanta and Tiger Woods is among the 30 players trying to capture that tournament championship and also the FedEx Cup and the $10 million bonus that comes with it.
First round action gets underway Thursday at 11:40 a.m. ET and Tiger Woods tees off at 12:30 ET today. He's paired with Tommy Fleetwood.
You can follow the Tour Championship live leaderboard today here.
You can watch Tigers Woods today via live streaming and on TV. See below:
Featured coverage: 10 a.m. - 1 p.m. -- PGA Tour Live
Featured holes: 1-6 p.m. -- PGA Tour Live
Live TV coverage: 1-6 p.m. on Golf Channel
Live stream online: 1-6 p.m. on fuboTV (Try for free with seven-day trial) and NBCSports.com
From the AP: Woods is facing long odds of capturing the FedEx Cup and the $10 million bonus.
That's all relative this year.
Just having his own parking spot at East Lake, being back at the Tour Championship for the first time since 2013, even feeling lost during a practice round because the nines were flipped, were all reminders that his greatest accomplishment this year was being part of the 30-man field.
"I think the season itself has been amazing, to be able to have played this well," Woods said Wednesday. "I didn't know how many tournaments I'd play in, and next thing you know, here I am in the Tour Championship. ... To have come back from where I've come back from and to get here has been a pretty tall order."
He didn't make it in 2014 because of his first back surgery and his ill-advised attempt to return too early.
He missed the entire FedEx Cup playoffs in 2015 when he couldn't chip the ball onto the green from 20 feet away early in the season, and then his back started acting up late in the season. He missed all of 2016 while recovering from two more back surgeries, and all but one PGA Tour event in 2017 because of a fourth back surgery.
Never mind that Woods is at No. 20 in the FedEx Cup standings, having started no worse than No. 3 in his four previous FedEx Cup finales.
This is one tournament where it's more about the start than the finish.
"It's great to have accomplished one of the goals I set out at the beginning of the year: to make it back to East Lake to be part of the Tour Championship and part of these top 30 guys," he said. "I've exceeded a lot of my expectations and goals because so much of it was an unknown."
The only thing left to cap off a remarkable comeback would be a trophy.
This is his last chance.
That still probably wouldn't be enough for Woods to win the FedEx Cup for the third time — no one else has won it more than once.
The better odds are with the top five seeds — Bryson DeChambeau, Justin Rose, Tony Finau, Dustin Johnson and Justin Thomas — who only have to win the Tour Championship to take home the richest bonus in golf.
Thomas has even more at stake. No one, not even Woods, has won the FedEx Cup in successive years. Thomas was runner-up at East Lake a year ago, which was enough for him to move past Jordan Spieth and capture the cup.
"I'm excited to have an opportunity to do something that no one has ever done, which is pretty cool," Thomas said. "I'm not sure if it was true or not, but I heard that no one had been in the top five after winning the FedEx Cup."
The Associated Press contributed to this report.
Tour Championship 2018 Leaderboard, Live Stream, TV Channels: Tiger Woods Shoots 65 After Eagle on 18 | Sports