How Tom Brady's Deflategate Conspiracy Blew Up: Soft Balls and Damning Texts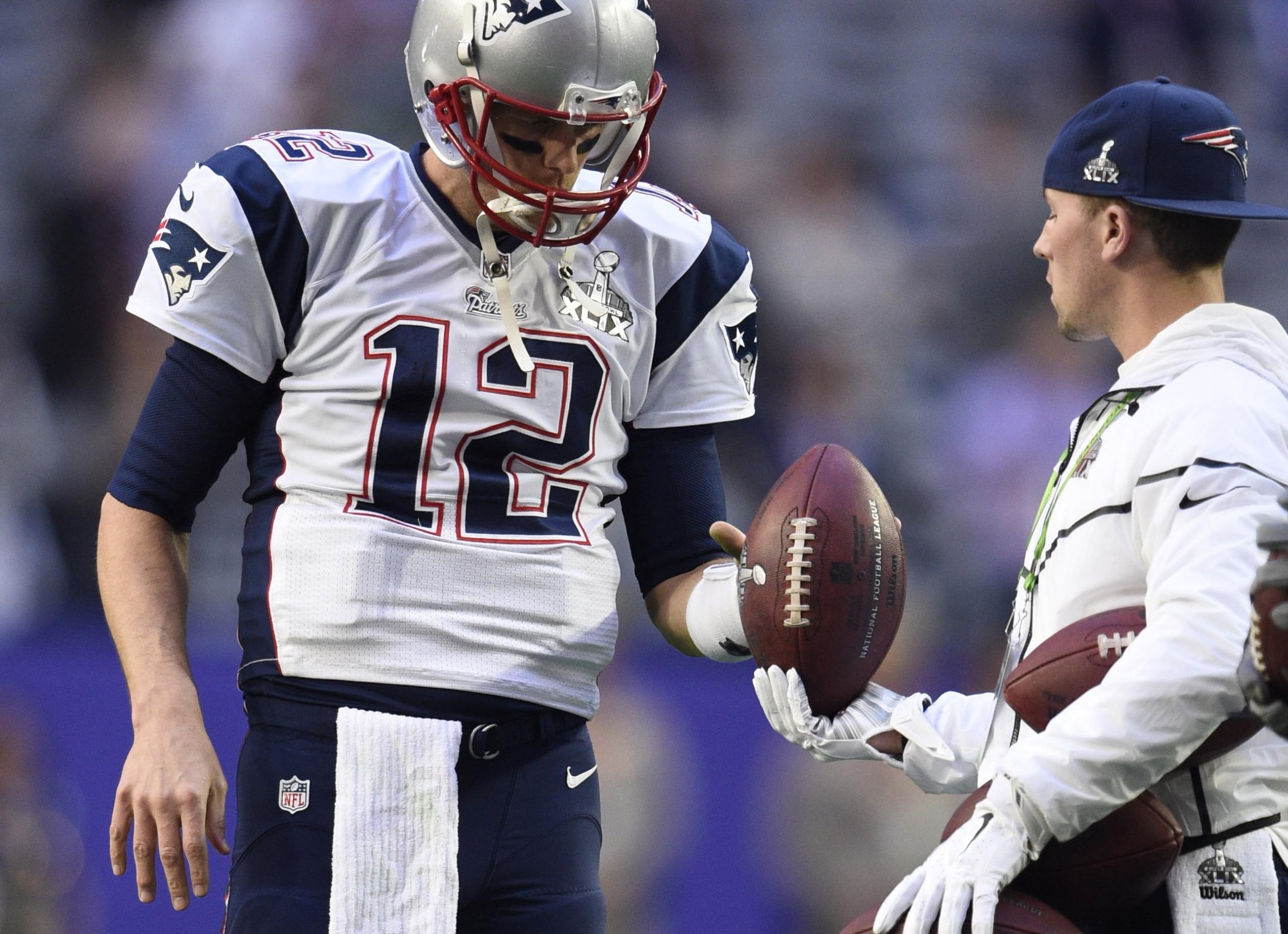 Perhaps the only thing more improbable than the Seattle Seahawks passing on second-and-goal from the 1-yard line to lose the Super Bowl is the notion that no one associated with the New England Patriots deflated footballs before the team's AFC Championship victory last January against the Indianapolis Colts.
On Page 2 of a 243-page report that the NFL released Wednesday afternoon concerning the so-called Deflategate, investigators concluded that it is "more probable than not" that two New England Patriots staffers "were involved in a deliberate effort to circumvent the rules." That same paragraph of the investigation, which attorney Ted Wells oversaw, finds that Patriots quarterback Tom Brady "was at least generally aware" of the staffers' efforts.
The exhaustive document includes an explanation of the equation known as the Ideal Gas Law, a list of the names of the 66 people who were interviewed in conjunction with the investigation, 30 tables (i.e., charts), 24 figures (graphs or illustrations), 78 footnotes and a section titled "Vigorous Rubbing."
The most illuminating part of the report contains a meticulous combing of text messages between three Patriots employees: Brady, equipment assistant John Jastremski, 35, and officials locker room attendant Jim McNally, 48. For all the science that is cited in the 99-page Appendix, threatening to turn the investigation into an episode of PSI: Foxboro, the texting interactions between those three provide the most damning evidence.
As far back as one year ago—May 9, 2014—McNally texted Jastremski and referred to himself as "the deflator":
McNally: "Jimmy needs some kicks....let's make a deal.....come on help the deflator."
Eight minutes after sending that text, McNally, a game-day-only employee of the Patriots, texted a follow-up message to Jastremski, a full-time staffer who has been with the Patriots for 20 years:
McNally: "Chill buddy im just fuckin with you....im not goin to espn........yet."
What emerges from the texts between that date and the days shortly after the Patriots' 45–7 defeat of the Colts in the January 18 AFC title game is a classic criminal hierarchy: Brady is the boss, Jastremski is the buffer, the go-between, and McNally is the fixer. When investigators asked Brady about McNally, in fact, he claimed to not know who he is, a narrative that the texts make very hard to believe.
During an October 16 Thursday night contest between the Patriots and the New York Jets, Jastremski and McNally exchanged the following texts:
Jastremski: "Tom is acting crazy about balls."
Unknown number presumed to be McNally: "He saying there [sic] not good enough??"
Jastremski: "Tell later."
The following morning:
McNally: "Tom sucks...I'm going make that next ball a fucking balloon."
Jastremski: "Talked to him last night. He actually brought you up and said you must have a lot of stress trying to get that done."
Jastremski: "I checked some of the balls this morn...the refs fucked us...a few of them were at almost 16 [psi; regulation is closer to 12.5 psi]."
McNally: "Fuck Tom….16 is nothing...wait till next Sunday."
Jastremski: "OMG! Spaz."
As shocking as it may be to fathom, it's true: There are people who still use the term spaz.
One week later, Jastremski and McNally, who described themselves in interviews with NFL investigators as "good friends," texted again regarding footballs and air pressure:
Jastremski: "Can't wait to give you another needle this week."
McNally: "Fuck tom….make sure the pump is attached to the needle….fuckin watermelons comin this week."
Jastremski: "So angry"
McNally: "The only thing deflating sun...is his passing rating"
Brady consented to be interviewed by NFL investigators, but refused to hand over his private cellphone records. The Patriots handed over the work cellphone of Jastremski, on which most of the damning text messages were found. One word, Tom: burners!
Further, on Page 45 of the report, it is revealed that on the eve of the AFC Championship game, Indianapolis Colts General Manager Ryan Grigson sent an email to two senior members of the NFL Football Operations Department. In the email, Grigson included an FYI from the equipment manager of the Colts, Sean Sullivan, which reads in part, "It is well known around the league that after the Patriots game balls are checked by the officials and brought out for game usage the ball boys for the Patriots will let out some air with a ball needle because their quarterback likes a smaller football so he can grip it better."
The Colts' suspicions had arisen after a midseason Sunday night game against the Patriots, which New England won but during which Brady threw two interceptions. Colts officials examined those balls on the sideline and noticed that they appeared under-inflated. On the January Sunday in question, McNally disappeared into a bathroom with the bag of footballs after the officials inspected them but before the kickoff.
According to McNally, whom the NFL interviewed for its report on four occasions, he was headed out to the field with the footballs alone, which is against protocol, when he decided to use a bathroom at the end of the tunnel (a bathroom that he told officials he had used many times before). McNally told officials that he dropped the bag of balls to his left and then used a urinal to his right. That is when the officials told McNally there are no urinals in that bathroom.
The Deflategate story broke courtesy of a tweet from Indianapolis Star columnist Bob Kravitz, in the second half of New England's blowout victory. By sunrise the next morning, the story was all over New England, which made the spate of phone calls and texts between Jastremski and Brady, and also between Jastremski and McNally, even more intriguing. Brady, who had had no phone communication with Jastremski the previous six months, exchanged four phone calls with him that morning that lasted 25 minutes. The two also exchanged 12 text messages. For instance:
Brady: "You good Jonny boy?"
Jastremski: "Still nervous; so far so good, though. I'll be alright."
Brady: "You didn't do anything wrong."
Later that morning, Jastremski texted a heads-up to Brady:
Jastremski: "FYI…Dave [Schoenfeld, the team's equipment manager] will be picking your brain later about it. He's not accusing me, or anyone...trying to get to bottom of it. He knows it's unrealistic you did it yourself."
Brady: "No worries bud. We are all good."
That same Monday, Jastremski spoke to McNally on the phone five times for a total of 58 minutes. It's also worth noting that Jastremski had bragged to family members about Brady autographing the football with which he had eclipsed the 50,000-yard passing mark earlier that season and bequeathing it to him. Jastremski also boasted that Brady had lied to a radio station about that actual football being on display in a Patriot trophy case. McNally received swag, too; he put in his requests to Jastremski, who presumably filled those orders.
According to the report, head coach Bill Belichick asked Brady that Thursday if he had any knowledge of the alleged deflation of footballs. It was the first time Belichick had confronted Brady about the controversy. Brady's answer: "Absolutely not." Belichick then asked Brady if anyone he knew might have tampered with the footballs and again Brady denied any knowledge of wrongdoing.
Those two men, both future Pro Football Hall of Famers, then entered a team meeting. Belichick, accepting the words of the quarterback who was on the cusp of leading them both to a fourth Super Bowl triumph, informed his players there was not "one shred of truth to the allegations." Brady reiterated those words.
While the case against Brady and his two accessories may not be air-tight (perhaps not the optimal phrase to use here), the Wells Report is on firm ground in its conclusion that "it is more probable than not that Jim McNally and John Jastremski participated in a deliberate plan to circumvent the rules by releasing air from Patriots game balls after the examination of the footballs by NFL game officials at the AFC Championship Game" and that " it is unlikely that an equipment assistant and a locker room attendant would deflate game balls without Brady's knowledge and approval."
And yet, so what? The Patriots still won Super Bowl XLIX, didn't they? History—and the Wells Report—cannot erase that. Brady may have realized he was in trouble as soon as he woke up that Monday morning in January. However, he also knew that as long as the NFL was unable to prove his complicity before kickoff in Glendale on February 1—and as long as neither Jastremski nor McNally sang—any sanctions down the line would pale against a fourth Super Bowl ring.
Deflategate played out a lot like the final 10 minutes of Argo, the 2012 Oscar winner for best picture produced by a Boston native Ben Affleck, who also plays CIA mastermind Tony Mendez in the film. In Argo's climactic moments, Mendez's ruse is in danger of being discovered, but he and his co-conspirators steadfastly deny their interrogators' accusations. What other choice do they have?
The Patriots won the Super Bowl three months ago. They can relax. Their flight has cleared Iranian airspace.