How to Track the 2020 Iowa Caucus Results in Real Time
Traditionally, the Iowa caucuses are the first nominating contest in the United States. The results Monday can provide the first look at how voters are leaning, and who may become the Democratic presidential candidate in the general election. And thanks to the internet, it's simple to follow the results in real time.
The Iowa Democratic Party is set to display the returns as broken out by counties and districts here. It's expected that the returns will start coming in around 7 p.m. CT—or about 8 p.m. ET and 5 p.m. PT—and will likely continue to update for the following two hours.
Iowa's Republican Party is also holding its caucuses the same day. Though President Donald Trump is predicted to handily win the contest, caucus attendees can also throw their support behind former Representative Joe Walsh of Illinois and former Governor Bill Weld of Massachusetts. The Iowa Republican Party will post its results here.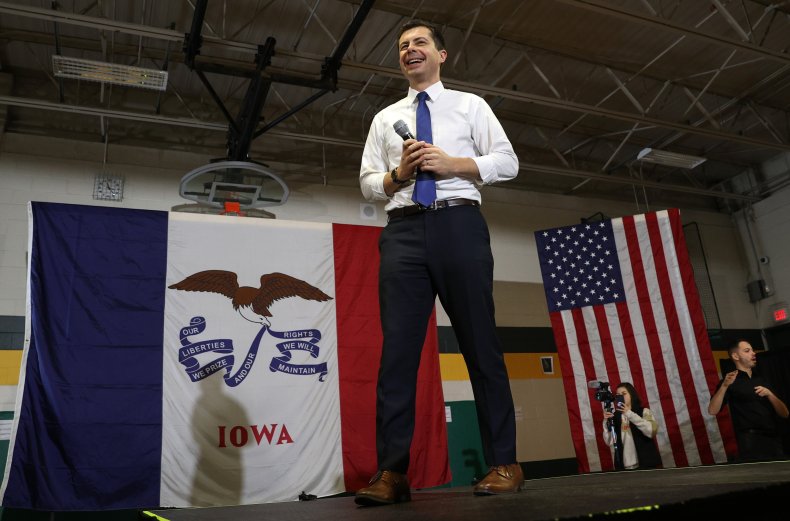 Though the Republican caucuses are unlikely to produce any surprising results, the Democratic race is much more hotly contested. In the latest Iowa polls, Sen. Bernie Sanders of Vermont is the favorite, with 28 percent support. Former Vice President Joe Biden is second, with 21 percent, followed by former South Bend, Indiana Mayor Pete Buttigieg with 15 percent and Sen. Elizabeth Warren of Massachusetts with 14 percent.
Despite what the polls say, the caucus is not guaranteed for any candidate. The caucus system includes a number of voting rounds. After the first vote, caucus attendees who supported a candidate who doesn't reach at least 15 percent must change their vote to one of the more popular candidates—or not support any candidate. Once there are no remaining candidates with under 15 percent support, the delegates are then divvied up proportionally between the remaining candidates based on the amount of support they received.
So, while Sanders is an initial favorite, Biden could pull ahead after the second round of voting, as the latest Monmouth University poll shows Biden is the top second-choice candidate.
Though the Iowa caucuses don't always show the matchup in the general election—in 2016, the top candidates in Iowa were Republican Senator Ted Cruz of Texas and former Secretary of State Hillary Clinton—the contest is seen as a do-or-die moment for many of the lower-tier candidates. After losing the 2016 GOP caucus, candidates Sen. Rand Paul of Kentucky, former Pennsylvania Senator Rick Santorum and former Governor Mike Huckabee of Arkansas all dropped out of the race.