Traveling is often full of surprises, but a woman has gone viral after sharing the unusual train journey she took in Europe, which even managed to cross the sea.
Content creator @nakedkissa often shares videos on TikTok about the incredible experiences she has while traveling around the world, and during a recent trip to Italy, the TikToker was traveling from the island of Catania to Rome, which involved somehow crossing the Ionian Sea.
At first, @nakedkissa wasn't sure how this happened, and she wondered if the train went over a bridge, or "some kind of underground rail pass," as she explained in her viral TikTok video. However, while documenting the unusual journey, she looked outside to discover that she was on a boat, which ferried the train, and its passengers, across the water.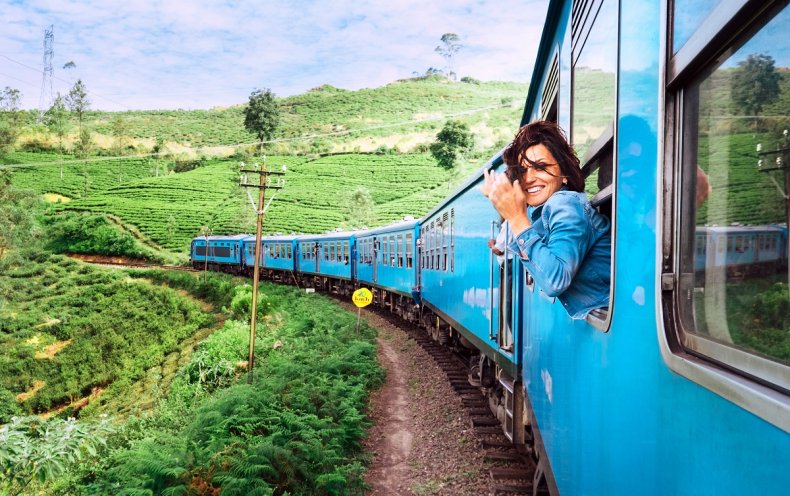 The idea of a train journey being interrupted by a boat ride halfway through has amazed millions of social media users. The video was shared on August 29, and it's already been viewed more than 3.1 million times and received over 220,800 likes.
By looking at the air traffic to overseas regions, Statista has revealed which places Americans most like to travel on their summer vacations. In 2022, more than 15.8 million Americans traveled to destinations across Europe, which has always been the most popular choice—with an exception for 2020, when the Covid-19 pandemic halted most overseas travel.
While 12.8 million people chose to travel to Mexico for their summer break in 2022, an additional 9.2 million opted for the Caribbean instead. Contrastingly, Oceania had just 460,000 tourists from the U.S., and Africa had 630,000, making these continents the least popular choices for travel in 2022.
The clip starts off by showing the route of the train on a map and highlighting the expanse of sea in between the start point and its destination. The poster goes on to admit that she was "really confused" by the seemingly direct train from Catania across to Rome, before revealing the fascinating way the train is transported across the sea.
When she stepped out onto the deck of the boat,she was thoroughly amazed by what she saw, and she didn't hesitate to take in the surrounding views from her vantage point.
More than 1,300 TikTok users have commented on the viral post already, with many admitting that they've never even seen this sort of journey before.
A comment by @kylamichelle1 reads: "Nothing could have prepared me for this."
TikTok user @auroris76 wrote: "I have literally never heard of a boat ferrying a train."
While @collectionofme commented: "They always talk about Europe's rail system being superior, but this is next level!"
Newsweek reached out to @nakedkissa via Instagram for comment. We could not verify the details of the video.
Do you have any amazing travel videos or pictures that you want to share? We want to see the best ones! Send them in to life@newsweek.com and they could appear on our site.