How the Trekkie World is Reacting to William Shatner Going to Space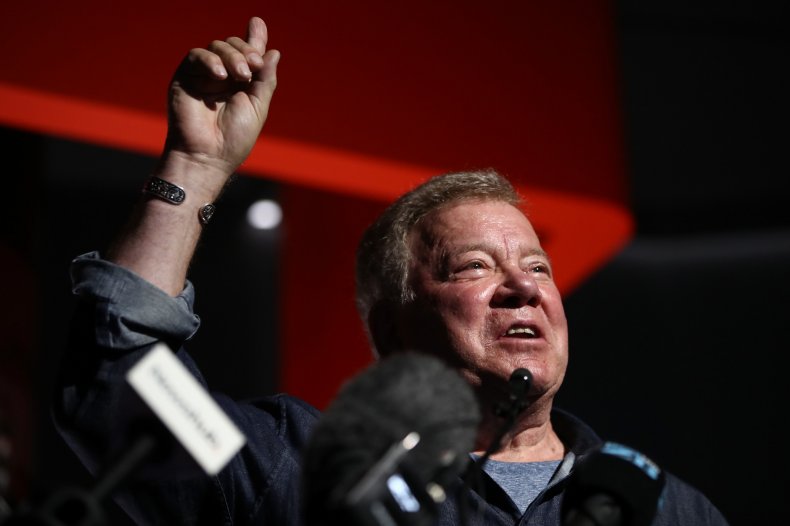 Star Trek fans and figures from the entertainment world were boldly engaged on social media this week as actor William Shatner prepared for a real-life flight into space.
Although Shatner's flight is likely to be less dramatic than the space journeys experienced by his Trek character, Captain James T. Kirk, the 90-year-old actor is set to make history by becoming the oldest person in space. Shatner is expected to blast off during Blue Origin's second human spaceflight—the first took place in July, carrying billionaire founder Jeff Bezos and three others—on Wednesday morning, after weather conditions forced a one-day delay to launch plans.
Celebrities and prominent Star Trek fans flocked to Twitter to celebrate news of the launch and share memes and jokes during the lead-up to Shatner's flight.
"I just can't get over it," actor Vincent D'Onofrio tweeted alongside a photo of a Shatner and his three crew mates wearing Blue Origin uniforms. "I'm just so happy for you. This photo for so many reasons is everything about my childhood and the fun that life in our business can bring. For me Shatner my friend you in this photo is as cool as cool can be."
"Bezos if anything happens to @WilliamShatner we will be pissed," actress Patricia Arquette tweeted after news of Shatner's launch first emerged last month.
"So kind of William Shatner to postpone his space flight a day so not to interfere with the release of my book," Star Trek: The Next Generation actor Brent Spiner, whose first book Fan Fiction: A Mem-Noir: Inspired by True Events was published on Tuesday, tweeted on Monday. "Thanks Bill!"
"Good morning @WilliamShatner!" tweeted film critic, podcast host and self-described "Trekker" Scott Mantz. "Can [you] *please* quote Captain Kirk's 'Space, the final frontier' monologue while you're up there? Have an amazing ride!!"
"Is William Shatner still going to overact when he's in space?" comedian Andy Kindler tweeted.
"@WilliamShatner is going to space? My man! I guess this means I have to become a marine biologist," Seinfeld actor Jason Alexander tweeted, referring to a memorable episode of the 1990s sitcom. Shatner replied to Alexander by saying that it was "never too late to experience new things my friend."
"Congrats, @WilliamShatner! If you really gets to go to space, I hope I can really figure out how to get an invisible plane," Lynda Carter, star of the 1970s Wonder Woman television series, tweeted. Shatner tweeted that he had "no doubt" Carter would "get that invisible plane" in response.
Memes centered on Shatner's trip to space were also shared, with an image of a human-like ape from The Planet of the Apes alongside the text "We should all dress like this when William Shatner returns from space" in heavy rotation.
"You cannot imagine how many fans emailed it to me all claiming they made this ridiculous meme. #peopleareweird," Shatner commented while retweeting the meme.
An October 4 tweet from comedian and late night talk show host Stephen Colbert also inspired many retweets and replies.
"I hope William Shatner doesn't have unrealistic expectations of what space is like," Colbert tweeted, captioning a photo of Shatner being kissed by a green female alien character during an episode of the 1960s Star Trek television series.
"Surprise@StephenAtHome!" Shatner responded. "That is what outer space is all about. Indeed that's why everybody wants to go to outer space. The little green men aren't little green men they're large, green, beautiful women."
Newsweek reached out to Shatner's representative for comment.