A TikTok viewed more than 2 million times brought back many memories for former owners of Apple's iPod shuffle (2nd Generation), while others felt much older.
"Anyone know what this is?!??!" the text over TikTok user @freckenbats's video read.
The TikToker, Celeste Tice, is holding an iPod shuffle and turned it over a few times.
"I found this old iPod, I don't know, hair clip thing," she joked. The video then cut to her with the music device, pinning back pieces of her hair as she models a few poses to the camera, labeling her new hair accessory as "vintage."
According to Apple's website, the first iPod shuffle was introduced in January 2005. The shuffles have no display and were typically smaller than the iPod mini. There are two versions of the iPod shuffle (2nd generation), one of which came out in September 2006 and the other came out in February 2008. The most recent iPod shuffle was released in July 2015.
Viewers flooded Tice's comment section to weigh in on the video, many expressing how old they felt.
"How to trigger a whole generation," one viewer wrote.
"Well, time to trade in my red meat and wine for Metamucil and bottom of purse lint candy," a viewer commented on the video.
"Look I am not gonna let [you] make me feel old at 26," another comment read.
Wrote a different viewer: "No I'm fully convinced they bully us for sport guys."
Fellow TikToker @Rod, who has more than 1 million followers and posts content about life as a millennial, also reacted to the video.
"I-she used the hashtags vintage and antiques," he said through "heavy millennial" breaths in his video, which earned more than 4 million views.
Many found the video funny and joked that they should have used it as a hair clip as well.
"How did we not use these as hairclips before!? Absolutely genius," a viewer commented.
Another suggested that the video may lead to a trend of "vintage" recreations of iPod hairclips.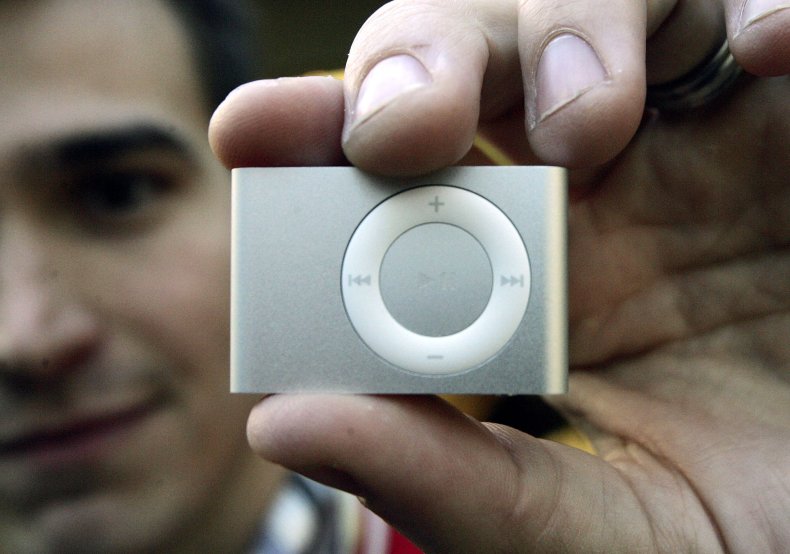 In a subsequent video, Tice played several songs that she downloaded to her iPod.
The Wanted's "Glad You Came," Christina Perri's "A Thousand Years" and Adele's "Set Fire to the Rain," all of which were released in 2011, were just a few songs that played for TikTok viewers.
Many again expressed how "aged" they felt when they heard some of the hits, while others said they continued to listen to many of them on their playlists.
"It's like a time capsule," a commenter wrote.
Tice told Newsweek the iPod shuffle holds fond memories, and the last time she used it may have been when she was in middle school as a joke. However, she moved on to preferring to listen to her iPod Touch.
When the music began playing, it was a blast from the past.
"I loved hearing all the throwbacks but was also shocked at a few songs with some adult lyrics that I didn't expect myself to be listening to a 9-years-old," Tice said.
Speaking to her TikTok's virality, Tice said she loved that it garnered as much attention as it did. A theater major, Tice told Newsweek that she enjoyed putting on a show for friends, and she did not expect the video to go viral.
"Luckily most of the comments are people who can understand the joke," she said. "I wonder if I can put this performance on my resume."
Updated 12/21/2021, 5:46 p.m. ET: This story has been updated with comments from TikToker Celeste Tice.