How Trump's 2024 Announcement Compared to His 2016 Launch
On Tuesday, Donald Trump formally announced he is seeking the 2024 Republican Party presidential nomination, in a bid to secure a second term in the White House.
The former president made the announcement to supporters at his Mar-a-Lago private members club in Florida, telling his audience "we have to save our country."
Earlier in the day, Trump filed the required paperwork with the Federal Election Commission.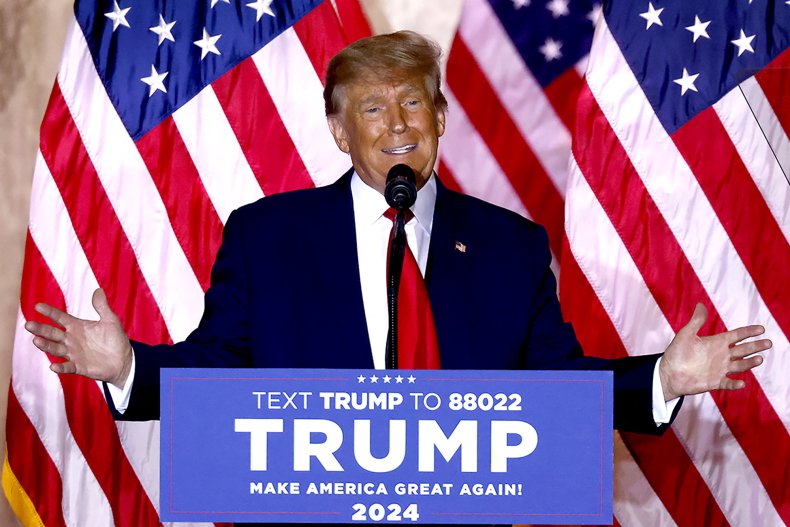 Trump's address drew obvious comparisons to the announcement of his first presidential bid, made on June 16, 2015, at Trump Tower in New York.
Newsweek has analyzed the two events, finding both significant similarities and profound differences between the two campaign launches.
The Arrival
In June 2015, Trump memorably arrived at his campaign launch by coming down one of the golden escalators in Trump Tower to the basement where journalists were waiting to cover the event.
Charlotte Alter, who wrote about the launch in Time magazine, told The Guardian, "The Music of the Night," a song from Andrew Lloyd Webber's Phantom of the Opera, was "being blasted on repeat" whilst reporters waited for Trump's arrival.
As Trump's election chances were being dismissed at this point by many experienced journalists, a lot of those covering the event were more junior. Alana Wise, who reported on the event for Reuters, told The Guardian she was an intern, and the launch was "one of my first assignments out of the office."
By contrast, Trump's 2022 launch was covered in minute detail by all major networks and publications.
The former president arrived in the Mar-a-Lago ballroom with his wife, Melania, to the sound of Lee Greenwood's "Proud to Be an American," a regular at his rallies. Dozens of camera phones were held aloft recording Trump as he walked across to a podium, with a backdrop of American flags, to deliver his remarks.
The Crowd
As Trump arrived down the escalator at his June 2015 launch, the real-estate mogul looked at the assembled crowd and said: "Wow. Woah. That is some group of people. Thousands!"
However, that isn't how then Reuters intern Wise remembered the event. She said: "There were a few dozen people lining the area leading down to the escalator, and then there were a couple dozen downstairs where the event actually took place."
"That kind of frenetic energy that we got later on," Wise said. "It just wasn't there—it just wasn't there."
The Hollywood Reporter later claimed people had been offered $50 to attend the event and cheer Trump, with an advert from the New York based Extra Mile Casting saying it was looking to "cast people for the event to wear T-shirts and carry signs and help cheer him in support of his announcement."
Corey Lewandowski, then Trump's campaign manager, denied the claim.
Fast forward to 2022 and Trump certainly had no trouble attracting a crowd, the ballroom was packed, and uninvited supporters gathered outside Mar-a-Lago and Trump Tower in New York.
Olivia Rubin, an ABC News reporter, claimed some attendees tried to leave the ballroom whilst Trump was still speaking "but security won't let them."
A dozen or so Trump supporters also gathered outside Trump Tower in New York, where two men stamped on a flag bearing the face of Florida Governor Ron DeSantis, a potential rival for the Republican presidential nomination.
The Speech
Trump delivered an incendiary speech at his 2015 campaign launch, accusing Mexican immigrants of "bringing drugs, and bringing crime, and their rapists" to America.
He vowed to build a "great, great wall," with the pledge becoming one of the focuses of his 2016 presidential campaign.
By contrast, Trump's speech on Tuesday was more restrained, with much of it appearing to be read from a teleprompter.
He commented: "We are a nation in decline. For millions of Americans, the past two years under Joe Biden have been a time of pain, hardship, anxiety and despair.
"In order to make America great and glorious again, I am tonight announcing my candidacy for president of the United States."
Trump described himself as "a victim," referencing the FBI's Mar-a-Lago raid in August which led to the recovery of classified documents.
The speech was mocked by opponents online, with fellow Republican Meghan McCain tweeting: "Why is this so boring...?"
Columbia University Law School lecturer Kumar Rao described Trump's performance as "low energy as hell."
Donald Trump has been contacted for comment.