Nate Silver Explains How Donald Trump Can Win Election
Statistician Nate Silver said Donald Trump had a 10 percent re-election chance that should be "taken seriously", as Americans head to the polls on Tuesday.
FiveThirtyEight's founder and editor-in-chief said that "10 percent chances happen" and cautioned voters against "taking anything for granted" as the presidential election campaign came to a close this morning.
Writing for the website, Silver said a polling error of just 3 points could be the difference between a landslide victory for Democratic nominee Joe Biden and a "competitive" race.
However, he added that even with a polling error of that size going in Trump's favor, Biden would still "probably hold on" and win key states that Hillary Clinton lost in 2016 by narrow margins.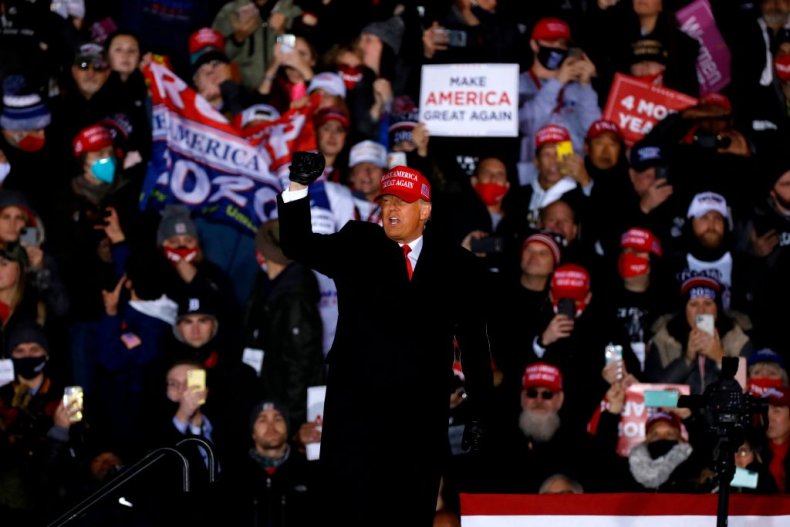 "So while Biden isn't a normal-sized polling error away from losing, he is a normal-sized polling error away from having a messy win that might not come with control of Congress," Silver wrote.
He added that several factors that played into Trump's surprise 2016 victory, including a number of undecided voters and a major development in the last stretch of the campaign, did not "seem to exist" in the 2020 race.
"In other words, given everything going on in the country — and Biden's popularity relative to Clinton — it simply shouldn't be that hard to imagine a small number of voters switching from Trump to Biden," the statistician wrote. "Indeed, that's what polls show: There are more Trump-to-Biden voters than Clinton-to-Trump voters."
But he said there was a possibility that Trump "might be able to overcome" factors were GOP turnout to be "disproportionately high" while Democratic turnout remained low, an outcome he deemed unlikely based on available data.
The statistician published his latest take on the 2020 election two days after he warned that Trump "could potentially benefit" from margins in crucial electoral college states being tighter than in the national vote.
Silver noted that Biden's lead in Pennsylvania—which offers 20 electoral college votes—was "solid but not spectacular" and argued that the route to victory for the former vice president might not feel "especially secure" if he failed to carry the state.
"While a lot of theories about why Trump can win (e.g., those about 'shy' Trump voters) are probably wrong, systematic polling errors do occur, and it's hard to predict them ahead of time or to anticipate the reasons in advance," the FiveThirtyEight founder also wrote.
Newsweek has approached FiveThirtyEight for further comment from Silver, and will update this article with any response.