How Trump Invited Putin to Hack the Election. Every Last Utterance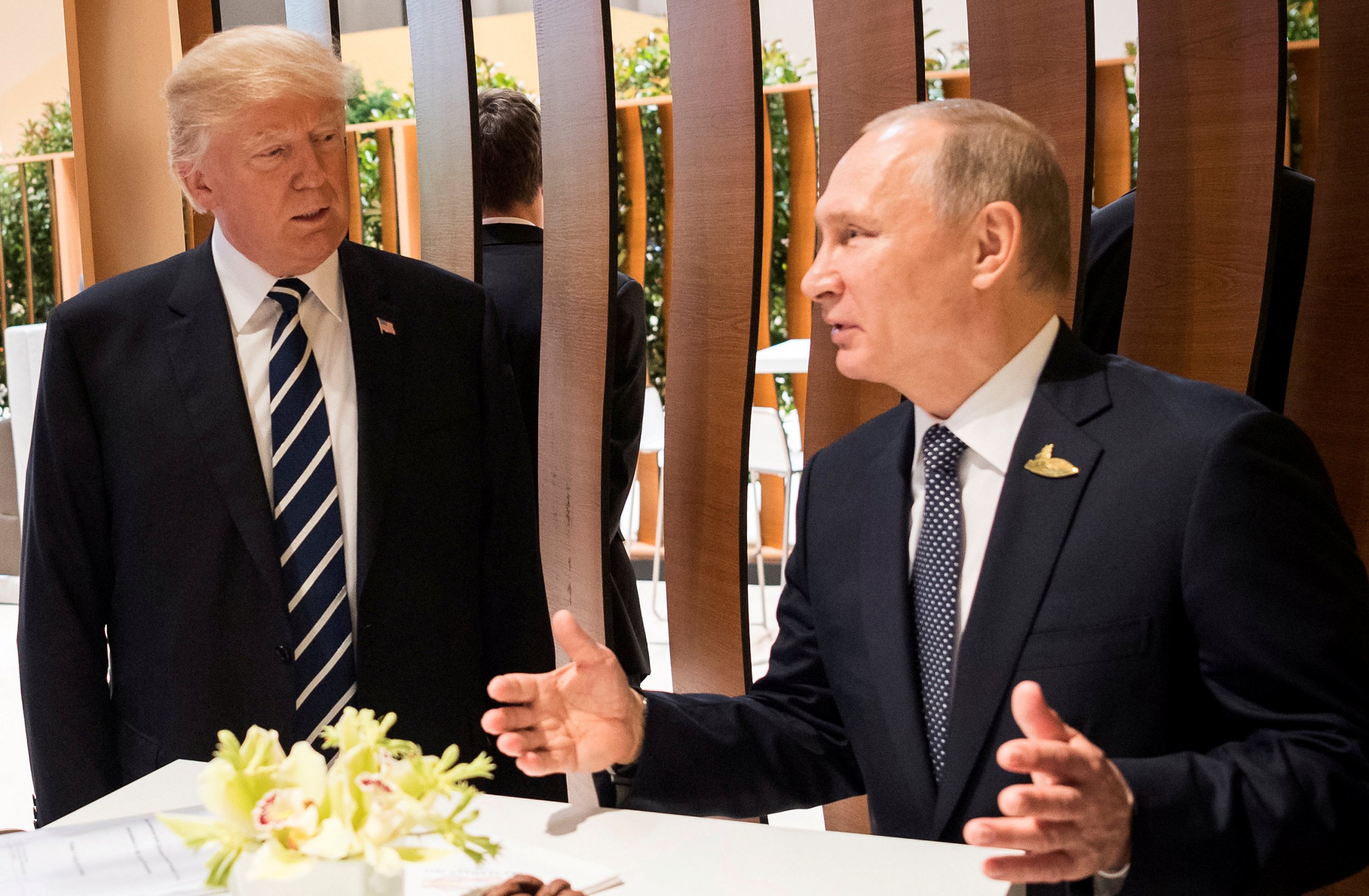 This article first appeared on the Russia Matters site.
Allegations of Russian meddling in the 2016 U.S. presidential race first surfaced more than a year ago.
Since then, Donald Trump—as a candidate, as president-elect and finally as president—has weighed in on the topic.
In some ways, his position has evolved: from saying that the story of Russian interference was spread (and possibly invented) by sore-losing Democrats to conceding that Russia was behind the hacks of Democrats' computer systems, and ultimately to confronting Russian President Vladimir Putin about the allegations.
But in other ways, Trump's position has remained consistent: He maintains that even if Russia did interfere, that had no impact on the election's outcome; he has repeatedly expressed doubt that Russia was behind the hacks (even after publicly saying it was); he has insisted that his campaign did not have any back-door dealings with Russia, calling claims to the contrary part of a political "witch hunt"; and he has defended those close to him as they have been accused of colluding with Moscow.
A declassified version of a report by the U.S. Intelligence Community said in January that "Putin ordered an influence campaign in 2016 aimed at the US presidential election" whose "goals were to undermine public faith in the US democratic process, denigrate Secretary Clinton, and harm her electability and potential presidency."
The intelligence officials "further assess[ed that] Putin and the Russian Government developed a clear preference for President-elect Trump" and that they used various means—including cyber and disinformation—in pursuit of their goals.
Several investigations are ongoing— one probe by a Justice Department-appointed special counsel and a few more in various committees of the House of Representatives and Senate.
Below, we try to trace the arc of Trump's comments on the topic of Russian election interference.
July 2016: After Wikileaks released some 20,000 emails from a breach of the Democratic National Convention's computers, which the DNC blamed on Russia, Trump said: "Russia, if you're listening, I hope you're able to find the 30,000 emails [of Hillary Clinton] that are missing. … They probably have them. I'd like to have them released."
He later said he was being "sarcastic," but repeatedly said the story about his close ties to Russia was untrue and was being spread by Democrats angry over their candidate's loss.
On July 27 Trump tweeted: "Funny how the failing @nytimes is pushing Dems narrative that Russia is working for me because Putin said 'Trump is a genius.' America 1st!" ( The Washington Post, 06.01.17, AP, 07.28.16)
September 2016: Trump told RT, a Russian state-funded television network, on Sept. 8 that "it's probably unlikely" that Russia is trying to influence the U.S. election.
When Larry King, a veteran American journalist whose show airs on RT America, asked about reports that U.S. intelligence agencies are investigating whether Russia is trying to disrupt the election through cyberattacks, Trump said, "I think maybe the Democrats are putting that out… If they are doing something, I hope that somebody's going to be able to find out, so they can end it, because that would not be appropriate at all." ( RFE/RL, 09.09.16)
October 2016: Speaking on Oct. 9 at the second presidential debate—two days after U.S. intelligence agencies said they were "confident that the Russian Government directed the recent compromises of emails from US persons and institutions, including from US political organizations"—Trump said: "I notice anytime anything wrong happens, they like to say the Russians are—she [Hillary Clinton] doesn't know if it's the Russians doing the hacking. Maybe there is no hacking. But they always blame Russia." (The Washington Post, 10.09.16, 06.01.17 )
December 2016: As president-elect, Trump said in a Dec. 11 interview that he did not believe American intelligence assessments that Russia had intervened to help his candidacy, casting blame for the reports on Democrats, who he said were embarrassed about losing to him.
"I don't believe they interfered. That became a laughing point—not a talking point, a laughing point. Any time I do something, they say, 'Oh, Russia interfered.' It could be Russia. And it could be China. And it could be some guy in his home in New Jersey. I think the Democrats are putting it out because they suffered one of the greatest defeats in the history of politics in this country," Trump said.
His transition team said: "These are the same people that said Saddam Hussein had weapons of mass destruction. The election ended a long time ago in one of the biggest Electoral College victories in history. It's now time to move on and 'Make America Great Again.'" ( The Washington Post, 12.09.16, The Washington Post, 12.09.16, The Washington Post, 12.09.16. New York Times, 12.11.16, New York Times, 12.11.16)
Trump returned to the topic on Twitter on Dec. 15: "If Russia, or some other entity, was hacking, why did the White House wait so long to act? Why did they only complain after Hillary lost?" he tweeted. ( New York Times, 12.15.16)
Hours after the Obama administration announced the expulsion of 35 suspected Russian spies and issued sweeping new sanctions against Moscow on Dec. 29, Trump said it was "time for the country to move on to bigger and better things" but also promised to study the related allegations more closely: "[I]n the interest of our country and its great people, I will meet with leaders of the intelligence community next week in order to be updated on the facts of this situation," the president-elect said in a statement.
When Putin surprised U.S. officials the following day by saying he would not retaliate with a tit-for-tat expulsions, Trump tweeted: "Great move on the delay" and, in in reference to the Russian president, "I always knew he was very smart." ( The Washington Post, 12.29.16, The Washington Post, 02.09.17)
January 2017: An unverified dossier accusing Russia of gathering sexually explicit material to blackmail Trump was published online by Buzzfeed. Trump vigorously denied the swirl of allegations, calling it "fake news" and praising Putin for saying it was false.
Trump called BuzzFeed "a pile of garbage" for publishing the allegations. In comments made before a Jan. 11 news conference, Trump said that "Russia has never tried to use leverage over me" and criticized intelligence agencies, saying they "should never have allowed this fake news to 'leak' into the public." "One last shot at me. Are we living in Nazi Germany?" Trump said. ( RFE/RL, 01.07.17, The Moscow Times, 01.09.17, RFE/RL, 01.07.17)
Trump conceded for the first time that Russia was behind the hacking of Democrats' computer systems during the presidential election. "I think it was Russia," Trump said at the Jan. 11 press conference.
Trump and most fellow Republicans in Congress have concluded that while Russia may have hacked the November election, it had no influence on the outcome. Trump has also vowed to take aggressive action to stop cyberattacks, but prior to seeing the classified intelligence report on Jan. 6, insisted in an interview with the New York Times that the storm over Russian hacking was a "political witch-hunt."
Trump said on Jan. 13 that his administration would produce a full report on hacking within the first 90 days of his presidency and accused "my political opponents and a failed spy" of making "phony allegations" against him. ( Bloomberg, 01.13.17, RFE/RL, 01.07.17, The Moscow Times, 01.09.17, RFE/RL, 01.07.17)
Trump called for a congressional investigation of NBC News for reporting the contents of a classified intelligence report about alleged Russian computer hacking targeting U.S. elections. (NBC reported that the document concludes, among other things, that the hacks were payback for the Obama administration's questioning of Putin's legitimacy as Russia's president.)
Trump earlier quoted WikiLeaks founder and fugitive Julian Assange questioning the Russians' role in hacking Democrats' emails. However, Trump then wrote that it was "wrong" for media reports to suggest he agrees with Assange, who has maintained he didn't receive the stolen information from the Russian government. ( RFE/RL, 01.06.17, , The Moscow Times, 01.04.17, Bloomberg, 01.03.17, Wall Street Journal, 01.05.17, RFE/RL, 01.06.17)
February 2017: Trump says it's not fair "the haters" tie him to Putin when former U.S. President Barack Obama was the one who struck a deal with Iran. Trump tweeted Feb. 6: "I don't know Putin, have no deals in Russia and the haters are going crazy—yet Obama can make a deal with Iran, #1 in terror, no problem!"
About a week later, Trump's national security adviser, Michael Flynn, stepped down amid allegations that he had met with Russia's ambassador before Trump's inauguration and discussed ending sanctions against Moscow.
A day after Flynn resigned, Trump defended him on Twitter, saying he was "a wonderful man" who was "treated very, very unfairly by the media, as I call it, the fake media in many cases." ( AP, 02.07.17, CNN, 02.15.17, Newsweek, 05.18.17)
At the same time Trump responded to a New York Times report that his campaign aides and associates "had repeated contacts with senior Russian intelligence officials in the year before" the November 2016 election. In a string of tweets Feb. 15 Trump took aim at targets ranging from "the fake news media" to "Hillary Clinton's losing campaign" to "the intelligence community (NSA and FBI?)," which he said was "just like Russia."
"Crimea was TAKEN by Russia during the Obama Administration. Was Obama too soft on Russia?" Trump tweeted. "The real scandal here is that classified information is illegally given out by 'intelligence' like candy. Very un-American!" "This Russian connection non-sense is merely an attempt to cover-up the many mistakes made in Hillary Clinton's losing campaign." (Bloomberg, 02.15.17, Reuters, 02.15.17)
March 2017: As FBI Director James Comey testified before the House Intelligence Committee and confirmed the bureau is probing potential ties between Trump's associates and Russia during the 2016 campaign, Trump tweeted: "Comey refuses to deny he briefed President Obama on calls made by Michael Flynn to Russia."
Trump also said that claims that his campaign colluded with Russia during the campaign were no more than a political ploy by disenchanted Democrats. Former director of national intelligence "James Clapper and others stated that there is no evidence Potus colluded with Russia. This story is FAKE NEWS," Trump tweeted on March 20. "The Democrats made up and pushed the Russian story as an excuse for running a terrible campaign. Big advantage in Electoral College & lost!" ( Bloomberg, 03.20.17)
April 2017: Trump said in an interview that "the Russia story is a total hoax. There has been absolutely nothing coming out of that." ( New York Times, 04.05.17)

Later that month Trump told CBS that the "phony" story about Trump associates' ties to Russia was being manipulated by the media, which were ignoring the fact that Michael Flynn had been vetted by the Obama administration.
"I just heard where General Flynn got his clearance from the Obama administration," Trump said. "And when he went to Russia, I didn't realize this, when he went to Russia, it was 2015, and he was on the Obama clearance." (Politifact, 05.02.17)
In the same CBS interview Trump also reverted to doubting U.S. intelligence assessments that Moscow hacked the emails of Democratic officials to meddle with the 2016 presidential election, saying China may have done it instead.
"Knowing something about hacking, if you don't catch a hacker, okay, in the act, it's very hard to say who did the hacking. With that being said, I'll go along with Russia. Could've been China, could've been a lot of different groups." (Reuters, 05.01.17, CBS News, 04.30.17)
May 2017: On May 8 Trump tweeted: "The Russia-Trump collusion story is a total hoax, when will this taxpayer funded charade end?" The next day he fired FBI director Comey and later told NBC: "When I decided to [fire Comey], I said to myself, I said you know, this Russia thing with Trump and Russia is a made up story."
The day after the firing he met with Russian Foreign Minister Sergei Lavrov and Ambassador Sergei Kislyak in the Oval Office. According to the White House, the meeting took place because "Putin did specifically ask" for it during an earlier telephone conversation with Trump.
During the meeting the U.S. president called Comey "crazy, a real nut job," adding: "I faced great pressure because of Russia. That's taken off."
After reports surfaced that he may have revealed classified information about intelligence sources during the meeting, Trump said he had the "absolute right" to share security information on terrorism and aviation safety with the Russians and the White House defended the conversation as "wholly appropriate." ( NBC, 06.07.17, Politico, 05.10.17, CNN, 05.17.17)
June 2017: Trump on June 22 called Russia's meddling in the 2016 election "all a big Dem HOAX" and accused Obama of not doing enough last year to "stop" Russian interference. The latter comment came in reference to testimony that the DNC, after it was hacked, declined an offer of help from the Department of Homeland Security. (The Washington Post, 06.22.17, Bloomberg, 06.23.17)
July 2017: Ahead of his first face-to-face meeting with Putin Trump said he believes Russia meddled in the 2016 election but maintained that the U.S. may never know for sure, likening the matter to intelligence that had incorrectly said Iraq had weapons of mass destruction. "I think it was Russia, but I think it was probably other people and/or countries," Trump told reporters in Warsaw.
Asked whether he planned to discuss election meddling with Putin, Trump demurred, saying of Obama: "They say he choked. Well, I don't think he choked… I think he thought Hillary Clinton was going to win the election, and he said, 'Let's not do anything about it.'" Trump also said only ''three or four'' of the United States' 17 intelligence agencies had concluded that Russia interfered in the presidential election. ( Bloomberg, 07.06.17, Bloomberg, 07.06.17, New York Times, 07.07.17)
Following the meeting with Putin at the G-20 summit meeting in Hamburg, Trump's official Twitter account retweeted a State Department post: "Sec. Tillerson: @POTUS and Russian President Putin's meeting was constructive. This is an important relationship."
Trump also said he pressed Putin on claims of Russian interference in the 2016 election. Trump tweeted: "I strongly pressed President Putin twice about Russian meddling in our election. He vehemently denied it. I've already given my opinion....." Later that day, Trump signaled a willingness to cooperate closely with Russia on cyber security.
"Putin & I discussed forming an impenetrable Cyber Security unit so that election hacking, & many other negative things, will be guarded," he tweeted.
A few hours later, following harsh criticism of the idea of such a unit, including some from top Republican lawmakers, Trump appeared to backtrack, tweeting: "The fact that President Putin and I discussed a Cyber Security unit doesn't mean I think it can happen. It can't-but a [Syria] ceasefire can,& did!" (Twitter, 07.07.17, Twitter, 07.09.17, Twitter, 07.09.17, Twitter, 07.09.17, Reuters, 07.09.17, Bloomberg, 07.09.17)
After the New York Times reported that Trump's eldest son, Donald Trump, Jr., had met during the presidential campaign with a Russian lawyer on the basis of promises that the Russian government would supply information damaging to Trump's rival, Hillary Clinton, the president jumped to his son's defense, tweeting: "My son, Donald, will be interviewed by @seanhannity tonight at 10:00 P.M. He is a great person who loves our country!" and then "My son Donald did a good job last night. He was open, transparent and innocent. This is the greatest Witch Hunt in political history. Sad!"
In response to a Washington Times story on the meeting, he wrote: "@WashTimes states 'Democrats have willfully used Moscow disinformation to influence the presidential election against Donald Trump.'" Trump continued his defense on July 13: "Most people would have taken that meeting," he said at a news conference in Paris. "It's called opposition research, or research into your opponent." ( Twitter, 07.11.17, Twitter, 07.12.17, Twitter, 07.12.17, AP, 07.13.17)
Compiled by Russia Matters project director Simon Saradzhyan, editor Natasha Yefimova-Trilling and assistant editor Ted Siefer.
This publication was amended on July 19 to eliminate the phrase "RT's Larry King." The journalist is not an employee of RT.​
This article first appeared on the Russia Matters site with the headline "Russian Election Interference in Trump's Own Words."