How Trump vs. Biden Match Up in Key Swing States of Pennsylvania, Michigan, Florida and More, According to the Polls
With Senator Bernie Sanders' decision to suspend his presidential campaign on Wednesday, former Vice President Joe Biden is now the presumptive Democratic nominee to challenge President Donald Trump in November.
While most recent national polls show Biden beating Trump in a hypothetical general-election matchup, the election will likely come down to who pulls ahead in several closely watched contests in battleground swing states such as Pennsylvania, Michigan, Florida and Wisconsin. Democrats won these states during the 2008 and 2012 elections, when former President Barack Obama was the candidate, but Trump managed to turn them red in 2016.
Currently, Biden appears to be ahead in Michigan, Wisconsin and Pennsylvania. But recent polling in Florida suggests a tight race between the former vice president and the incumbent president.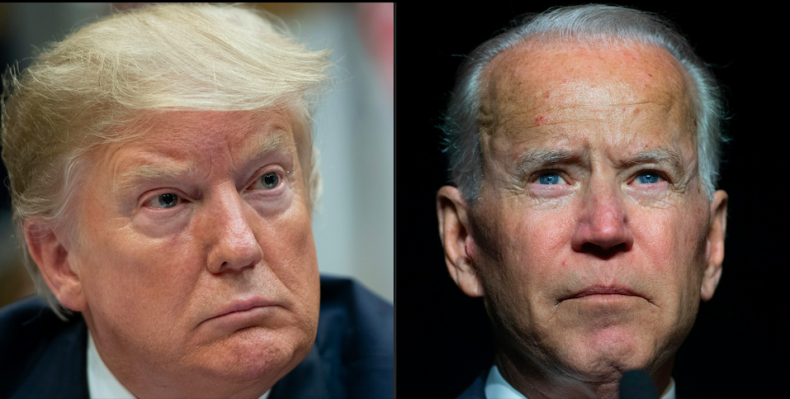 An average of recent Michigan polls compiled by Real Clear Politics shows Biden ahead of Trump by about 4.4 points. Approximately 46.2 percent of the Midwestern state's voters back Biden, while 41.8 percent support Trump. At the same time, a significant proportion (12 percent) of voters remain undecided or could back a different candidate.
The best recent poll for Biden was conducted by Monmouth University from March 5 to 8. It showed the Democratic hopeful with 48 percent support, compared with Trump's 41 percent. But a poll conducted by Marketing Resource Group from March 16 to 20 showed a closer race, with Biden backed by 44 percent of Michigan voters and the president supported by 41 percent—a difference of 3 percent.
Trump narrowly beat former Democratic candidate Hillary Clinton in Michigan in 2016. He got just 0.2 percent more of the vote than Clinton, with the final total being 47.5 percent for Trump and 47.3 percent for the Democratic candidate.
In Florida, the results are more mixed. Two recent polls by Univision and Florida Atlantic University show Trump ahead of Biden, while another survey by the University of North Florida shows Biden with a significant lead. An average of the recent surveys by Real Clear Politics shows Biden ahead overall by just 0.4 percent, with about 46.7 percent support compared with Trump's 46.3 percent.
In 2016, Trump won Florida with 49 percent of the vote compared with Clinton's 47.8 percent. Obama had won the state with 51 percent of the vote in 2008 and 50 percent in 2012.
Biden appears to have a more comfortable lead in Pennsylvania, however. Three recent polls show the former vice president ahead of Trump, while a fourth by Morning Call shows the two candidates tied. Overall, the Real Clear Politics average shows Biden ahead by about 3.8 points, or 47.3 percent to Trump's 43.5 percent.
The most recent Pennsylvania poll, which was conducted by Yahoo News/YouGov from March 6 to 8, shows Biden ahead by 6 points, 46 percent to Trump's 40 percent. Trump won the state by 0.7 percent in 2016, taking 48.6 percent of the vote compared with Clinton's 47.9 percent. In 2008, Obama carried the state with a lead of more than 10 percent, and he was more than 5 percent ahead of his Republican challenger in 2012.
Biden also seems to have a slim lead over Trump in Wisconsin. Surveys conducted in March by Public Policy Polling and the Marquette Law School showed Biden ahead by 3 points, 48 percent to Trump's 45 percent. A Yahoo News/YouGov poll conducted earlier in March showed the Democratic hopeful ahead by just 2 points, 44 percent compared with the president's 42 percent.
Trump won Wisconsin by just 0.7 percent of the vote in 2016, taking 47.2 percent compared with Clinton's 46.5 percent. In both 2008 and 2012, Obama won a majority of the state's votes, garnering 56.8 percent support in his first election and then 52.8 percent during his re-election bid.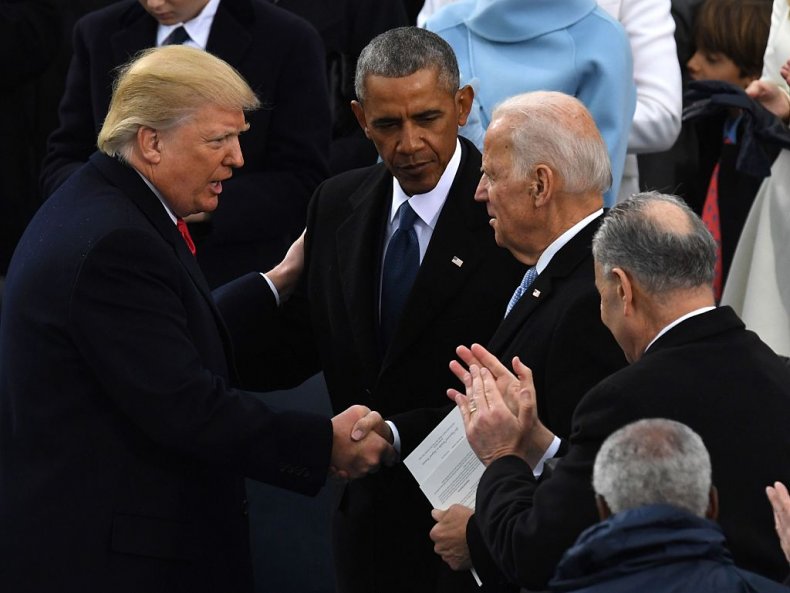 In nationwide polls, Biden has a more commanding lead over Trump, with several recent surveys showing the Democratic contender ahead by 9 percent and even 10 percent. But as Democrats learned in 2016, a commanding lead in national polls does not necessarily translate into victory in the general election.
Clinton was ahead of Trump by more than 20 points in some national surveys in mid-2016. But Trump pulled off a series of narrow victories in the states discussed above, despite Obama having won them in the past two presidential elections.
Whether Trump can secure Michigan, Wisconsin, Florida and Pennsylvania again during the November election, or Democrats can win them back with Biden on the ticket, will likely determine the winner. The most recent polling suggests Democrats currently have the advantage.