How Two Work Colleagues 'Fell Madly in Love' During Pandemic
Melissa, 53, and Gary, 69, had had a few "his" and "byes" over the year, bumping into one another in the corridors when Gary would visit Melissa's office once a month. Gary worked as the vice president of sales and marketing at an automotive aftermarket accessory company which was part of the same LLC as Melissa, where she worked in customer service. It wasn't until a pandemic struck and an at-home office messaging system was introduced that the pair found love.
"I always knew growing up in my whole life, I thought there's got to be something out there. There's got to be more out there. There had to be, but I didn't know what that was. And I didn't know how to get it. And it just kind of fell in my lap with Gary," said Melissa, of her relationship which captivated over 60,000 people after going viral online when Melissa shared a brief summary to the Subreddit "Made Me Smile."
"Someone asked when the book was coming out," she laughed. It's not far from a bestseller storyline. Boy meets girl. Girl meets boy. Boy sends Amazon Chime message warning her not to use too much Clorox while disinfecting the office during a global pandemic. Or something like that.
"We actually started chatting via the interoffice memo board," explained Melissa. In April 2020, Melissa's work became a skeleton office, leaving it to her to wipe down surfaces with an antiseptic wash every day. "We had an interoffice memo that would go to everybody and I would notate on the interoffice memo each warning that everything had been sanitized."
"Gary sent me an interoffice memo telling me to be sure to be careful, because if I breathe too much Clorox, it can be a danger," she said. Not quite the "meet cute" Hollywood would have, but it was theirs. "And so Gary and I would chat privately and I'd say, 'checking in to see how you're doing, yada, yada, yada,' and it was all completely professional. There was still no hint of what was to come. And we would text in the mornings when I got into the office. You know, 'Hi, how's your day,' and that was it. "
Before the pandemic, Gary and Melissa's friendship had been barely that. "I never had an occasion to really talk to her other than when I walked through the building and said hello, because she worked for, in essence, a different company," said Gary.
Although they hadn't spoken much, Gary said he was still well aware of her kindness. In 2019, Gary's long-term partner, Laurie, whom he called his wife though they weren't officially married, passed away after a four-year battle with cancer. His first day back in the office was filled with the obligatory commiserations and "sorry for your losses."
"Everybody's always nervous about what they say, because I had been married [together] for nine years. And Melissa just walked in there and said, 'You look like you need a hug,' and just gave me a hug," he said. "It's like, out of all the things that had happened and all the condolences, that was what I needed more than anything."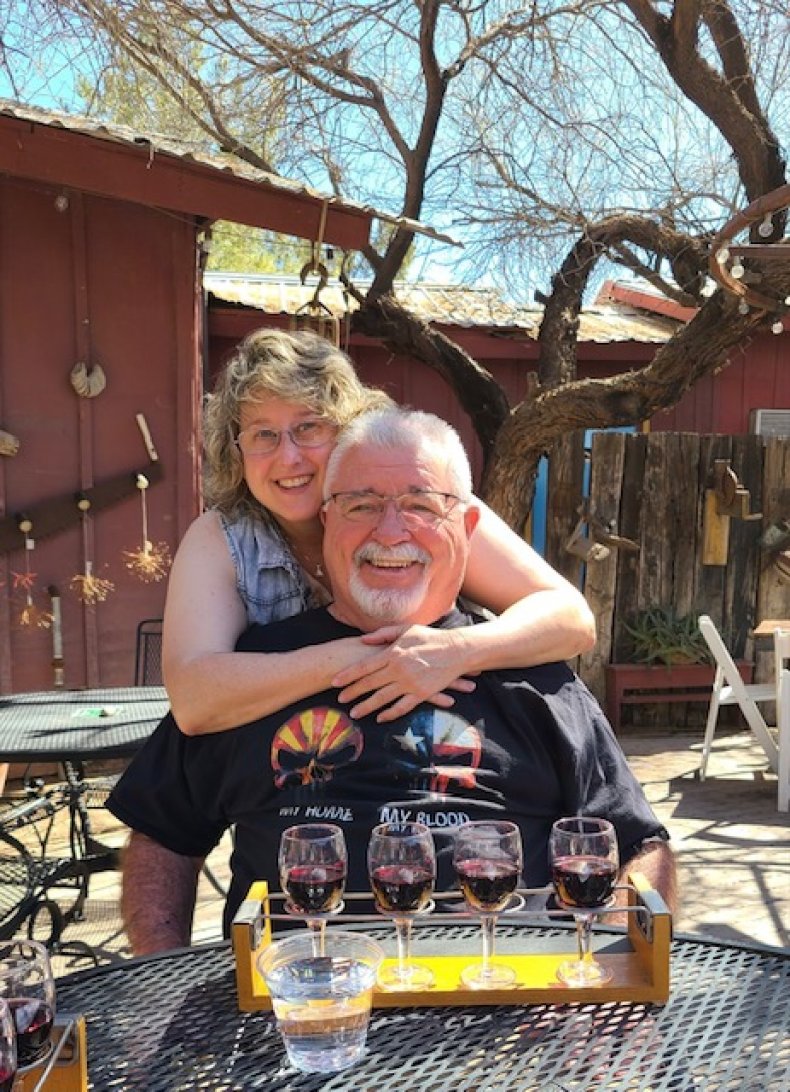 The couple mark around the fourth of July, when Gary came down with COVID, as when things moved on from their keeping-tabs-on-one-another routine, and began what people online have described as "the best thing to come out of the pandemic."
"There was a really great friendship that had developed, there was a real, it was an easiness of it. It's just comfortable to talk. It was comfortable. We were comfortable with each other," said Melissa, who had previously accepted that she would be happy alone. "It was about mid-July, when I think we started realizing. You know, maybe something's happening here."
That's when they switched off their computers, ditched the notification sounds and made their friendship offline. Thanks to a French impressionist painter. Gary had been cleaning his house and decided to throw away a Monet poster. Wondering who to give it to, he asked Melissa: "You don't know anybody that likes Monet?"
Monet is Melissa's favorite artist. "I'll take the poster," she said to him.
Gary, who lives south of Phoenix, offered to drive down to Tucson, where Melissa lived to take her the poster once he recovered, suggesting "lunch or dinner or something" at the same time. "I started to get this thrill every time we texted," said Melissa. "I was just like 'oh, Melissa, you are in so much trouble.'"
When it came to their first date, they chose a "quiet little sushi restaurant." "I forgot the Monet," said Gary, who had got so caught up in the dinner part of the plans, he forgot to even bring the poster that started it.
The restaurant was only a quarter full thanks to the ongoing pandemic restrictions, "so anything you say just resonates throughout the restaurant. So you see the waitress kind of looking over, like 'what's going on over there?' She had the good sense to leave us alone because we were having so much fun," he added.
"He leaves after that first date, and I went up to give him a hug, and I was going to give him a kiss on the cheek, and he turned around to hug me, and it's like we accidentally touched the lips," said Melissa on their first-kiss-that-wasn't-their-first-kiss, and in the words of Gary, was "worse than one of those when I was 16 years old."
Melissa walked back to her apartment thinking, "Oh my god, he's gonna think you're such an idiot," and Gary drove home thinking, "Gary, you idiot."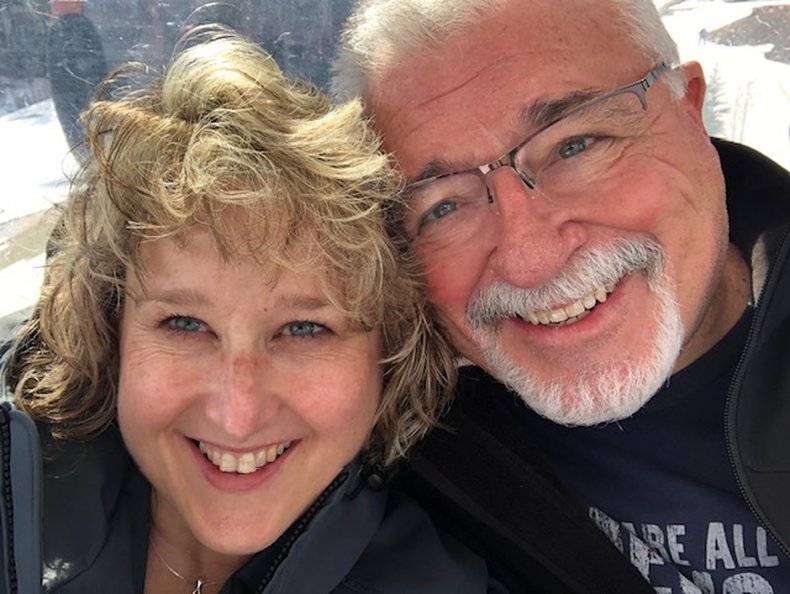 The pair said after their second date at an Italian restaurant, they were "inseparable," and that the proper kiss this time more than made up for the previous. "It knocked me right out of my socks. Let me tell you, it was a great kiss," said Melissa. "He went back home after dinner. And we started burning up the phone lines and talking for hours and texting constantly."
But the pair couldn't Jim-and-Pam-from-The-Office-it straight away, with their work's strict no-dating policy meaning it had to be kept a secret. Plus, they "really didn't want to become workplace gossip."
The year that followed for most wasn't the most exciting, amid canceled holidays and Zoom quizzes. It was the same for Gary and Melissa, but the excitement was still there. "We didn't go anywhere on weekends, if we went anywhere we went camping, or we went for a drive or we just stayed at his house and watched movies and, and snuggled up with the dogs," recalled Melissa.
Eventually though, Melissa had planned on leaving to look after her elderly mother anyway, they both left their jobs at their workplace to be together, after not wanting to break the rules or have any exceptions made for them. Now, the pair share the same address too, after moving in together, and their kids love their partners. Melissa has three grown-up children from a previous marriage, and Gary also has two sons and a daughter from previous marriages and a stepdaughter from Laurie, whom he simply sees as a daughter.
Bringing us to last week, Melissa decided to share their story to Reddit, and unintentionally landed them on the popular page: "I was scrolling through the other night looking at my pictures, and I couldn't sleep. And I was scrolling through Reddit. And I thought, you know, this picture makes me smile. I'm just gonna post it."
"A lot of people were saying that this was the best thing they'd heard to come out of the pandemic," laughed Melissa.
"During the height of the pandemic, this co-worker and I began keeping tabs on each other while working from home. We fell madly in love," she wrote.
The chosen image was of the couple at Melissa's first major league basketball game– the tickets were a gift from Gary. "He treats me like a queen. It took a lot for me to get used to that because I'm pretty independent and I always paid my own way. And we'd be at dinner and I would get in a fight with him over who was going to pay the bill or who was going to pay something. So he's learned to pick his battles. And I've learned to let him pay for a few things here and there," Melissa said.
"She makes a phenomenal partner. It's just so comfortable. And it is so much fun. And she just does so much to make me feel wonderful. And it inspires me to do things that make her feel special, because she makes me feel special," countered Gary. "I'm enamored."
Melissa now works for another company, while Gary is enjoying "semi-retirement." As for their future together? The couple say it's "definitely a permanent thing," and Gary says he's learning to "get good at grabbing the check before [she] can."