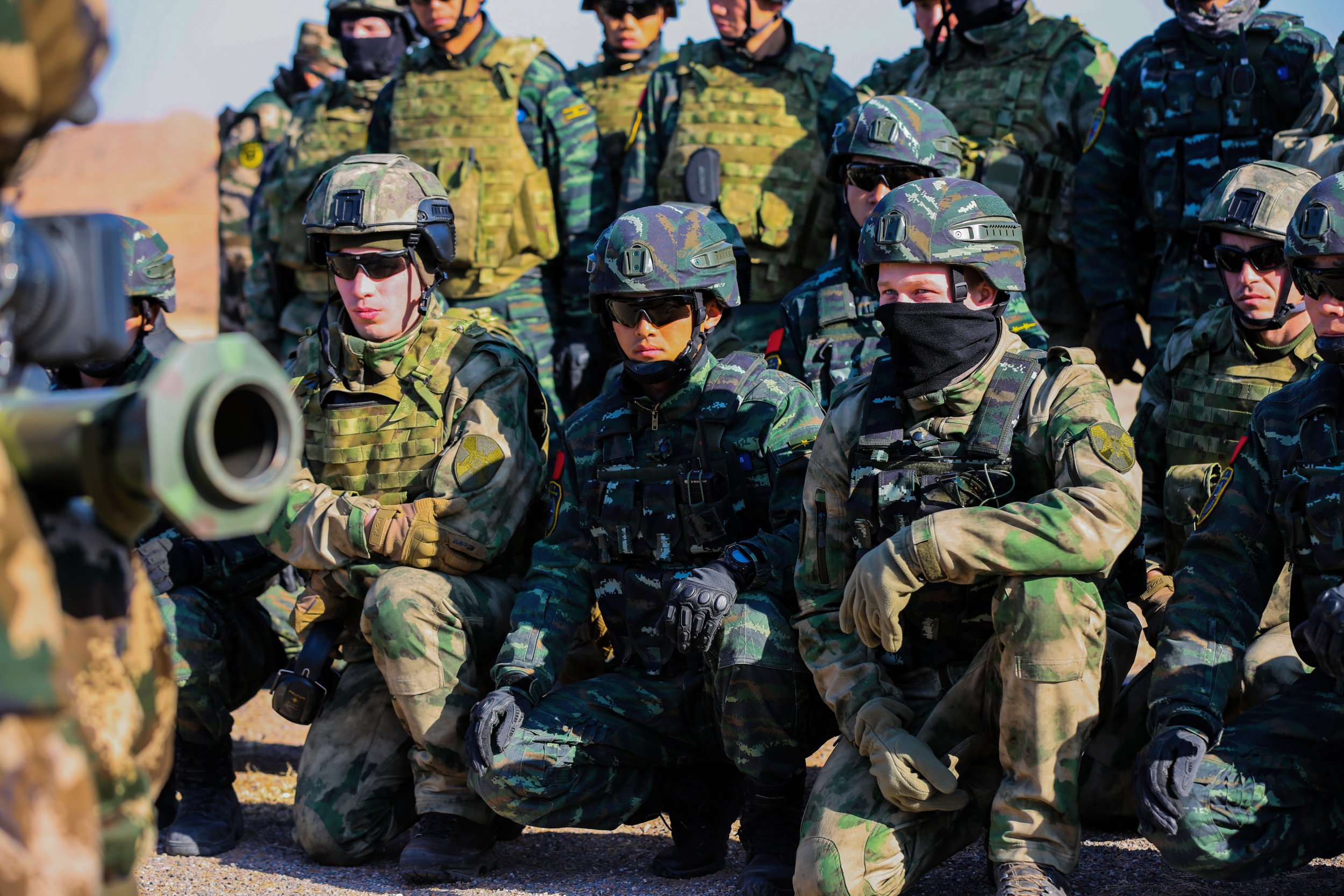 President Donald Trump has unveiled his premier national security strategy, a plan that promised to put "America First" by challenging leading competitors Russia and China and confronting what he considered aggressions by other states, especially nuclear-armed North Korea. While each has traditionally been seen as inferior to the U.S. in terms of strength, all three nations have embarked on massive initiatives to modernize their armed forces in recent years and share a deep-rooted opposition to U.S. global hegemony.
Russia and China bit back Tuesday against Trump's charges that they "challenge American power, influence and interests, attempting to erode American security and prosperity" and were "determined to make economies less free and less fair, to grow their militaries, and to control information and data to repress their societies and expand their influence." Since Trump took office in January, both countries have attempted to court the real estate magnate-turned-politician at times, while also challenging his global vision. Trump's latest move appeared to have further distanced Washington from Moscow and Beijing, who have sought a close relationship with one another to defend their mutual interests.
Related: China and Russia train for war with U.S. if Trump invades North Korea
"After looking through [the strategy], particularly the parts concerning our country, one can see the imperial nature of this document, as well as unwillingness to abandon the unipolar world idea and accept a multipolar world," Dmitry Peskov, the spokesman for Russian President Vladimir Putin, told the state-run Tass Russian News Agency.
"We urge the U.S. side to stop deliberately distorting China's strategic intentions, and abandon such outdated concepts as the Cold War mentality and the zero-sum game, otherwise it will only end up harming itself as well as others," Chinese Foreign Ministry spokeswoman Hua Chunying told reporters.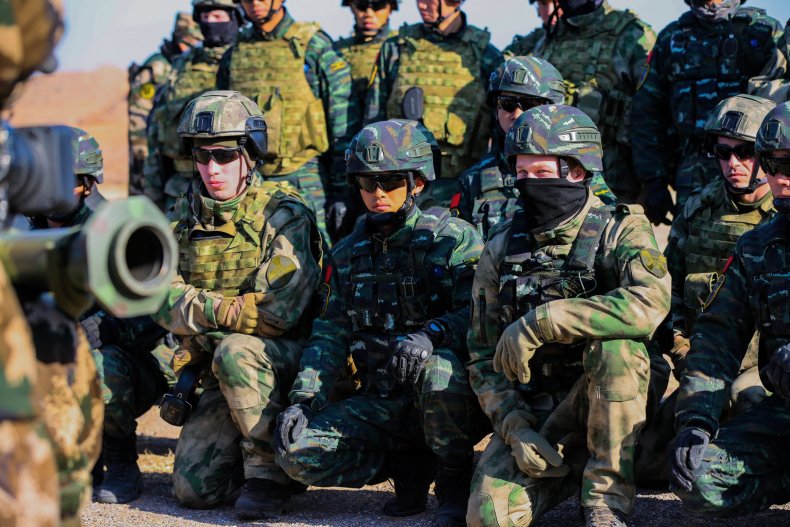 Russia, often ranked second only to the U.S. in terms of military capabilities, has expanded the power and reach of its armed forces under Russian President Vladimir Putin. Putin, who has led the country as prime minister or president since late 1999, has made defense a priority and has not only enhanced Moscow's military strength, but also has flexed its muscles near U.S. and allied forces in two strategic regions.
Russia's 2014 annexation of the former Ukrainian territory of Crimea was met with outrage by Western military alliance NATO. The subsequent feud between the multinational U.S.-led coalition and Russia has led to the largest arms race Europe has witnessed since the Cold War. In the Middle East, Russia's military victories in Syria have come with stronger diplomatic relations with local actors, weakening the U.S. position and potentially opening the door for a greater presence in the Mediterranean.
Joint Chiefs of Staff Chairman Marine General Joseph Dunford told the Senate Armed Services Committee in September that Russia was the most powerful rival to U.S. forces "in terms of overall military strength," but predicted China "poses the greatest threat to our nation by about 2025" due to its "potential to degrade core U.S. military technological advantages," as well as "demographics and the economic situation."
Like Putin, Chinese President Xi Jinping has placed his military high on his national agenda since coming to power in 2012. Xi's massive defense reforms have aimed to make the world's largest standing army into a 21st-century world-class military "built to fight." China also has focused on projecting its military power in the waters of the Asia-Pacific, where its vast territorial claims have been disputed by the U.S. and various countries that share the region's seas.
China, which competes with the U.S. for the world's largest economy, also has launched an intercontinental campaign to reassert and expand historic trading routes. The "One Belt, One Road" initiative has produced plans for economic development and commerce across Asia and the Middle East, extending into Africa and Europe, as well. As Xi looked abroad, however, an escalating crisis between North Korea and the U.S. has threatened to bring widespread violence and instability to his doorstep.
While Trump has taken diplomatic shots at both Putin and Xi, no leader has been more frequently targeted by the president than his young, millennial rival in North Korea. Trump vowed early on to stop supreme leader Kim Jong Un from testing intercontinental ballistic missiles (ICBMs) and a sixth nuclear weapon, but Kim managed to accomplish both in recent months, launching his most recent and highest ICBM late last month. The latest Hwasong-15 ICBM reportedly had the range to strike anywhere in the U.S., where defense systems were estimated to work only about half the time under perfect test conditions.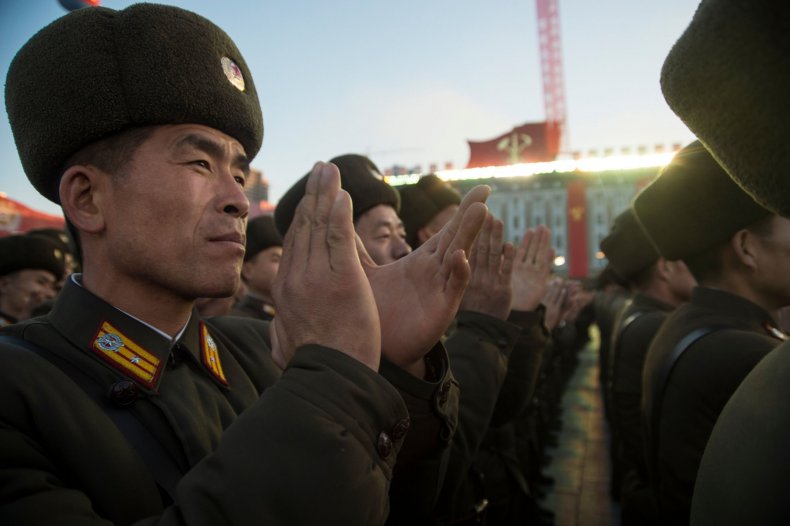 The U.S. has responded with more drills designed to show how easily Washington and its allies could overwhelm North Korea's massive, yet under-equipped military, but a letter by Lieutenant General Jan-Marc Jouas, former deputy commander of U.S. forces in South Korea, claimed last month that the sudden outbreak of a conflict on the peninsula could result in U.S. forces being the ones "outnumbered" and undersupplied.
In addition to urging Trump to accept their respective, rising roles on the world stage, Russia and China also have criticized the U.S. leader for his hardline stance against North Korea. Russia and China share a border with the reclusive, militarized state and, although they both opposed Kim's growing nuclear and ballistic weapons arsenal, they also have rallied together against U.S. threats to disarm North Korea by force.
Russia and China teamed up for a five-day, high-tech joint missile defense exercise that finished over the weekend and at least one Chinese commentator has said was intended to deter any potential U.S. military action, which could break out anytime, according to other Chinese experts. Despite Russia and China's campaigns to catch up to the U.S., most analysts have still placed them far behind the Pentagon in terms of global military strength.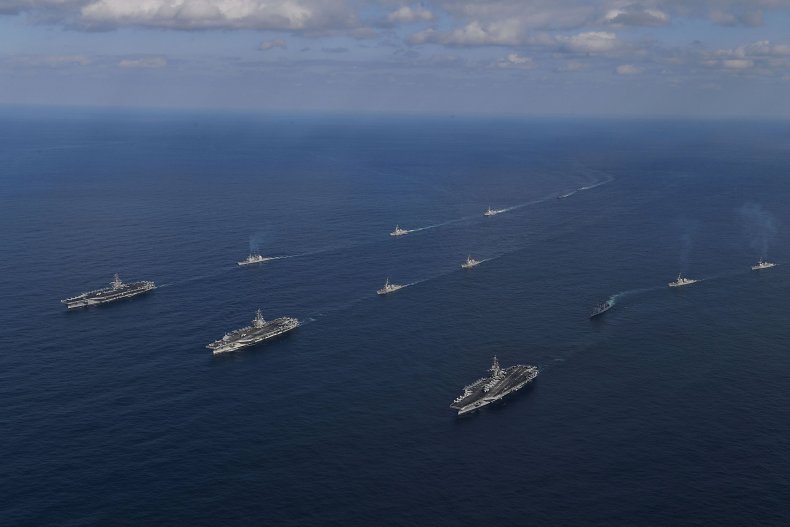 In an August article for The National Interest, military expert Robert Farley concluded that "the United States can still fight and win two major wars at the same time, or at least come near enough to winning that neither Russia nor China would see much hope in the gamble," but added that "it bears emphasis that this situation will not last forever. The United States cannot maintain this level of dominance indefinitely, and in the long-term will have to choose its commitments carefully."
These concerns have manifested themselves in various documents produced by NATO, in which the U.S. has heavily invested to defend against Russia. An internal NATO document, which was dated June and leaked by German newspaper Der Spiegel in September, showed that NATO's power had "been atrophied" since the Cold War and current command structures "would quickly fail if confronted" with an all-out war. NATO's latest Strategic Foresight Analysis report in September conceded that, "As power is shifting away from the West toward Asia, the West's ability to influence the agenda on a global scale is expected to be reduced."
Last month, NATO-affiliated NGO Globsec urged the transatlantic coalition to quickly adapt to the changing geopolitical climate and to reach out to China and other rising powers or else risk "falling behind the pace of political change and technological developments that could alter the character of warfare, the structure of international relations and the role of the Alliance itself."