How To Visit the 'Ghost Adventures' Lockdown Location, The 1886 Crescent Hotel and Spa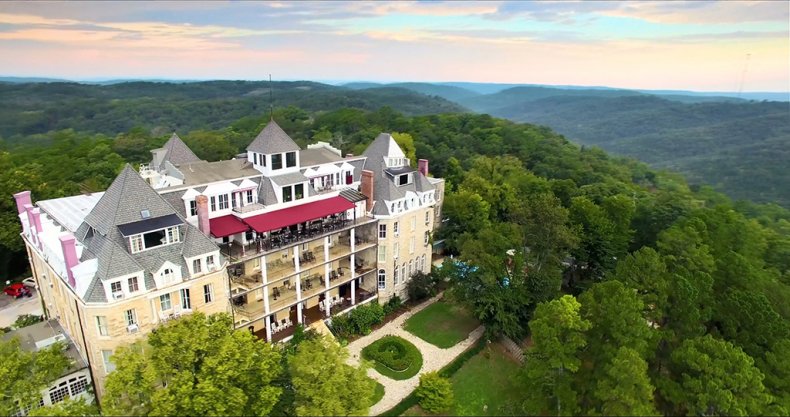 A new Ghost Adventures season will start Saturday evening with one of the most anticipated lockdowns in the reality show's history. Zak Bagans and the crew will be seen investigating the 1886 Crescent Hotel & Spain Eureka Springs, Arkansas, which made headlines for an oddity unearthing just after the crew left the property.
Bagans has long stated that investigations can cause real-time changes in energy and in locations, and when a set of jars containing human remains and tumors were found on the 1886 Crescent Hotel & Spa property, he knew it was related. The jars, which had not been seen in person at the time of the investigation in April, were used as a large talking point in the Ghost Adventures lockdown.
The lead investigator told Newsweek how massive of a discovery this was in an April interview. "Whenever something like this is discovered, whenever things are found from beneath the ground like this, it can stir up additional activity," Bagans said. "There was a lot of pain associated with those items. I just hope that what they do with those items, they handle them the right way. Those are sensitive pieces of people's bodies that died horrific deaths. You could call it murder."
So with the exciting real-time updates, can you visit the hotel? Here's what you need to know.
The 1886 Crescent Hotel & Spa is currently in full operation, and you can visit anytime. In 2017, it was even voted one of the "South's Best" locations by Southern Living Magazine. The hotel is a resort-style location, with a spa and dining options. Rooms can be purchased individually, or in a package style, which currently includes summer specials.
The hotel is considered haunted because of its eerie, dark past. It once acted as a "health resort" by a "doctor" named Norman Baker. Baker promised a quick cure to cancer for a hefty price. His claims for healing were nothing but a scam, Bagans explained to Newsweek. He removed tumors and other body parts and stored them in the glass jars, which is now proven given the current findings.
Bagans said spirits at the hotel are potential patients of Baker, who died with anger and devastation after his cures did not work, and proved to be a con. During the investigation, Bagans also aimed to speak with the spirit of Baker.
1886 Crescent Hotel & Spa does advertise the story of Baker and his twisted hospital on their website. They claim in just one year, Baker made what would be equivalent to $4.8 million.