How To Visit New York's 'Museum of Modern Love' Pop-Up Inspired By New Amazon Series
An interactive pop-up museum inspired by Amazon Prime's "Modern Love" is coming to New York City this weekend.
Museum of Modern Love bills itself as a pop-up experience dedicated to the craving for human interaction and intimacy. It will offer a photo booth, a family tree exhibit, and a "collaborative map of love and creative confessional," according to the event's Facebook page.
The Amazon Prime series "Modern Love" itself is inspired by the weekly New York Times column of the same name. Each episode will premiere a half-hour, dramatized version of previously published columns. All focus on the triumphs or hardships of falling in and out of love, as written by an ordinary person who submitted their story to the newspaper.
Reviews of the series, which debuts on the streaming platform October 18, indicate the show may paint these stories in a bubblegum light. Vanity Fair compared the series to a commercial for a credit card company, while Variety wrote that "not even stars like Anne Hathaway, Dev Patel, and Tina Fey can make this clunky series sing."
The "Modern Love" showrunner, John Carney, is responsible for hits like "Sing Street" and "Once." The series will join the ranks of some of Amazon Prime's biggest series, such as "The Marvelous Mrs. Maisel," "Jack Ryan," "Bosch" and "Transparent."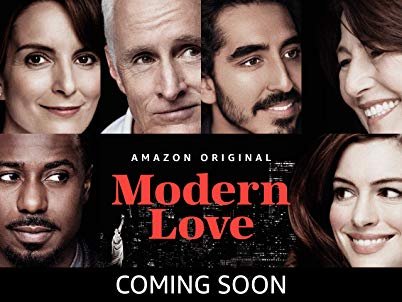 'Modern Love' will be available to stream on October 18.
Amazon
The museum will be open from 11 a.m. to 5 p.m. Friday, Oct. 11 to Sunday, Oct. 13. Some evening events will also take place, including a Friday night panel conversation about love and wellness, led by Hinge founder & CEO Justin McLeod and Matt Rogers, host of Las Culturistas, according to Respect Mag. An advanced screening of "Modern Love" will follow.
Visitors can find the Museum of Modern Love pop-up at 632 Broadway. The event has partnered with a series of brands, including Fire TV and Amazon Wedding Registry x Domino.