Walmart Free Thanksgiving Dinner: How to Get a Free Turkey, Gravy and More
Thanksgiving is coming up and families across the U.S. have the chance to claim a turkey dinner big enough to feed a family of five for free.
Mobile rewards app Ibotta has teamed up with Walmart to give away Thanksgiving dinners with 100 percent cash back, with turkey, green beans, cream of mushroom soup, crispy onions, potatoes, cranberry sauce, stuffing, gravy, and a 2-liter of soda on offer.
Feeding America reported that 50 million people in the U.S. may not have enough to eat this year, while an Ibotta survey found that more than one-third of Americans will spend less on Thanksgiving this year.
Therefore, this offer from Ibotta and Walmart is intended to "help put more cash back in consumers' pockets at a time when they need it most," according to a press release.
"Walmart is proud to team up with Ibotta this Thanksgiving to put meals on the tables of thousands of families across the U.S. at a time when they may need it most," said Sarah Henry, Sr. Director, Content and Influencer Marketing.
Bryan Leach, CEO and Founder of Ibotta, added: "While this year has been trying for so many Americans, Ibotta's 'Free Thanksgiving Dinner' program is our way of making them feel extra supported this holiday season."
Walmart Free Thanksgiving Dinner
The free Thanksgiving dinner from Ibotta is intended to feed a family of five and includes the following items:
Butterball 3-pound turkey roast/$9.98 cashback on Butterball whole turkeys
McCormick Gravy, 0.87 oz
Great Value Stuffing Mix, 6 oz
Idahoan Mashed Potatoes, 8 oz pouch
Campbell's Condensed Cream of Mushroom Soup, 10.5 oz can
Great Value Cranberry Sauce, 14 oz
Great Value Green Beans, 12 oz
French's Crispy Fried Onions, 2.8 oz
Coca-Cola, 2-liter bottle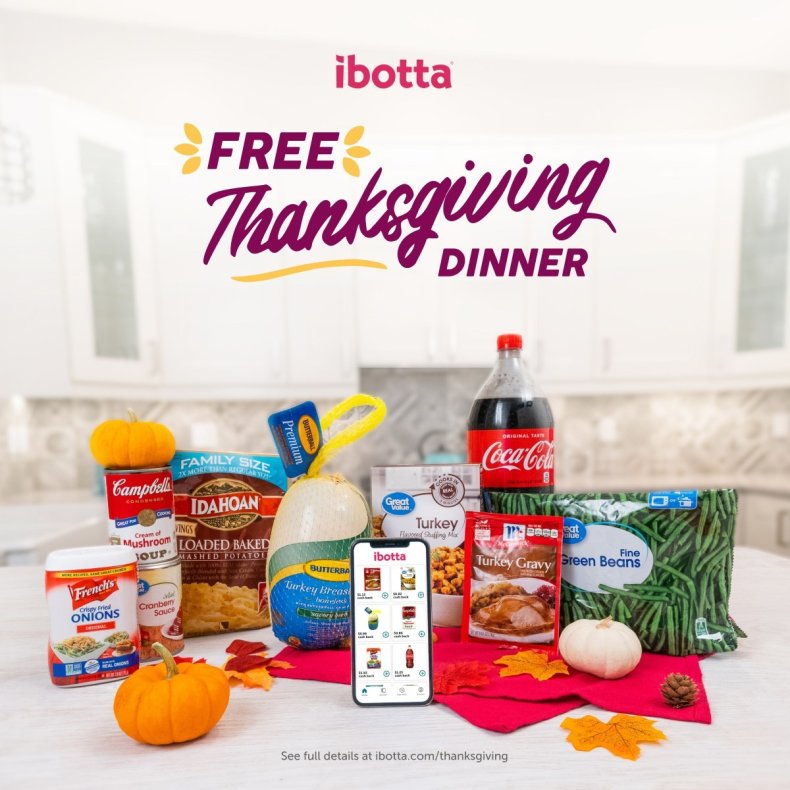 How to get a free Thanksgiving dinner from Walmart
To claim the free Thanksgiving dinner from Ibotta, download the Ibotta app on your phone or the browser extension for your computer.
Once downloaded, follow the instructions to add all nine free Thanksgiving Dinner offers to your list at Walmart.
Either shop at Walmart with the Ibotta app or link your Walmart Pick and Delivery account to shop online with the browser extension in order to be reimbursed by Ibotta.
Once the items have been purchased, scan the receipt into the Ibotta app to receive credit, which can be redeemed for cash if the customer's bank account is linked.
Customers do not have to buy all nine items to qualify for the offer—purchasing one or any combination of the Thanksgiving items will still be eligible for reimbursement by Ibotta. However, each item is limited to one per customer, and items are limited. The offer is available while supplies last.
While purchasing a 3-pound turkey roast under the offer would be free, families that need a larger turkey can purchase one at a higher price and use the $9.98 cashback offer towards the cost.
Ibotta says that customers can choose from a range of 2-liter Coca Cola bottles, including Cherry Zero Sugar, Vanilla, Caffeine Free, Caffeine Free Zero Sugar, Original Taste, and Zero Sugar, but Diet Coke is not included in the offer.