How to Watch the 2018 Bahamas Bowl: Toledo Rockets vs. FIU Panthers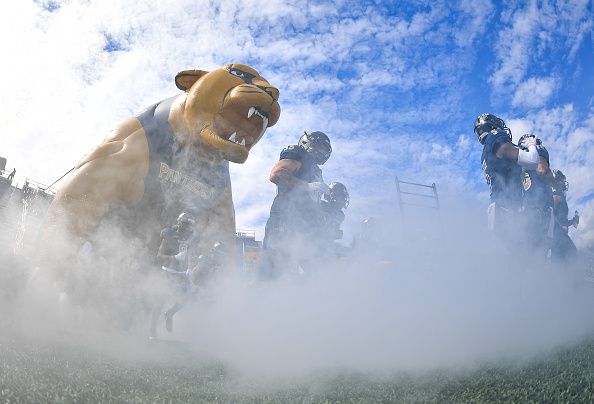 When the Toledo Rockets take on the Florida International Panthers in the 2018 Makers Wanted Bahamas Bowl Friday, the Panthers will play for the second straight year without its starting quarterback.
The game will be played Friday starting at 11:30 a.m. Eastern time, at the Thomas A. Robinson National Stadium in Nassau. It is college football's only active game outside of the United States.
At 7-5, the second-place Rockets of the Mid-American Conference will play their eighth bowl game this decade. The 8-4 second-place Panthers of Conference USA play in their second bowl game in two seasons. Both are first-timers to the Bahamas Bowl. FIU leads the series, 2-1.
James Morgan, sporting a sore throwing arm that has yet to heal completely, will sit for FIU. Senior Christian Alexander will take over for Morgan. Alexander threw for 218 yards, one interception and no touchdowns on 19 of 29 passing, but Morgan's stats will create a big gap in the Panthers offense, as racked up 2,727 yards and 26 touchdowns, completing 64.3 percent of his passes. Morgan, a Bowling Green transfer, threw seven touchdowns.
Morgan was voted CUSA's Newcomer of the Year.
FIU Coach Butch Davis said Thursday that Morgan is still recovering from a "small injury," a torn tricep he suffered in the regular season game against Marshall on Nov. 24. reported the Miami Herald.
"If the bowl game was another week or 10 days — he's very close — you could've said it was game time decision. But to protect his future as a quarterback, we didn't want to take the risk," Davis said.
Alexander is considered a better runner who sometimes prefer to keep the ball on options. He ran for 98 yards and two TDs on 14 carries for an average of 7.0 yards per carry this season.
FIU running back Shawndarrius Phillips, arrested on a domestic violence charge, will also not play, leaving the Panthers' offense vulnerable. Toledo's sophomore Illinois transfer Eli Peters reportedly has a strong arm and excels on deep throws. His receiving core features two First Team All-MAC selections in Cody Thompson, a Rockets pass-catcher since 2014, Diontae Johnson.
Other top Toledo players are wide receiver Jon'Vea Johnson, defensive end Tuzar Skipper, defensive tackle Reggie Howard and free safety Josh Teachey.
The teams have not met since 2010, when FIU beat Toledo in the Little Caesars Pizza Bowl. FIU lost to Temple last year.
Toledo Coach Jason Candle led the Rockets to a strong 2018 finish, winning four of its last five games after a rocky 3-5 start. Candle's team is one of 12 in the nation to average of 40 points per game and ranks second in the MAC at 41.1 points.
Fun facts:
"Makers Wanted" is not a brand or corporation. It is an Elk Grove Village, Illinois slogan. Yes, a small town in Illinois sponsors a bowl game in the Bahamas, writes the Hustle Belt.
Makers Wanted Bahamas Bowl partners donated 3,000 bowl tickets to school students in the Bahamas.
2018 Bahamas Bowl
Toledo Rockets vs Florida International Panthers
Thomas Robinson National Stadium • Nassau, Bahamas
Friday, Dec. 21, 2018
Time: 11:30 a.m. ET/8:30 a.m. PT
TV Channel: ESPN
Live Streaming: TV: ESPN | Live stream: WatchESPN
Odds: Toledo 58.6 percent chance to win (ESPN FPI Predictor)
KEY MATCHUP:
Toledo running game vs. FIU passing game
Prediction:
Steve Helwick (Hustle Belt): Toledo 42, FIU 32
Toledo's last bowl game was one every Rocket would like to forget. After failing to score a single point against Appalachian State in the 2017 Dollar General Bowl, expect Toledo to come out with plenty of fire.
The Rockets present the better offense, having a dynamic passing attack with wide receivers of all different talents. With the exception of the loss to MAC champion Northern Illinois, Toledo's offense dominated during the second half of the season while FIU showed some lapses, specifically in a 49-14 loss to 5-7 Florida Atlantic.
The Rockets actually scored 45 or more points in all seven wins and at least 51 in six of them. If Toledo's offense gets in the slightest groove, things will be dangerous for FIU's defense. The Panthers' defense didn't have the most phenomenal close to the season, allowing 35 to Charlotte and 28 in a loss to Marshall.
Toledo only had two wins over bowl eligible competition, but FIU faced just four teams with a winning record this year and lost to three of those games. The Rockets will make amends for last year and win by two scores in Nassau.