How to Watch NASCAR'S Coca-Cola 600 This Memorial Day Weekend
NASCAR will hold their annual Coca Cola 600 over Memorial Day weekend with no fans in attendance.
The 600 mile event will continue as planned at the Charlotte Motor Speedway in North Carolina. Fans can tune in to watch the race on Fox with pre-race ceremonies beginning at 6 p.m. ET on Sunday. Fans can also listen to the race on Performance Racing Network (PRN) affiliates with coverage beginning at 5 p.m.
NASCAR was one of the first sports to return amidst the the coronavirus pandemic. In an April 30 announcement, the organization revealed that it would begin holding races again with a 400 mile race in the NASCAR Cup series at Darlington Raceway on May 17. The Coca Cola 600 will be the fourth race that NASCAR has held since the coronavirus outbreak.
In an April 29 statement, Speedway Motors president and CEO said that the race would be a welcome return to live sports for fans globally. "As one of the first races back on television, the Coca-Cola 600 will be part of America's broadcast coming-out party for live, major-league sports competition," he said. Sports fans around the world need this -- a return to some sense of normalcy with live sports on TV -- and NASCAR is uniquely positioned to deliver it from a competition standpoint."
In a statement, Charlotte Motor Speedway announced that it would still hold its annual salute to the troops before the race, which is just as important a part of the annual event as the race itself. "While the pandemic has forced us to change a lot about what makes Memorial Day Weekend so special, one thing it cannot change is our resolve to honor those who made the ultimate sacrifice for our freedoms as well as those who continue the fight today," Charlotte Motor Speedway executive vice president and general manager Greg Walter said in a statement. "This year, our celebration here at America's Home for Racing will be both virtual and at-track, and all shared with race fans through the FOX broadcast and on social media."
According to NASCAR, the pre-race salute will include a virtual "State of Freedom" address from U.S. Secretary of Defense Mark Esper, a virtual national anthem performance by Edward Schrank who has survived head and neck cancer from chemical exposure while serving in the Marine Corps, a flyover from the Air Force Heritage Flight Foundation, a virtual 21-gun salute from the U.S. Army's 82nd Airborne Division at Fort Bragg, and more.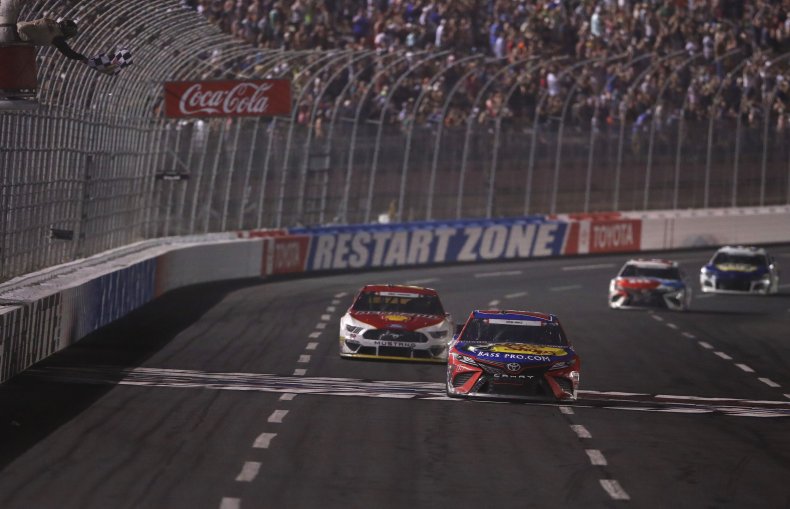 On May 14, NASCAR announced the next block of races that would continue without fans attending. The thirteen newly announced races will begin at Tennessee's Bristol Motor Speedway on May 30 and run through June 21 at Alabama's Talladega Motor Speedway.