How To Watch 320 Festival Online Mental Health and Music Festival
On Friday, 320 Festival will kick off online bringing mental health awareness through online seminars, Q&As, and artist appearances.
The festival was created by Warped Tour founder Kevin Lyman and 320 Changes Directions co-founder Talinda Bennington. The pair partnered with over 40 non-profits including MusiCares, To Write Love on Her Arms, and more to try to change the way people discuss mental health and bring more awareness to the public at large through panels that tackle different aspects of mental health and how it affects people from all walks of life.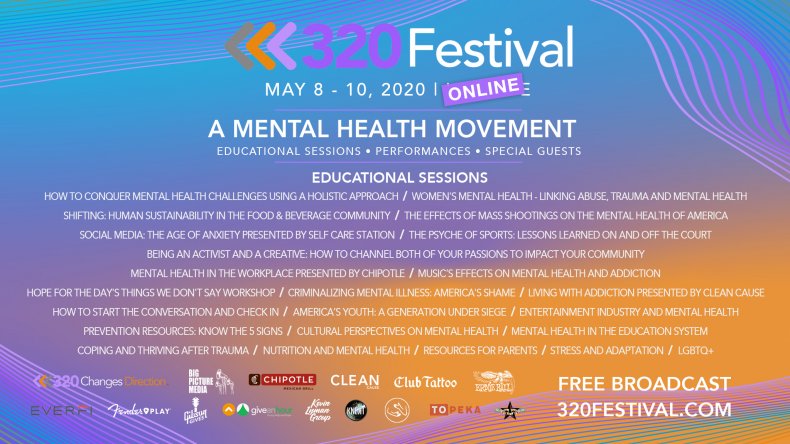 "The idea for 320 was born out of my personal experience and the recognition that we can do better to address the needs of those who are suffering with mental health concerns and addiction," Bennington said in a press release. "We need to change the culture of mental health so that those in need-and their family members-are able to speak openly about their struggles so that they can seek the care they deserve."
Bennington said that she wanted to help people that struggle with mental health after her husband Linkin Park vocalist Chester Bennington died by suicide in 2017. "Many of you know, I watched my late husband Chester suffer from mental illness and addiction," she said in a video. "Tragically, in 2017, we lost him to suicide. Ever since then, I have felt compelled to help those struggling with their mental health to normalize the conversations surrounding it and educate people on how to cope."
Beginning on Friday May 8, each of the three days of the virtual festival will begin with a "Mindfulness Daybreak" at 8:30 a.m. PT before various panels and performances for each day begin. Educational sessions for the festival tackle various aspects of mental health including the effects of nutrition (May 8 at 2 p.m.) and music (May 9 at 2 p.m.) on mental health . Other sessions include information about social media's effects on anxiety (May 9 at 12 p.m.), addiction (May 9 at 9 a.m.), and women's mental health involving abuse and trauma (May 10 at 12 p.m.).
Between each session, a variety of musicians will play their music virtually for attendees including punk rocker Frank Turner, Every Time I Die vocalist Keith Buckley, rapper Gnash and more on Friday. Coldplay's Chris Martin, Guns n' Roses bassist Duff McKagan, Art Alexakis of Everclear, and more will perform on Saturday. Pop-star Kiiara, Hoobastank's Dan Estrin, and more will stream performances on Sunday.
The festival will stream on the 320 Festival's Facebook page, YouTube channel, and KNEKT.TV. People will be able to access the festival on Roku and Apple TV via KNEKT.TV.