How to Watch Alex Trebek ABC Special 'What Is Jeopardy?': Live Stream Interview, Air Time and More Info
Alex Trebek will open up about his cancer diagnosis in ABC's upcoming special, What Is Jeopardy? Alex Trebek and America's Most Popular Quiz Show. Good Morning America co-host Michael Strahan will sit down with Trebek and his wife, Jean, and give viewers a never-before-seen view into the couple's life at home in California.
The special will air on ABC Thursday at 8 p.m. ET. Viewers without access to television can live stream the interview on ABC's website or app with a cable provider login. Hulu subscribers with Live TV services can view the show in real-time on the streaming platform, while those with standard Hulu subscriptions will have to wait until after What Is Jeopardy airs to view it On-Demand.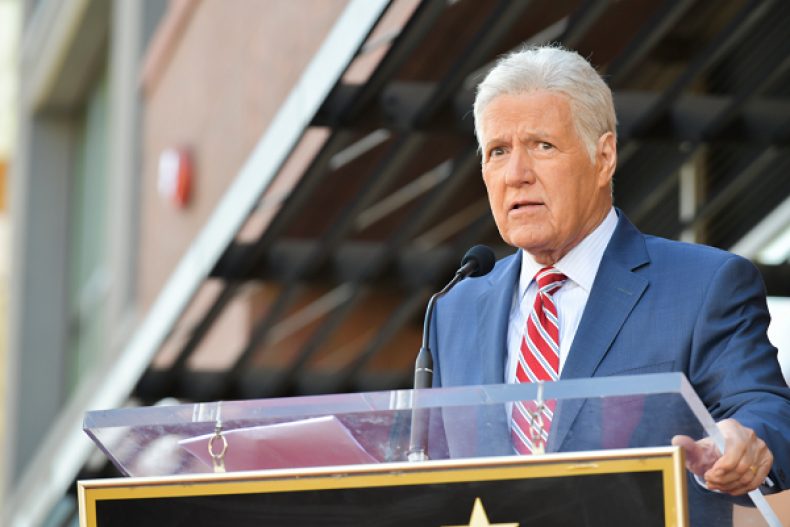 The special will feature behind-the-scenes glimpses of the long-running game show, which multi-Emmy winner Trebek began hosting in the 1980s. It will offer a look at the influence and impact Trebek has had on the world of trivia and pop culture in general over the past 35 years.
Trebek will also share more insight on his cancer battle. The 79-year-old first informed viewers of his stage 4 pancreatic cancer diagnosis in a video shared on the Jeopardy! YouTube channel in March. Although he returned to the show following his first round of chemotherapy with a good report—doctors had claimed he was "near remission" after his first treatment—Alex Trebek announced in October his cancer levels had increased tremendously and he would soon undergo chemotherapy again.
In the interview, Alex Trebek admitted he sometimes suffered from "severe pain or depression" over his diagnosis, which sometimes resulted in him not being "the most pleasant person to be around." However, he said the outpour of love and support he's received from Jeopardy! fans, colleagues and contestants have helped him stay positive.
"I have learned something in the past year and it's this: We don't know when we're going to die," he said. "Because of the cancer diagnosis, it's no longer an open-ended life, it's a closed-ended life because of the terrible...survival rates of pancreatic cancer. Because of that, and something else that is operating here, people all over America and abroad have decided they want to let me know now, while I'm alive, about the impact that I've been having on their existence."
He added: "They have come out and they have told me, and my gosh, it makes me feel so good."
Despite acknowledging pancreatic cancer's low survival rate—the American Cancer Society estimated a three percent relative survival rate for stage 4 pancreatic cancer patients—Alex Trebek said he would continue to fight the disease while he could.
"Throughout my life, I've always wondered about how courageous a human being I was," he said. "I just look at it as it's a part of life. Does that mean I'm courageous because I'm dealing with it? No. I could be scared to death and I'd still have to deal with it."