How To Watch All 2020 Golden Globe 'Best Motion Picture' Nominees Now
Golden Globes nominations were released Monday morning, and many include hyped television shows and films that are already available for the public to view at home and in theaters.
The list of Best Motion Picture nominees—which includes four categories: drama, musical or comedy, foreign language and animated—is part of a larger list that considers television shows, actors and musical contributions for awards. Here are all of the films nominated and how you can watch them now.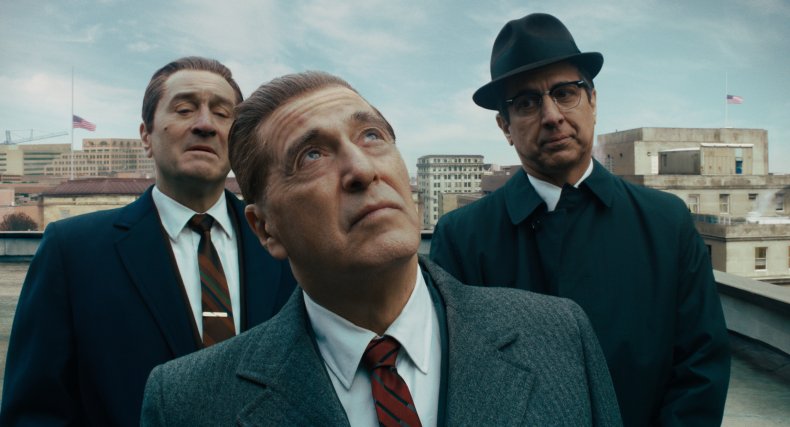 Best Motion Picture: Drama
The Irishman
Netflix subscribers are in luck this year, with three nominations in the Drama category from the streaming platform. The Irishman, which dives into an unconfirmed account of the death of Jimmy Hoffa, can be viewed on Netflix now.
Marriage Story
Another Netflix contender dives into a heartwrenching divorce, creativity and more. This movie is leading Golden Globe film nominations with six total.
1917
Viewers will need to wait a little longer to see 1917. The World War I film isn't officially out in theaters until December 25. So far, the film has been applauded by early viewers for its "one-shot" like cinematography.
Joker
While Joker isn't available to stream at home just yet, the Batman spinoff is currently in theaters and will be released on DVD on January 7, according to Comicbook.com.
The Two Popes
This historical fiction film is still streaming in select theaters but will be available on Netflix on December 20.
Best Motion Picture: Musical or Comedy
Dolemite Is My Name
This true story follows comedian Rudy Ray Moore on his rise to success. It is streaming on Netflix already, so viewers can tune in now.
Jojo Rabbit
Still in theaters, this World War II satirical film is expected to be released on DVD early in 2020.
Knives Out
Knives Out is also still in theaters. It's expected to be available on DVD in February 2020.
Once Upon A Time In Hollywood
Just out of theaters, Once Upon A Time In Hollywood is available to rent on Amazon Video, YouTube and On Demand.
Rocketman
The same as Once Upon A Time In Hollywood, Rocketman can be rented now.
Best Motion Picture: Animated
Frozen 2
This wildly-hyped sequel was just released in theaters, so it will be some time before fans can view Frozen 2 at home. Some sites, like New DVD Release Dates, claim the film will be released on DVD in February.
How To Train Your Dragon: The Hidden World
This kid's film is available for streaming now. Anyone with a Hulu subscription can watch the How To Train Your Dragon installment for free.
The Lion King
The Lion King is available to purchase on DVD already, which means it's also available to rent. The film isn't streaming on Disney+ just yet, but is expected sometime in the new year.
Missing Link
Missing Link is available to stream on Hulu now. There are also other renting options for the film, like YouTube and Amazon Video.
Toy Story 4
Toy Story 4 is only available to rent or buy right now. Amazon Video and YouTube can grant access, and Disney+ is expected to upload the film sometime in 2020.
Best Motion Picture: Foreign Language
The Farewell
This family comedy is available to rent on Amazon Video and YouTube now.
Les Misérables
The Amazon Studios film is not available to stream on the platform now. It will be released in theaters on January 10. Les Misérables steps inside Paris violence and the 2005 riots.
Pain and Glory
This film is not currently available to view, though both Amazon and Netflix have pages on their streaming services that preamble the release.
Parasite
This film, which looks at class divide, is playing in theaters now.
Portrait of a Lady on Fire
Portrait of a Lady on Fire, the story of a woman who begins a relationship with the woman who painted her wedding portrait, is not currently available to stream.