How to Watch 'All in the Family' and 'Good Times' Special: Live Stream, Air Time and More ABC Show Info
ABC will air its latest Live in Front of a Studio Audience specials on Thursday.
The newest installments to the network's live broadcasting specials include Norman Lear classics All in the Family and Good Times.
Starring Woody Harrelson as the formidable Archie Bunker, All in the Family is set to kick off the night of live performances. The 1971 hit series originally featured Carroll O'Connor as the family patriarch until it ended on CBS in 1979. Harrelson, who played Archie when ABC first reintroduced Live in Front of a Studio Audience format in May, will reprise his role in the upcoming holiday special. Meanwhile, Marisa Tomei stars as Archie's doting wife Edith, originally played by Jean Stapleton.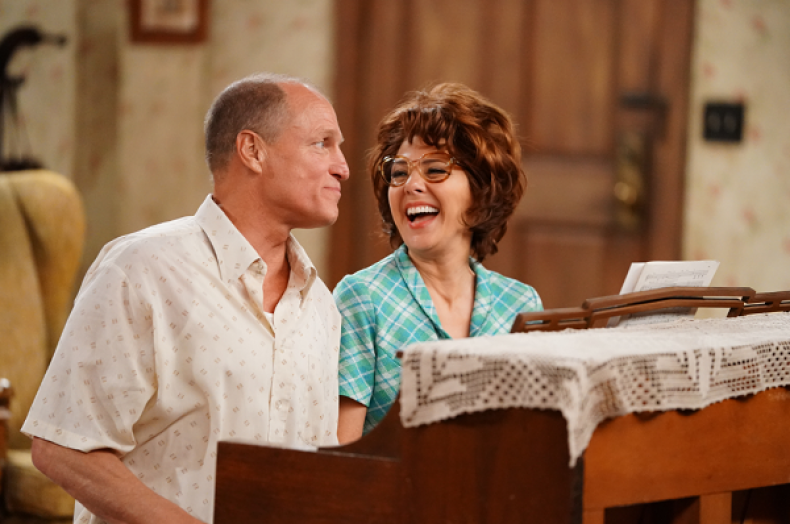 Ellie Kemper and Ike Barinholtz are also returning to their roles of Gloria Stivic and Meathead, respectively. The new episode will also feature a few newcomers including Kevin Bacon, Justina Machado and Jesse Eisenberg, although their character roles have yet to be announced.
A nod to the original Live in Front of a Studio Audience lineup, Good Times will run immediately following All in the Family. The 1974 sitcom was the first to depict an African American two-parent household and starred Esther Rolle and John Amos as the loving couple, Florida and James Evans. Viola Davis and Andre Braugher are set to play the Chicagoans for ABC's live special, while their TV show children will be played by Jay Pharoah, Asante Black and Corinne Foxx.
Tiffany Haddish is set to play Willona Woods, Florida's gal pal who lives in the same housing project. Jharrel Jerome is also billed on the cast but it is unclear what role he will serve.
It's unclear which episodes of either series will be recreated for ABC's live special, but they both have a number of Christmas-themed shows to choose from. The Bunkers celebrated the holiday a number of times during its tenure on CBS in the '70s, with the first being Season 2's "Christmas Day at the Bunkers," featuring The Jefferson's characters Louise, Lionel and Henry. The Evans family celebrated Christmas three times on Good Times.
The hour-and-a-half-long special is set to start on ABC at 8 p.m. ET on Wednesday. Viewers will be able to live stream the performances on ABC's website and app, although they'll need a cable provider login to access the stream. Those with Hulu Live TV can watch Live in Front of a Studio Audience in real-time through the streaming platform, however, those with standard subscriptions will have to wait until after the show airs to catch it On-Demand.
How to Watch 'All in the Family' and 'Good Times' Special: Live Stream, Air Time and More ABC Show Info | Culture