How to Watch Amazon Prime Video's 'Pride Inside' Festival
Amazon Prime Video is celebrating the LGBTQIA+ community this weekend with an online "Pride Inside" festival. The two-day event—which takes place June 27 and 28—is set to feature musical performances, makeup tutorials, dance workshops and more.
Among the performers tapped for the "Pride Inside" showcase are musical artists Betty Who, Vincint and the Aces. Fans of RuPaul's Drag Race should be thrilled to hear that 16 drag queens from the beloved reality show will be hosting makeup tutorials and sharing beauty tips, including Lady Bunny, Monique Heart, Raja and Manila Luzon. And anyone hoping to learn some new dance moves should be sure to catch the dance lessons offered by choreographers Parris Goebel (Born to Dance) and Ryan Heffington (Transparent: Musicale Finale).
To attend the weekend festival and explore its 360-degree layout, users will first have to create a profile at PrimeVideoPrideInside.com. Attendees can then invite nine of their closest friends to join them in the scheduled festivities. Through peer-to-peer video, everyone will be able to enjoy all of the aforementioned activities—and also witness roundtable discussions, check out virtual Pride floats and tune in to a special edition of The LGBTQ&A Podcast Live! with host Jeffrey Masters.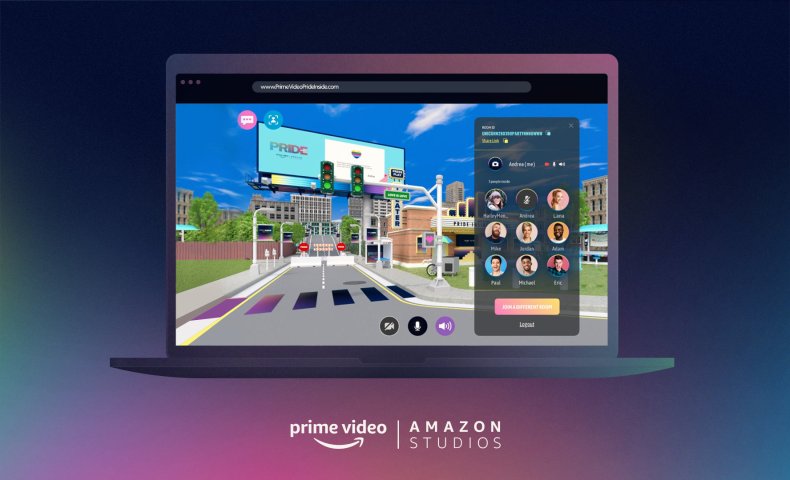 Amazon has also announced that Amazon Studios and Prime Video will be making donations to the Black AIDS Institute and the National Queer and Trans Therapists of Color Network (NQTTCN), and will allow those organizations to discuss their missions and causes during the "Pride Inside" festival.
Performers booked for the showcase are promoting the event on social media. Over on Twitter, pop star Greyson Chance mentioned that he'll be putting on a three-song set on Saturday. Meanwhile, on Instagram, actress and transgender activist Shakina Nayfack said that she'll be performing a song-and-dance number with Transparent's Judith Light.
In her Instagram post, Nayfack explained why representation and visibility matters. "For most people, they're going to meet their first transgender person through a television show character, or a movie character," she said. "We all need to see ourselves reflection in the media that we are consuming."
She added, "To all the queer creators out here, I just want to say keep doing it! Even when times are hard, even when you don't know how exactly how you're going to get it done, just keep telling your story. You don't know when it's going to affect someone."
Manila Luzon also posted on Instagram about "Pride Inside," writing, "Even though we can't be together in person this year, it's the stories we share as LGBTQ+ people and allies that create our community."