How to Watch Arizona Cardinals vs. Los Angeles Rams Wild Card Game
The NFL will hold its first-ever playoff game in a Monday night slot tonight, and a pair of former Texas high school quarterbacks will have a shootout at SoFi Stadium, site of this year's Super Bowl.
The Arizona Cardinals, led by quarterback Kyler Murray, will face Matt Stafford and the Los Angeles Rams Monday night in Inglewood, California.
The two signal callers who both played their prep ball in the Dallas area will meet for a chance to advance their pro teams to the NFL's divisional round next Sunday (Jan. 23).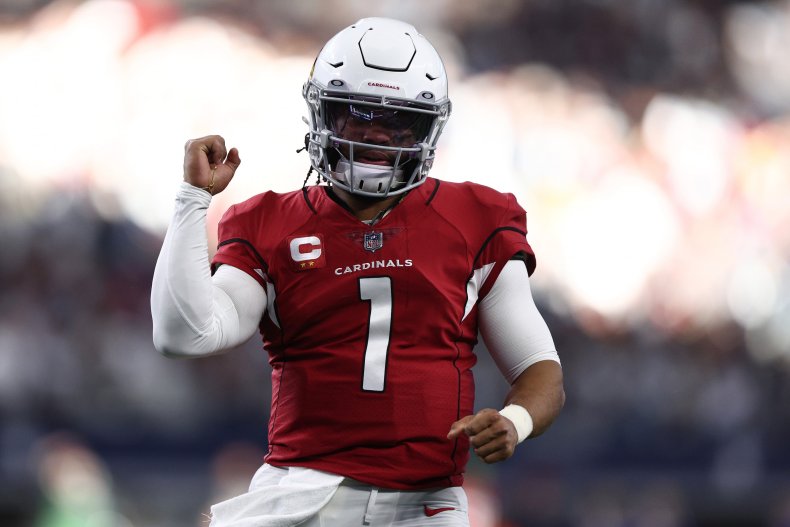 The winner of this game gets a date with Tom Brady and the Tampa Bay Buccaneers on Jan. 23 in Tampa.
Stafford led Highland Park High School to a state championship in 2005 before heading to the University of Georgia. A few years later, Murray led Allen High School to three-consecutive state championships (2012-14) and an undefeated record in that span. Murray had a brief stint at Texas A&M before transferring to the University of Oklahoma, where he won the Heisman Trophy.
Murray was a No. 1 draft pick who helped resurrect the Cardinals franchise, and Stafford resurrected his career this year after an offseason trade sent him to Los Angeles from Detroit.
Here's everything to know about the Cardinals-Rams game on Monday night.
Arizona Cardinals at Los Angeles Rams
Monday, Jan. 17, 2022, 8:15 p.m ET
SoFi Stadium
Records: Arizona (11-6); Los Angeles (12-5)
Referee: Clay Martin
TV: ABC/ESPN/ESPN2
National Radio: Westwood One
SIRIUS: 81 (AZ), 83 (LAR), 88 (National)
XM: 226 (AZ), 225 (LAR), 88 (National)
SXM App: 800 (AZ), 818 (LAR)
Favorite: Los Angeles (-3.5) — According to FanDuel
Over/Under: 49.5
Weather: Indoors
All-time head-to-head: Rams lead, 45-39-2
Playoffs head-to-head: Rams lead, 1-0
All-time playoff records: Cardinals (7-9, .438); Rams (22-27, .449)
Last postseason game:
Arizona — Lost, 49-15 at Carolina (1/24/16)
Los Angeles Rams — Lost, 32-18 at Green Bay (1/16/21)
Quick Hits
Rams coach Sean McVay is making his fourth playoff appearance since 2017 while Cardinals coach Kliff Kingsbury is making his playoff debut as a head coach.
Rams receiver Cooper Kupp this season became just the fourth fourth player since 1970 to lead NFL in receptions, receiving yards and receiving yards in the same season.
The Cardinals this season became only the third team to ever to win seven-consecutive road games by 10 or points each, matching a feat only accomplished by the 1968 Dallas Cowboys and 1984 San Francisco 49ers.
Rams quarterback Matt Stafford in 2021 ranked second in the league for touchdown passes (41), third in passing yards (4,886) and sixth in QB rating (102.9).
Cardinals quarterback Kyler Murray this season became the first QB in NFL history to pass for 70 or more touchdowns (70) and rush for 20-plus touchdowns (20) through the first three seasons of his career.
Rams defensive lineman Aaron Donald, with his 12.5 sacks this season, is the only player in the league with 10 or more sacks in each of past five seasons.