When to Watch 'The Bachelor' Premiere on ABC: Monday or Tuesday?
The new year is finally upon us, and with it comes the promise of a fresh start. For many folks, that means hopefully beginning a new, long-lasting relationship. And that could be the case for our latest Bachelor—a man who says that he's never been in love.
Bachelor viewers will get the chance to formally meet Matt James on Monday night with the start of The Bachelor Season 25—and they'll also get to see him meet this season's 32 starting women. We're willing to bet, though, that no matter what happens, it will be a reliably dramatic season.
James is a 29-year-old real estate broker who lives in New York City. He's friends with a former Bachelorette favorite, Tyler Cameron, which is why he may look familiar. James has spent plenty of time on social media with both Cameron and The Bachelorette's Season 15 star, Hannah Brown, so he's been adjacent to the Bachelor universe for a bit.
The Bachelor is returning the first week of January, on Monday night, like seasons past. That means that COVID didn't delay this new season at all, unlike with The Bachelorette. Tayshia Adams just handed out her last rose to Zac Clark, and the pair seem to be living happily ever after so far.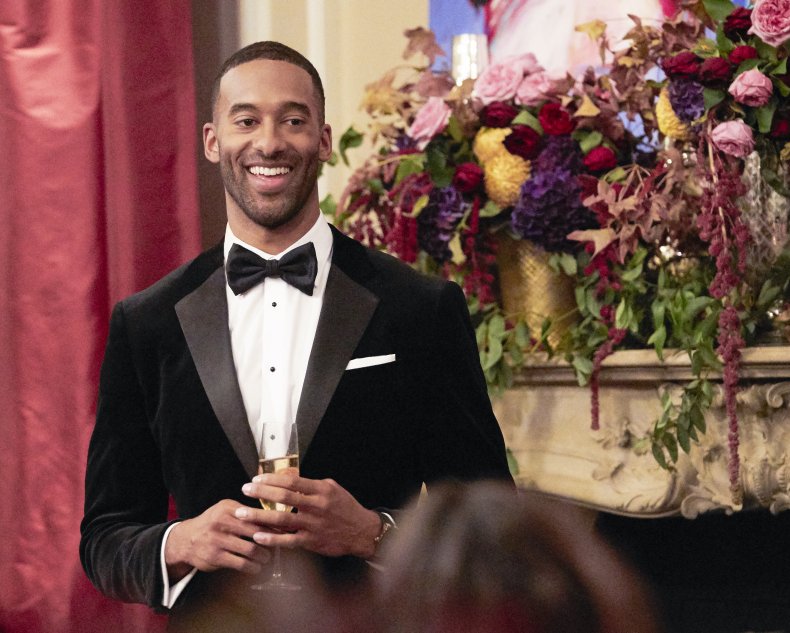 Adams' journey aired mainly on Tuesday nights because of a delay in filming over COVID, which resulted in The Bachelorette getting bumped from Mondays in favor of Dancing With the Stars. Now, James will reclaim Mondays on ABC for the foreseeable future, though we're sure that there's bound to be a two-night episode special at some point in the season.
So, if you're hoping to tune into The Bachelor's premiere, it will air at 8 p.m. on Monday, on ABC. It's a (very) small comfort, but it's nice to see that The Bachelor will be back on schedule after such a tumultuous year and season.
But don't be fooled—James' season was of course affected by COVID. Like Adams, he was forced to film his entire season in quarantine. There won't be any extravagant traveling, and contestants will have to do with somewhat boring dates. (Interested in a game of "The Floor Is Lava," anyone?) James' season was filmed at a Pennsylvania resort, though, so at least there will be a change of scenery from The Bachelorette's La Quinta residency.
We've still got a long way to go before we know if James is happily engaged, or if he's ever been in love. The latest Bachelor, Peter Weber, just announced his split from Kelley Flanagan—the third woman from his season that he's dated post-show. When it comes to Bachelor outcomes, it's certainly not all roses (pun very much intended), but we can hope for the best for James as his journey begins.