How to Watch Barack Obama Pennsylvania Rally Today in Support of Joe Biden
Former President Barack Obama is scheduled to make his first live appearance on Wednesday in support of Democratic candidate Joe Biden at a drive-in rally in Philadelphia.
Pennsylvania is a crucial battleground state for the Biden campaign, one which Obama won twice in both 2008 and 2012. While Obama has already recorded several digital ads in support of his former vice president, his first in-person event comes as the final stretch of the election is under two weeks.
Tickets to attend the event in-person is by invitation only, without public access. The rally is set to begin at 5:45 p.m. at Citizens Bank Park in south Philadelphia. Biden will not be there, as he is likely preparing for his second debate against President Donald Trump in Nashville on Thursday.
For those wanting to tune in from home, the drive-in will be live-streamed on Biden's campaign website. CBS News will also stream the event live on its online platform. Obama is expected to speak to the importance of early voting and will specifically address Black voters, The Philadelphia Inquirer reported. The demographic makes up about 10 percent of Pennsylvania's electorate.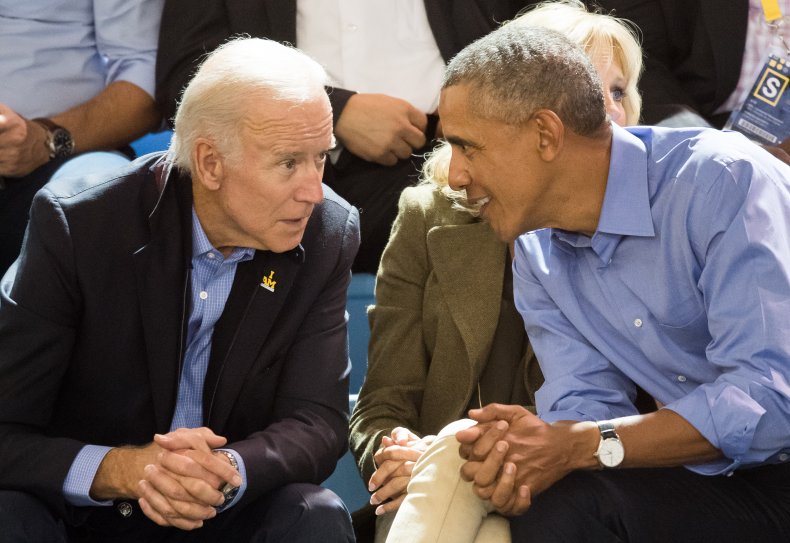 Trump secured Pennsylvania and its 20 electoral votes in the 2016 election, defeating Hillary Clinton by a narrow margin. Trump received 48.2 percent of the vote, compared with Clinton's 47.5 percent, according to The New York Times.
The state has leaned Democrat in the past, and Clinton was favored to win. But Trump managed to flip the majority of the state, including three counties that had twice voted for Obama in previous elections, Politico reported.
Most recent polls have shown Biden leading Trump in Pennsylvania, but by a narrow margin. A Suffolk University poll conducted October 15 to 19 showed that 49 percent of likely voters supported the Democrat, compared to the 42 percent who chose Trump.
More than 1 million Pennsylvanians had already returned their ballots as of Tuesday, according to the U.S. Elections Project. The last day to vote early in-person in the state is October 27. During the drive-in event, Obama is expected to stress the importance of making a plan to vote early, according to the Biden campaign.
Obama's visit comes one day after Trump hosted a rally in Erie, one of the three Pennsylvania counties he flipped in 2016 after it had voted for Obama twice, according to Politico. The president made his case for re-election Tuesday night, telling voters that he had no plans to visit until the coronavirus pandemic hit earlier this year.
"Before the plague came in, I had it made," Trump said. "I wasn't coming to Erie. I mean, I have to be honest, there was no way I was coming. I didn't have to. I would've called you and said, 'Hey, Erie. You know, if you have a chance, get out and vote.' We had this thing won."
But Trump stressed the importance of securing the state this year: "If we win Pennsylvania, we win the whole thing."