How to Watch 'Below Deck Sailing Yacht,' Everything You Need to Know
Below Deck returns to Bravo with a new spin-off to appeal to viewers' sense of adventure, drama and more. This show, Below Deck Sailing Yacht, will introduce a new captain, crew and ship.
In the past, Below Deck and Below Deck Mediterranean have entertained audiences with the changeovers of captains, crew and more. Each charter season, brings something new to talk about. Here's everything you need to know about the new cast and crew, location and more ahead of Monday's premiere.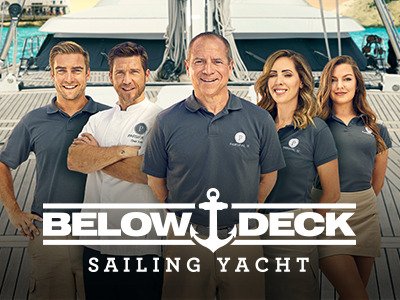 How to Watch
Below Deck Sailing Yacht will air on Bravo on Monday nights at 9 p.m. ET. For those who can't watch the program in real time, Bravo's app allows streaming capabilities to anyone who misses it.
Users must log in with their television provider in order to access Bravo content through the mobile app. They cannot stream content live through the app. All episodes are uploaded the day after they premiere, according to the app's website.
The Captain
A new captain will take over on Below Deck Sailing Yacht. Viewers of past Below Deck seasons know the captain has a handful of serious roles. In addition to navigating and steering the ship, the captain is responsible for keeping crew members in line, punishing bad behavior, creating a sense of camaraderie and inspiring the crew members to further their career in the industry.
Glenn Shephard is tasked with these responsibilities. Shephard is Canadian and entered the yachting industry only after seeing an advertisement while traveling in Rome, according to Bravo.
He fell in love with the lifestyle immediately. "I think the rest of my life I've kind of been trying to re-create that summer because it was magical," he told Bravo. "I just fell in love with the idea of cruising on a little boat in the Mediterranean."
The Crew
A new crew will be unveiled on Sailing Yacht. Adam Glick will serve as chef alongside Jenna MacGillivray the chief stewardess. Glick, who calls himself the "adventure chef" according to Bravo, is a California surfer. MacGillivray is Canadian and began her yachting career in 2004. Six other crew members will also board the yacht this season.
The Yacht
Below Deck Sailing Yacht will introduce Parsifal III. The 177-foot yacht sleeps 12 guests at a time and typically has a nine-member crew, according to Yacht Charter Fleet. To charter the yacht, prices start at $195,000 for a week. During high season, though, a week on the yacht is expected to cost around $225,000.
How to Watch 'Below Deck Sailing Yacht,' Everything You Need to Know | Culture