President Joe Biden and Vice President Kamala Harris are scheduled to speak Tuesday in Atlanta and they will be focusing their remarks on pushing voting rights legislation in Congress.
Both Biden and Harris are expected to advocate for changing the filibuster rules to make it easier to pass voting rights bills, and they will be doing so at Atlanta University Center in the district once represented by the late Representative John Lewis.
Anyone wishing to watch the president and the vice president speak on Tuesday can view it on several different platforms at 3:45 pm ET. Along with the media outlets that may broadcast the event, several official government sites will also stream the speech live.
The White House will be streaming the speech on its official YouTube page, which viewers can access via a link on the White House's "Live" page of events.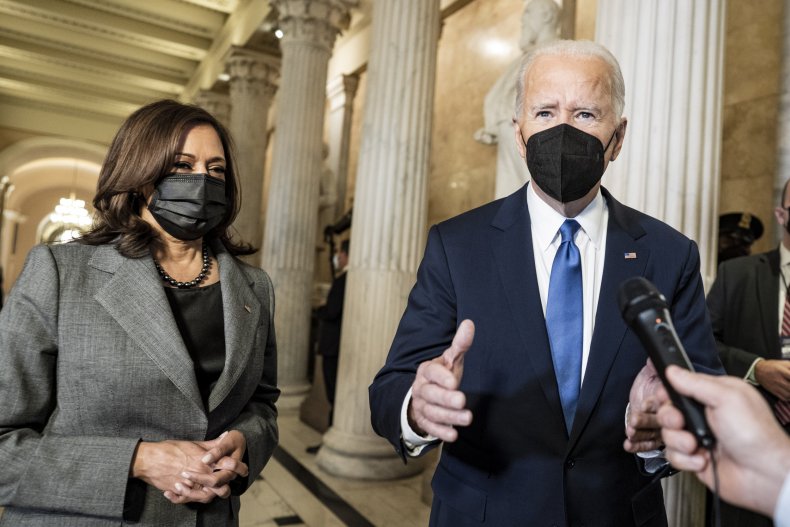 C-SPAN will also stream the event, as will other major cable news networks and local outlets. Check television listings for local coverage.
Given John Lewis' stature as one of the country's most prominent civil rights activists during his lifetime, the location for the speech has symbolic significance.
"He [Biden] wouldn't be going to Georgia tomorrow—a place where there is an enormous history of civil rights leaders, of his friend John Lewis—advocating for fundamental rights, including voting rights, if he wasn't ready and prepared to elevate this issue and continue to fight for it," White House press secretary Jen Psaki said Monday.
While the president's visit is meant to drum up support for voting rights legislation, he was already facing resistance from voting rights groups in Georgia before he left Washington, D.C. Some of these activists announced prior to his visit that they would boycott Tuesday's event, instead urging the president to stay in the capital to push for voting rights.
Cliff Albright, the co-founder of Black Voters Matter, spoke with CNN on Monday about Biden's visit. He said, "We don't need even more photo ops. We need action, and that action is in the form of the John Lewis Voting Rights (Advancement) Act as well as the Freedom to Vote Act, and we need that immediately."
Georgia Democratic gubernatorial candidate Stacey Abrams, a noted voting rights advocate, also will not attend Tuesday's speech due to what her aides said was a scheduling conflict.
While Republicans in state legislatures have recently tried to push voting laws that would favor their candidates, Democrats in the Senate have introduced two pieces of legislation that would limit such actions. However, those Senate measures have failed to gain sufficient support to overcome the filibuster rule that would allow debate to end on a bill.