President Joe Biden will hold a solo press conference on Wednesday, his first in about 10 months, and he's likely to discuss his administration's successes, his agenda and the state of the COVID-19 pandemic.
Wednesday marks the eve of Biden's first anniversary in office and comes as the president struggles with low approval ratings. After starting off with high ratings, Biden's support among voters started to slip during America's chaotic withdrawal from Afghanistan and has been on a downward trajectory as COVID cases rise.
Biden is scheduled to speak at 4 p.m. on Wednesday and the White House has a live stream set up on its YouTube channel. People can also watch Biden's remarks on C-SPAN and listen on C-SPAN radio and it's likely most, if not all, news networks will carry his speech.
The White House has released few details about exactly what Biden will discuss at Wednesday's press conference. However, it's likely to focus on what Biden feels his administration has done well and the future he sees for America.
When asked on Tuesday for an "honest assessment" of Biden's time in office, White House press secretary Jen Psaki said there's been "a lot of progress made." She acknowledged the "work is not done" and said Biden is likely to address the need to build on the foundation his administration laid in the first year.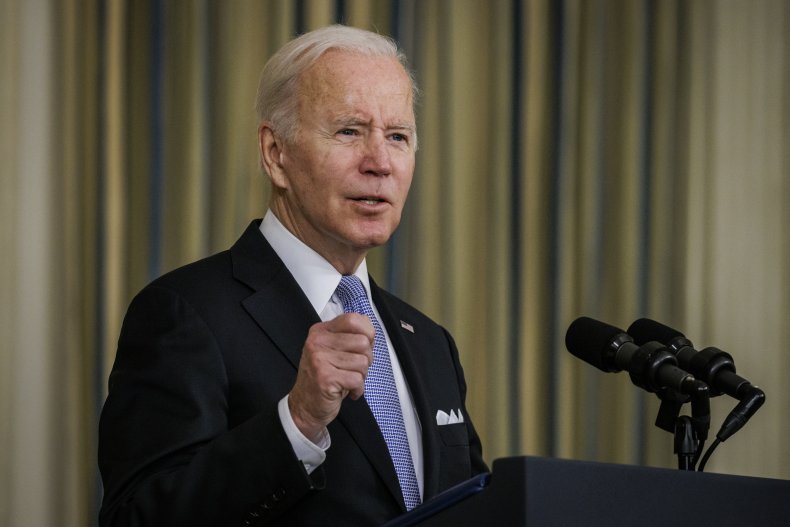 Biden applauded his response to COVID-19, championing the increase in vaccinations and actions he's taken to expand access to testing. However, cases have skyrocketed as Omicron spreads and they're likely being undercounted because Americans have struggled to find tests or are relying on at-home tests, which don't get reported to official case counts.
While Omicron tends to be milder than previous variants, increased cases have fueled increases in hospitalizations and health care systems have once again issued warnings that they're struggling to care for patients. With mask mandates going back into place, Americans are losing confidence in Biden's ability to handle the COVID-19 pandemic.
More Americans disapprove of his handling of the pandemic than approve and Republicans have homed in on his response to sow doubt in his administration. Former President Donald Trump has used Biden's own words against him, highlighting that when he was a candidate, Biden said anyone who was responsible for 200,000 deaths was unfit for office. COVID deaths in America have risen above 800,000 and, now, more people have died since Biden took office than when Trump was president.
Biden's also struggling to get key aspects of his campaign platform through Congress and his signature Build Back Better Act has stalled in the Senate.
The president's low approval ratings could spell trouble for Democrats in the midterms because the election is often a referendum on the president. It's common for the president's party to lose seats in the midterm election and Republicans only need to flip one seat in the Senate and a few in the House to take control of Congress.
At Wednesday's press conference, Biden is likely to highlight the bipartisan infrastructure bill that passed and turn attention to the situation that he was handed when he entered office. Psaki said on Tuesday that Biden came into an "incredibly difficult circumstance" with regard to the pandemic and the "massive economic downturn as a result." She criticized the Trump administration for not "effectively" dealing with a lot of the crises Biden had to tackle.