How to Watch Biden Speech Today: Time, Livestream for President's Address on Afghanistan
President Joe Biden will address Americans about the end of the country's 20-year war in Afghanistan on Tuesday afternoon.
The last American plane left Afghanistan on Monday afternoon U.S. time, concluding America's evacuation effort and bringing an official end to America's longest war. Biden's exit strategy has drawn much criticism, but the president remains firm in his belief that withdrawing troops was the right thing to do and that the fallout, including the Taliban's rise to power, couldn't have been avoided.
Biden is scheduled to deliver remarks about ending the war at 2:45 p.m. on Tuesday. The White House has set up a livestream on its YouTube channel so viewers can watch the president's speech in real time. Given the enormity of the occasion, it's likely that most, if not all, major news networks will pause their planned coverage to air Biden's speech.
Part of the president's remarks are expected to provide insight into his decision to not remain in Afghanistan beyond the August 31 deadline. Initially, America had a May 1 deadline to leave the country, in accordance with an agreement former President Donald Trump reached with the Taliban. When his administration took over, Biden extended the deadline to August 31 and resisted pressure to remain until every American and Afghan ally who wanted to leave was evacuated.
Ahead of his remarks, Biden said the decision to leave was a "unanimous recommendation" of the Joint Chiefs of Staff and the commanders on the ground.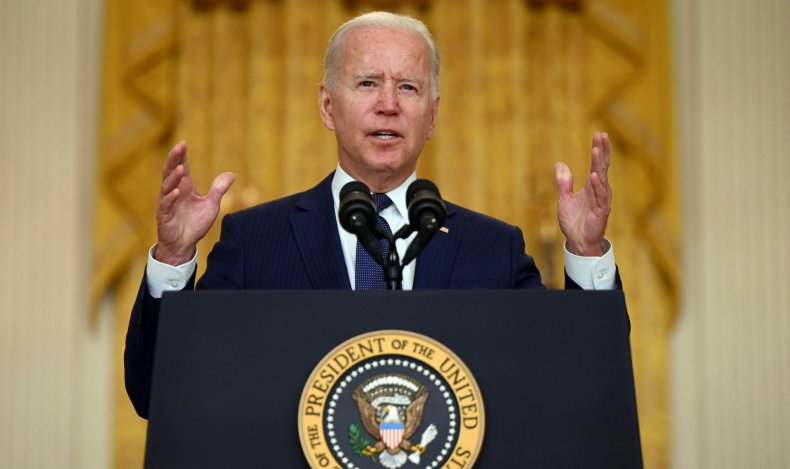 "Their view was that ending our military mission was the best way to protect the lives of our troops and secure the prospects of civilian departures for those who want to leave Afghanistan in the weeks and months ahead," Biden said.
In total, America evacuated 120,000 U.S. citizens, foreigners and Afghans who aided America during the war. The White House has not disclosed the number of American citizens in the country looking to leave, but officials estimate about 200 U.S. citizens remain.
Republicans attempted to block Biden's ability to withdraw troops from Afghanistan until every American was evacuated, but with Congress on a summer recess, the legislation failed to gain any traction. GOP members of Congress have accused Biden of reneging on his duties as president by leaving Afghanistan when Americans were still in the country under the Taliban's rule. Some, including longtime friend Senator Lindsey Graham, have even called for Biden's impeachment or resignation.
House Minority Leader Kevin McCarthy wouldn't commit to supporting or opposing an impeachment effort but said at a recent press conference that there will be a "day of reckoning" for Biden. He noted that there are constitutional avenues for holding people accountable and said the president should never have made the choice to leave before all citizens were evacuated.
This article has been updated to reflect the new scheduled time for Biden's speech, which is now set to begin at 2:45 p.m.