How to Watch the Blue Angels' Texas and New Orleans Flyover
On Wednesday, the Navy's Blue Angels will continue their flyover salutes to COVID-19 first-responders in Texas and Louisiana cities.
The Blue Angels announced that they would support health workers in the Houston, Dallas, Fort Worth and New Orleans areas with a flyover, similar to salutes that were given in the Northeast. "We salute and thank all healthcare workers, first responders, and other essential personnel serving on the front lines of the fight against COVID-19," the group wrote in a Tweet.
In a tweet announcing the flight paths, the Blue Angels showed that a 35-minute flyover salute would begin in the Dallas-Fort Worth area at 11 a.m CDT. The flyover will continue to Houston with a 30-minute flyover at noon. The salute in New Orleans will begin at 1:45 p.m., with the flyover concluding at 2:05 p.m. Times are subject to change, though.
The Blue Angels also wrote on their Twitter account that residents should still keep social-distancing practices in place while enjoying the flyover. "Residents should observe the flyover from the safety of their home-quarantine and should refrain from traveling to see the flyover. Social distancing should be practiced at all times," the Blue Angels wrote. "Stay home and stay safe!"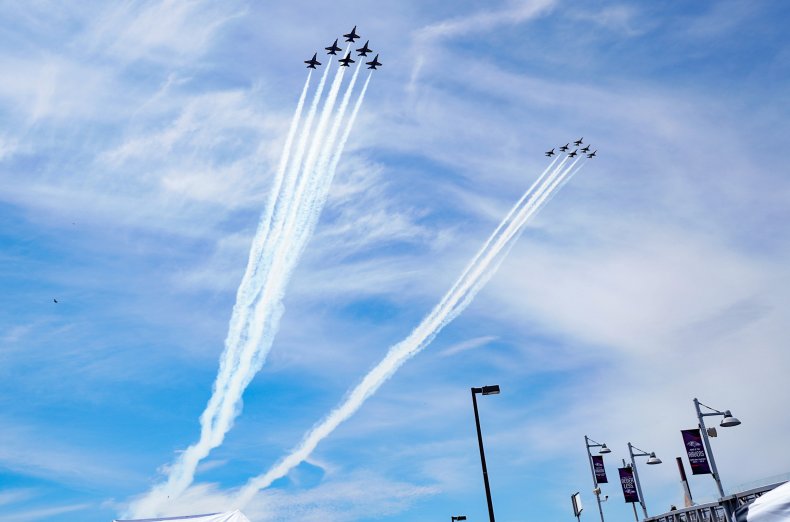 The Texas/Louisiana salute is only the most recent Blue Angels salute. The group has also done flyovers to support first responders and health care workers in Washington D.C., Baltimore, Atlanta, Newark, Trenton, Philadelphia and New York City during the coronavirus pandemic.
In a promotional video for the flyovers, Commander Brian Kesserling explained that community outreach was just as important as flight demonstrations, and the pandemic has stopped the group's ability to do that.
"We thought, when we got together with the Thunderbirds, this was a way that we could reach out and maybe touch those lives," he said. "It's nothing more than neighbors looking out through their window pane at each other together and watching a couple flight demonstrations teams fly by and maybe increase morale and have a visible show of support."
The Blue Angels also shared a video featuring crew chief Ariel Orengo talking about his connection to New York City and why the flyover means so much to him personally, along with footage shot by New Yorkers during the flyover. "Growing up in New York, it means a lot to show, not just my family, but all the guys in the front line: the MTA workers, the sanitation workers, the hospital workers that are out there taking care of everybody back home that we support them, that we appreciate them," he said.