How to Watch Bruce Springsteen Perform Live With The Dropkick Murphys 'Streaming Outta Fenway'
On Friday May 29, Bruce Springsteen and the Dropkick Murphys will team up for a special virtual concert from the Boston Red Sox's home field, Fenway Park, called "Streaming Outta Fenway."
The special livestream show will feature the Dropkicks playing on the field at an empty Fenway. Despite shows being a regular occurrence at the ballpark in the summer, the performance will mark the first time a band plays on the dirt and grass of the infield diamond. The band announced that they would trade off songs with the Boss, who will join the performance remotely.
On Facebook, the band wrote that it's the first time a musical artist has performed in an empty sports arena. "[N]o band has ever played a full show in an empty sports stadium," they wrote. "This means you get to take part in this show with your rowdy kids and neighbors right from your own living room or backyard."
The show will begin streaming at 6 p.m. ET on the Dropkicks' Facebook, YouTube, Twitter, and Twitch pages, according to CNN. The show is to benefit the Boston Resiliency Fund, Habitat For Humanity, and Feeding America.
Springsteen and the Dropkicks are no strangers to streaming concerts during the coronavirus pandemic. Springsteen played the "Jersey 4 Jersey" fundraiser in April. The Dropkicks broadcasted their annual St. Patrick's Day performance from a New Hampshire studio to only a film crew.
While it's unclear if the Boston-band will provide backing for Springsteen's songs, or if the Boss will play on the Dropkicks' tracks, the artists have crossed paths and collaborated a handful of times. The "Born to Run" singer has made guest appearances on the Celtic punks' Going Out in Style cover "Peg O' My Heart" and offered guest vocals on a 2013 re-release of the band's Signed and Sealed in Blood single "Rose Tattoo," to benefit Boston marathon bombing victims.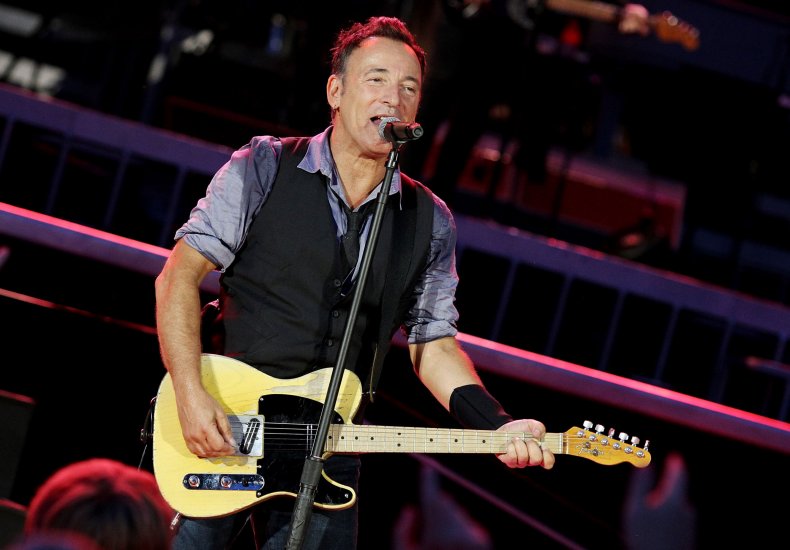 The Boss has also joined the Boston band onstage in their hometown. According to Setlist.fm, he played for three songs during the encore of a 2011 show. They performed "Peg O' My Heart," Springsteen's "Badlands," and the band's hit "I'm Shipping Up to Boston." Dropkicks frontman and bassist Ken Casey has also leapt onstage and sang "American Land" with the New Jersey musician both during a 2009 show in Mansfield, Massachusetts.
With restrictions being lifted in some states, other artists have begun performing and planning similar virtual concerts in empty venues. Country singer Jason Isbell and his wife, musician Amanda Shires, performed an album release show for Isbell's newest album Reunions on Friday in Nashville's Brooklyn Bowl.