How to Watch Congress Count Electoral Votes, Cement Joe Biden's Victory
In one final step before President-elect Joe Biden's inauguration, the House of Representatives and the Senate will convene Wednesday to certify the Electoral College votes of all 50 states and the District of Columbia.
The joint session, usually a routine and ceremonial process, has made headlines as many Republicans said they will reject the Electoral College, which met last month and voted 306-232 in favor of Biden.
Lawmakers will meet at 1 p.m. Eastern time at the U.S. Capitol. The event can be watched on C-SPAN starting at 12:35 p.m. Eastern time, or at the link below, provided by The Washington Post.
Trump, who has yet to concede the 2020 election to Biden, has called on Republicans in Congress to reverse the decision reached by the Electoral College. The president and his allies have alleged, without evidence, that the contest was riddled with widespread voter fraud—a claim rejected by former U.S. Attorney General William Barr.
"THE REPUBLICAN PARTY AND, MORE IMPORTANTLY, OUR COUNTRY, NEEDS THE PRESIDENCY MORE THAN EVER BEFORE - THE POWER OF THE VETO. STAY STRONG!" Trump wrote on Twitter Wednesday morning.
The president is likely to get some support. More than 100 conservative members of the House and nearly a dozen in the Senate have stated they plan to object to the states' electoral votes, citing unsubstantiated allegations of fraud and election irregularities. But the longshot effort is almost certain to fail.
Not all Republicans are on board. Senator Pat Toomey (R-Pa.) said in a statement that the action by his colleagues undermines the "fundamental, defining feature of a democratic republic" that the people elect their own leaders. Senator Tom Cotton (R-Ark.) echoed that sentiment, stating that the Founders "entrusted the election of our president to the people, acting through the Electoral College — not Congress."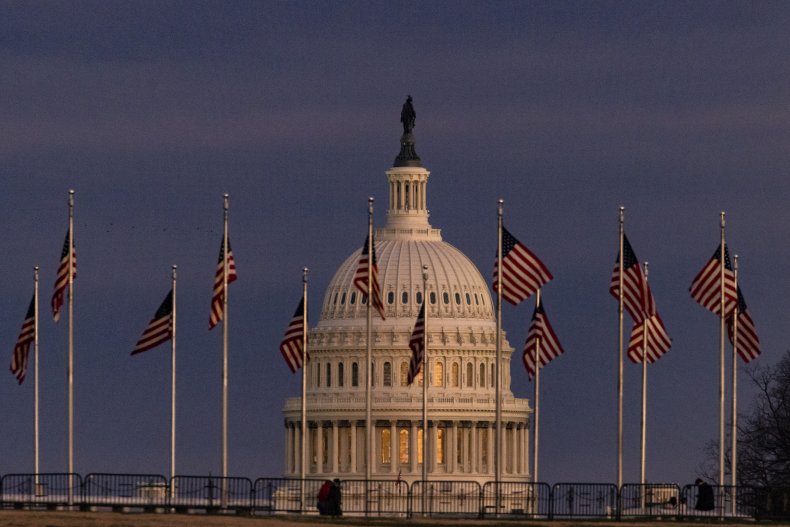 Trump has also put pressure on Vice President Mike Pence to block Biden's win, falsely stating he has the power to reject electors. According to The New York Times, Pence told Trump Tuesday that he doesn't have such power.
On Wednesday morning, Trump tweeted: "If Vice President @Mike_Pence comes through for us, we will win the Presidency."
House Speaker Nancy Pelosi (D-Calif.) wrote a letter to Democrats over the weekend and held a call to outline the party's plan for Wednesday's joint session.
"Over the years, we have experienced many challenges in the House, but no situation matches the Trump presidency and the Trump disrespect for the will of the people," Pelosi wrote.
As lawmakers meet, thousands of Trump supporters will hold rallies in Washington D.C. to falsely assert the 2020 election was rigged and stolen from the president. Trump tweeted that he will speak at 11 a.m. on Wednesday and praised those who were attending the rallies. D.C. Mayor Muriel Bowser has encouraged residents to stay away from the demonstrations.