Tua Tagovailoa is looking to build on the momentum from last week's 466 passing yards, three-touchdown performance in the Dolphins' win against the Los Angeles Chargers. On Sunday, his squad travels north to play AFC East rival the New England Patriots.
One of Tagovailoa's best passes was a 47-yard touchdown to Tyreek Hill on a 3rd and 10 at the 2:13 mark in the third quarter. Tagovailoa also connected with Hill on a four-yard touchdown pass with 1:45 left in the game, sealing the victory.
Reporters asked Tagovailoa if he felt the long touchdown would silence people who have criticized his ability to throw deep passes.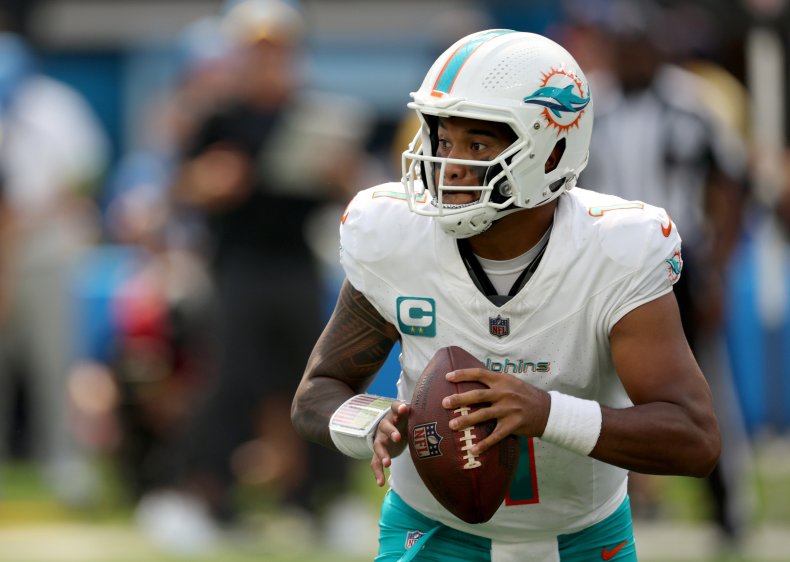 "You can't just take a drop in the NFL and just decide, Hey, because everyone says I can't throw the ball deep, let me just chuck this ball deep as far as I can," Tagovailoa told reporters. "It entails everyone on the offensive side to work together, to be in symphony, and guys to be at the right places at the right time. I don't care about the critics. I care about winning."
Tagovailoa's winning ways have been effective against the Patriots. He's 4-0 against future Hall of Fame coach Bill Belichick. The Dolphins defeated the Pats 20-7 last September, with Tagovailoa throwing for 270 yards and a touchdown. Tagovailoa missed the season's second matchup, which the Pats won 23-21, because of an injury.
Pats quarterback Mac Jones threw three touchdowns to one interception last week in a loss against the Philadelphia Eagles. Jones was the 15th pick in the 2021 NFL draft and is trying to solidify his standing as the Pats quarterback.
The Patriots had two chances to score points in the fourth quarter of a one-score game but came up short. Jones took responsibility after the game for his role in the loss. By Wednesday, Jones was expressing confidence that the team would bounce back from the tough defeat.
"We've already talked about what we can do better, and just going out there and trying to do it is a challenge," Jones said to reporters during a Wednesday press conference.
"But that's the fun part about the game," he went on. "You get a chance to learn from your mistakes and then go out there, and it's going to come up again. Just trying to get better at those things, apply those things this week in practice, and move on to a really good team."
How to Watch Pats vs. Dolphins
On Sunday, the Pats host the Dolphins starting at 8:25 p.m. ET. On NBC's Sunday Night Football, Mike Tirico (play-by-play), Cris Collinsworth (analyst), Melissa Stark (sideline) and Terry McAulay (rules analyst) will call the action live.
Injury Report for Patriots and Dolphins
Patriots: Cornerback Jonathan Jones has an ankle injury and didn't participate in Thursday's practice. Left tackle Trent Brown (concussion) and rookie right guard Sidy Sow (concussion) also didn't practice during that day's session.
Wide receiver DeVante Parker (knee), WR Kayshon Boutte (hamstring), offensive guard Mike Onwenu (ankle), OG Cole Strange (knee), and center David Andrews (hamstring) were all limited participants for Wednesday's and Thursday's sessions.
Dolphins: Running back Raheem Mostert was back as a full participant for Thursday's practice after missing Wednesday's training session. Wide receiver Jaylen Waddle returned to full participation on Thursday after being limited for Wednesday's practice with an oblique injury. Waddle was also a limited participant last Wednesday, with the same ailment.
Left tackle Terron Armstead returned to practice on Wednesday for the first time since he was injured in August during a joint practice with the Houston Texans. Armstead wore a noncontact jersey on Wednesday, according to the team. On Thursday, he was a limited participant but didn't wear the noncontact shirt.
Defensive back Elijah Campbell (knee) and tight end Julian Hill (ankle) were also limited participants. Running back De'Von Achane (shoulder), safety Brandon Jones (knee), cornerback Xavien Howard (thumb), and offensive lineman Connor Williams (knee) are on the injury list but were total participants in Thursday's practice.
Betting Info for Pats vs. Dolphins
The Patriots are a 3-point underdog against the Dolphins as of Friday, according to BetMGM Sportsbook. The over/under is 46.5 points.
Uncommon Knowledge
Newsweek is committed to challenging conventional wisdom and finding connections in the search for common ground.
Newsweek is committed to challenging conventional wisdom and finding connections in the search for common ground.
About the writer
Nubyjas Wilborn is Newsweek reporter based in Auburn, Alabama. Wilborn joined Newsweek in 2023 after winning the 2022 National Sports Media Association Award in Alabama for his coverage of the Auburn athletic department. He is a graduate of Clark Atlanta University. You can get in touch with Nubyjas Wilborn by emailing at n.wilborn@newsweek.com.
Languages: English