How To Watch 'El Camino: A Breaking Bad Movie' In Theaters And Online
A new part of the Breaking Bad story is here. El Camino: A Breaking Bad Movie released on Friday to a crowd of excited fans. There are a few ways to watch the movie immediately, including from the comfort of home.
El Camino: A Breaking Bad Movie was released on Netflix Friday, meaning anyone with a basic Netflix subscription can watch the film immediately. Breaking Bad originally aired on AMC Network. If fans of the series don't currently have a Netflix subscription, a free trial is available to those who haven't tested the online platform before. After the trial, a monthly fee is charged for access to all of Netflix's original series and other, classic movies and television shows.
In addition to El Camino on Netflix, the film will be played in a handful of theaters around the country. For a limited time, Friday through Sunday, El Camino can be seen at a list of local theaters. A website dedicated to identifying local theaters with the film has launched here.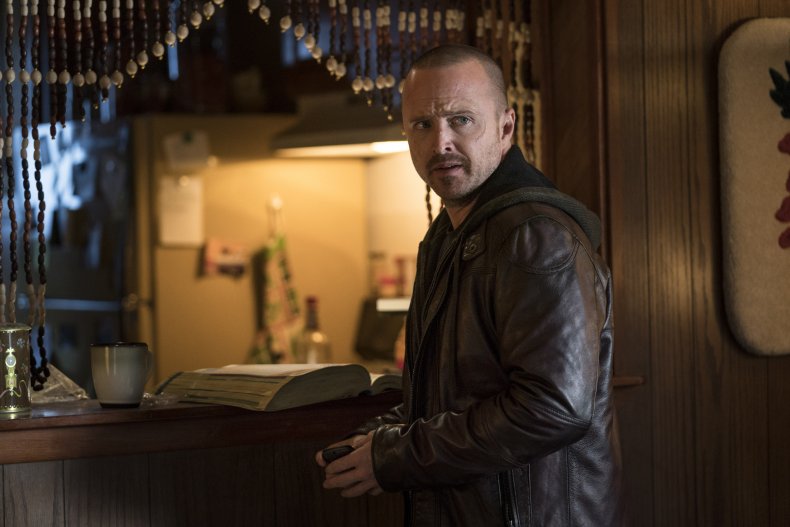 Newsweek subscription offers >
El Camino: A Breaking Bad Movie will eventually air on AMC, where the famous series began in 2008. The series ended in 2013 with a finale some claimed was one of the best in television history.
A trailer for El Camino was released in August, showing a storyline that appears to follow Jesse Pinkman (Aaron Paul) as he tries to escape from Neo-Nazi captivity. Breaking Bad viewers know Pinkman was responsible for making meth, and it seems his past may haunt him in the two-hour story add-on.
Paul celebrated the release on Twitter Friday morning with a thanks to director Vince Gilligan. "30 minutes and the wait is over. Enjoy the ride. Love you Vince! You are a damn legend," he wrote.
Both professional and fan reviews heavily praised El Camino on Friday, saying it's the perfect ending to the ultra-famous story. The film picks up exactly where Breaking Bad left off six years ago.
Breaking Bad found additional longevity in a spinoff series: Better Call Saul. The show, which aired on AMC and Netflix, follows Saul Goodman, a pivotal attorney in the series. A fifth season is expected in 2020.
How To Watch 'El Camino: A Breaking Bad Movie' In Theaters And Online | Culture