How to Watch 'All-In for Feeding America' Poker Tournament With Tom Brady, Adam Sandler and Ben Affleck
Ben Affleck is hitting the tables for "All-In for Feeding America," an online poker tournament benefiting those in need and featuring a massive roster of celebrities. The Way Back star announced the tournament—which is being held in conjunction with Feeding America and takes place on Saturday, April 11—over social media on Friday.
The All-In poker tournament has already raised $1.2 million, 100 percent of which will go to Feeding America, a nationwide network of more than 200 food banks, providing food to more than 40 million people every year.
The poker tournament is open to 75 people and participants so far include Affleck, Tom Brady, Jason Bateman, Adam Sandler, Matt Damon, Bryan Cranston, Sarah Silverman, Jon Hamm, Tobey Maguire, Cheryl Hines and Adam Levine.
The "All-In for Feeding America" poker tournament will begin at 2 p.m. Eastern (11 a.m. Pacific) and will stream live on Twitch. To watch, go to the AmericasCardroom channel on Switch, or check out the embed below:
Viewers will be able to send donations and messages to poker tournament participants—but you'll need to register for a Twitch account if you want to talk trash.
According to Deadline, players will go hand-to-hand in Texas hold 'em, a popular tournament ruleset for poker in which each player is dealt two cards and must create a winning hand from five community cards. The celebrities and other tournament participants will play with a combined $1 million in starting chips and will have to cough up a $200 ante for each hand (in addition to $1,000 and $2,000 small and big blinds). The tournament will be hosted by professional poker commentators Justin Kelly and Michael Loncar.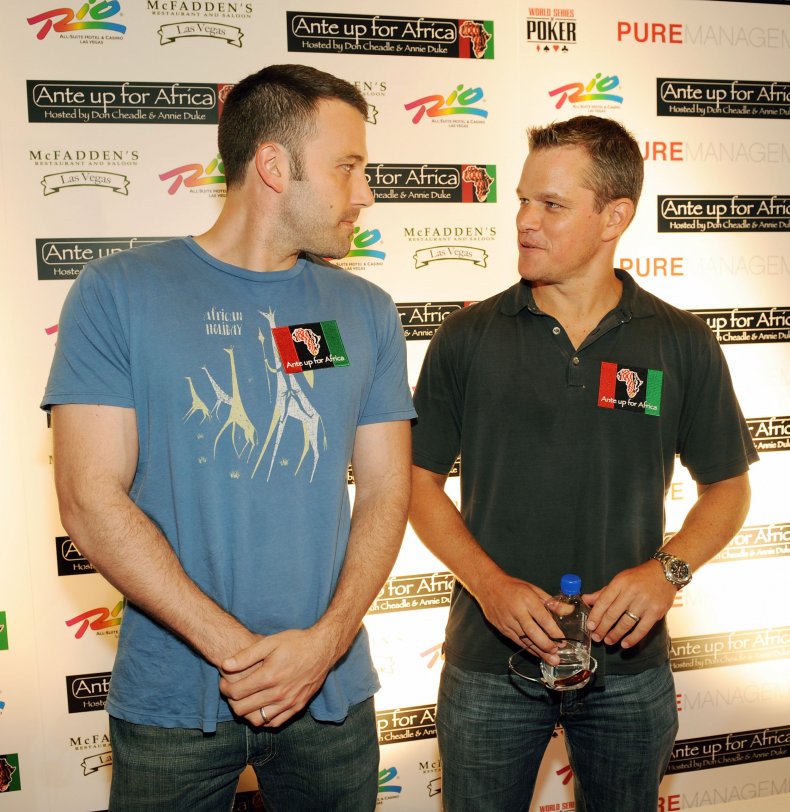 The tournament will also feature Jay and Silent Bob, a.k.a. Mallrats director Kevin Smith and actor Jason Mewes, who have both tweeted additional details.
Even before the coronavirus pandemic resulted in millions of new unemployment claims, more than 37 million people in the United States struggled to secure food, according to a 2019 U.S. Department of Agriculture report.
At the end of March, Newsweek reported on a food bank near Pittsburgh, where people waited in a mile-long line of cars for up to five hours to secure emergency food provisions. Katie Fitzgerald, chief operating officer at Feeding America, told Newsweek that school closures, job disruptions and losses, lack of paid sick leave and the coronavirus' disproportionate impact on low-income families meant that more low-income families are experiencing food insecurity.
"With demand in food skyrocketing and the supply hard to come by, many food banks are relying on current inventories to respond to the increase in demand," Fitzgerald said. "We are getting to a point where food banks won't have inventory to meet demand in the weeks and months to come unless we can drive additional food and funding to food banks quickly."