Sometimes, there are NFL games that you just can't help but watch. With all due respect to both the Giants and the Arizona Cardinals, their Week 2 matchup probably isn't one of them.
Both clubs came up short in Week 1. The circumstances were a bit different—New York was demolished by the Dallas Cowboys, while Arizona hung tough against the Washington Commanders—but the end result was the same. And, in the NFL, that result is ultimately what matters.
The silver lining to that reality, though, is that both teams will have a chance to get back on track this Sunday. And, barring the unlikely outcome of a tie, one of them will have to leave the desert with a "W."
Who will that be? Let's break down everything you need to know about the Giants vs. Cardinals contest.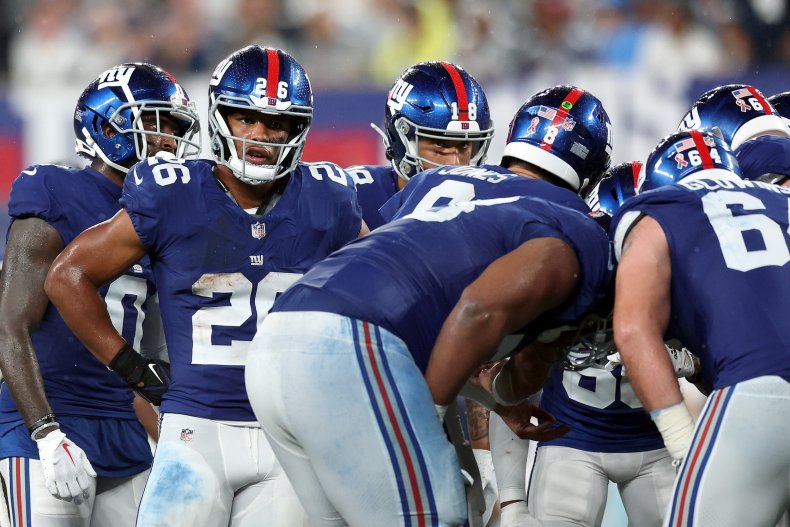 How to Watch Giants vs. Cardinals
Due to the massive size of the New York media market, Big Blue usually gets top billing. During Week 2, however, that's not the case.
When the Giants and the Cardinals take the field in Arizona (4:05 p.m. ET on Sunday, September 17), the action will be broadcast on Fox. Adam Amin and Mark Schlereth will be on the call, and you can hear them within the areas around Arizona and New York State, plus a pocket of Maine.
If you want to tune in from outside of those markets, though, there is always a streaming option, like NFL+ or NFL Sunday Ticket (via YouTube TV).
The Giants Will Want to Rebound in a Big Way
While every loss counts equally in the standings, certain defeats are so painful that they require an immediate response. Falling 40-0 at home would be bad enough, but getting embarrassed by your archrival adds insult to injury.
That's where the Giants find themselves.
During Week 1, nothing went right. Dallas' defense terrorized Daniel Jones, who never found his rhythm and threw two interceptions. Saquon Barkley only carried the ball 12 times—it's tough to run when you're behind—and no receiver pulled in more than three passes.
At the risk of trotting out a cliché, that was a "burn the tape" sort of performance. And while there's something to be said for not beating a dead horse, the on-field product does have to improve.
On paper, the Cardinals will provide a fine opportunity to get back on track. Joshua Dobbs isn't Dak Prescott, and few defenses will bring the heat like Dallas'.
It's also worth noting that the G-Men have a tricky schedule after visiting Arizona, with matchups against the 49ers, Seahawks, Dolphins and Bills lurking around the corner. If New York drops the ball this Sunday, there's a legitimate chance of starting the season 0-6.
At that point, things will officially get ugly.
Can the Cardinals Do Enough to Actually Win?
Depending on your level of optimism, you can read Arizona's Week 1 loss to Washington in two different ways. If you're feeling positive, you can say that the Cards hung tough and came within touching distance of a win, despite some poor performances. Otherwise, you could argue that the underlying issues—think having a quarterback complete 21 passes for 132 yards while losing two fumbles—overshadow any potential positivity.
In that vein, Week 2 will be somewhat of a reality check. Against a Giants defense that surrendered 40 points, will QB Joshua Dobbs improve? Or was his Week 1 indicative of his true level? And if he's going to struggle, can Arizona's ground game pick up the slack?
Jonathan Gannon's squad will also have to clean things up, as penalties (nine for 122 yards) proved to be a major problem against Washington.
The Cardinals' defense played well against the Commanders, and the pass rush will be licking its collective chops after seeing the Cowboys' success pressuring Jones last week. That potential success, however, will only do so much if Dobbs and company can't find the end zone.
Week 1 suggested that talk of the Cardinals tanking might have been exaggerated, but Week 2 can provide some more insight into the team's true standing. Will they be able to pull together and squeeze out a "W"? Or is QB Kyler Murray's absence simply a non-starter?
Betting Lines, Over/Under for Giants vs. Cardinals
While they didn't score a single point in Week 1, the New York Giants are still favored to come out on top this Sunday. As of Friday, September 15, FanDuel Sportsbook lists Big Blue as a 4.5-point favorite.
The Over/Under is also set at 39.5 points, if that's your preferred bet.
Uncommon Knowledge
Newsweek is committed to challenging conventional wisdom and finding connections in the search for common ground.
Newsweek is committed to challenging conventional wisdom and finding connections in the search for common ground.
About the writer
Joe Kozlowski is a Newsweek reporter based in New York City. His focus is reporting on trending sports stories. Joe joined Newsweek in 2023. He is a graduate of NYU's Gallatin School of Individualized Study. You can get in touch with Joe by emailing j.kozlowski@newsweek.com.
Languages: English.