How to Watch 'Grey's Anatomy' Season 16 Winter Premiere, 'Station 19' Crossover Event
Grey's Anatomy will officially return with Season 16 on ABC on Thursday night. The new episode will air in conjunction with Station 19's Season 3 premiere for a two-hour crossover event that is likely to have viewers clinging to the edge of their seats.
Grey's Anatomy will pick up right where it left off before the winter hiatus—with Grey Sloan Memorial doctors and Station 19 workers scrambling to save their friends' lives after a car crashes straight through the window of Joe's Bar, the popular Seattle watering hole where both teams gather for drinks regularly.
A teaser video of the episode, titled, "Help Me Through the Night," hints at the potentially devastating danger looming over the heads of Jackson (Jesse Williams), Richard (James Pickens Jr.), Captain Pruitt (Miguel Sandoval), Nico (Alex Landi), Levi (Jake Borelli), Ben (Jason George) and several other Grey Sloan Memorial interns—all of whom are trapped inside the bar, which could collapse from the impact of the crash.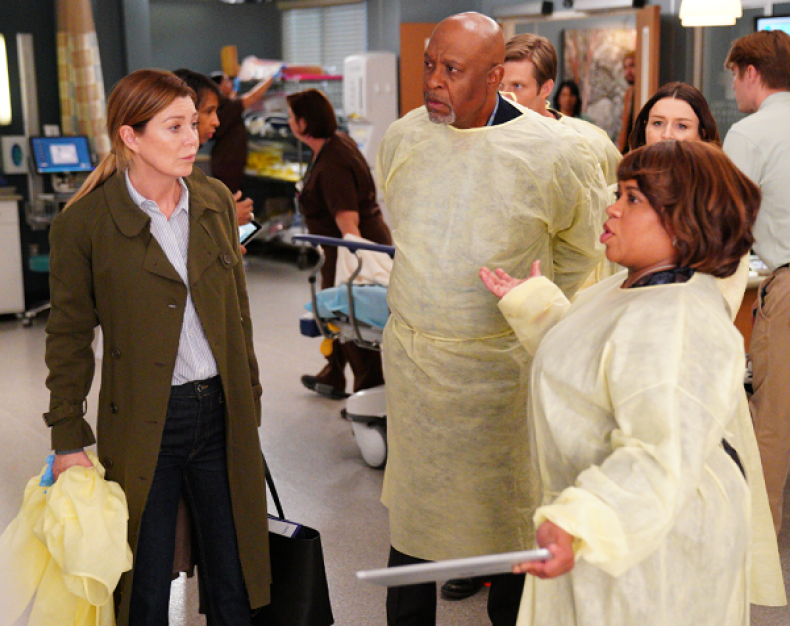 Showrunner Krista Vernoff claimed "the accident is impactful" for many of the Grey's Anatomy characters, especially the residents. "These residents are for sure traumatized," she told Entertainment Weekly in an interview released Tuesday.
Vernoff added: "Some of them are injured—that plays through the Grey's Anatomy premiere."
As for Station 19, the premiere episode could possibly bring a major heartbreak. George, who stars as Ben, a Station 19 firefighter and the husband of Grey Sloan Memorial Doctor Miranda Bailey (Chandra Wilson), recently told Entertainment Tonight fans "should be worried."
"I'll just say that not only in this first episode but in general, you're reminded of the fact that fearless storytelling leads to... people die, even if you love them. But it makes the most interesting and most powerful stories, and that's what is happening," he said.
The actor confirmed his character would make it through the traumatic event, and it was also hinted in the Grey's Anatomy synopsis that Bailey, who was expecting a baby with Ben, would spend some portion of the episode grieving over her miscarriage—presumably, after Station 19 and Grey Sloan Memorial clean up the havoc at Joe's.
The ABC crossover event will kick off with the midseason premiere of Station 19 at 8 p.m. ET. Grey's Anatomy will immediately follow at 9 p.m. ET.
Viewers without access to television can live stream both shows on ABC's website and app on any smart device, although a cable provider login is necessary to access the stream. Hulu subscribers with Live TV services can also tune into both series in real-time on the stream network. Those with YouTube Live TV can stream it there, too.