How to Watch 'It's the Great Pumpkin, Charlie Brown' and New 'Peanuts' Episodes
No more waiting until Halloween night to get a visit from the Great Pumpkin. Thanks to Apple TV+, viewers can celebrate the arrival of Linus' favorite holiday legend and start streaming the Peanuts special It's the Great Pumpkin, Charlie Brown as often as they'd like during spooky season.
The streaming network recently announced it would roll out a number of Peanuts classics throughout the holiday season, beginning with the release of the Halloween special on Monday. Naturally, each of the specials' Apple TV+ arrival coincides with the holiday it's focused on.
So, viewers will be able to watch Linus sing the praises of the Great Pumpkin while Snoopy pretends to be a World War I flying ace starting on Monday, and as a special treat, Apple TV+ will give non-subscribers the chance to watch the show for free from October 30 through November 1.
Then, after the free streaming of It's the Great Pumpkin concludes, A Charlie Brown Thanksgiving will arrive on the platform on November 18. The Peanuts episode will be free for everyone from November 25 through November 27. Free viewing for A Charlie Brown Christmas, which comes to the service on December 4, is scheduled for December 11 through December 13.
Along with the holiday specials, Apple TV+ is expanding the overall Peanuts imprint on the platform. The network has also announced the second season Snoopy in Space, scheduled to release in 2021, as well as a number of brand new Peanuts specials set to stream exclusively on Apple TV+. The new Peanuts episodes will highlight notable holidays like Mother's Day, Earth Day and New Year's Eve. A "Back to School" special is also in the works.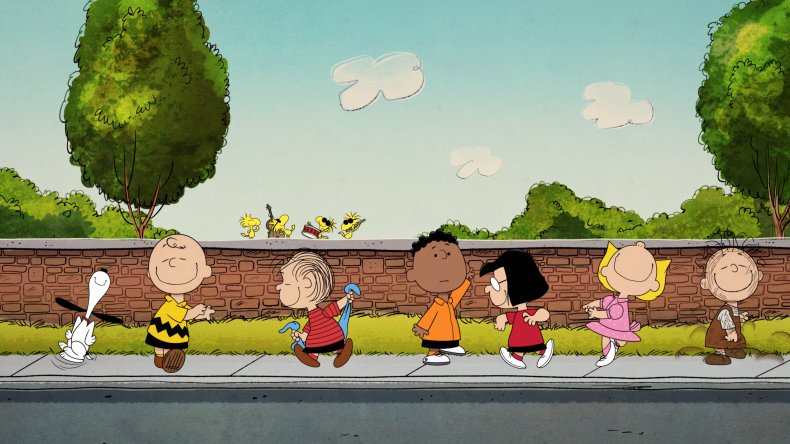 ABC typically airs the Bill Melendez-produced Peanuts classics leading up to the holidays. It's the Great Pumpkin, which first aired on CBS in 1966, usually runs twice in the days before Halloween. However, the broadcast network has yet to announce plans to do so this year.
Peanuts episodes that were previously available on ABC's streaming network and on other platforms like Hulu and Amazon Prime Video have also been removed. So, if you're not spending the holidays watching Lucy obsess over Schroder while he obsesses over his tiny piano on Apple TV+, the only other option is to purchase the shows on DVD and/or Blue-Ray.
Not everyone is pleased with Peanuts specials' transition over to streaming, though.
"So basically you've decided to give us a rock for Halloween this year. Now I know how Charlie Brown feels," one person tweeted in response to the news of the move.
However, there were some folks who were surprised broadcast networks were able to hold on to the show for so long.
"I'm oddly feeling ok that Charlie Brown specials probably won't air on TV ever again. If anything, I'm stunned it lasted this long. Did someone at ABC just refused to let it go?" another Twitter user wrote.