How to Watch 'Jeopardy! The Greatest of All Time': Live Stream and Everything Else to Know About Round 2 of Tournament
The pressure is mounting for Ken Jennings, James Holzhauer and Brad Rutter. The men will face off once again in the second round of the ABC special tournament, Jeopardy! The Greatest of All Time, on Wednesday night.
Jennings, Holzhauer and Rutter placed their bets and answered trivia questions delivered by longtime game show host Alex Trebek in two games during the competition's opening night on Tuesday. They'll be back at their podiums once again for another two games on ABC at 8 p.m. ET.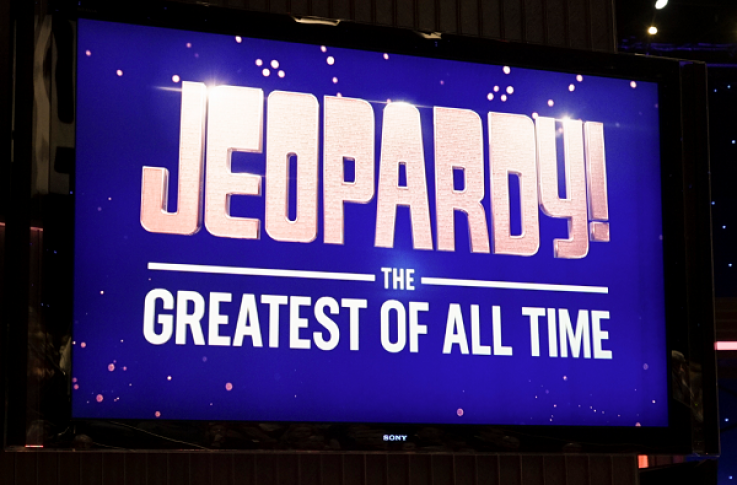 Viewers without access to television can still tune into the tournament via live stream on any smart device through ABC's website and app—although a cable provider login is necessary to access the stream. Folks with Hulu Live TV subscriptions and YouTube Live TV can also catch the game on those platforms.
Like the first round, Wednesday night's tournament will be comprised of two Jeopardy! games. Following the second game, points will be tallied and the contestant with the most points will be deemed the winner of the match. The first contestant to win three matches throughout the multi-night event will be proclaimed Jeopardy!'s greatest player and secure the $1 million grand prize, while the two losing opponents take home a $250,000 cash prize.
Viewers should note that while each contestant will place bets and earn winnings in dollar amounts, like the regular Jeopardy! games, during the Greatest of All Time tournament, the dollar figures represent points as they won't be taking home any additional earnings at the end of the competition other than the allotted prizes.
So far, Jennings, who won 74 consecutive games of Jeopardy during his show run in 2004, is in the lead. He won the first match on Tuesday with a combined $63,400. His victory was a close call, though. Holzhauer, who won 32 games in a row during his Jeopardy! reign in 2019, trailed behind with a combined $63,200 in winnings.
As for Rutter—the Jeopardy! contestant with the highest all-time wins including tournaments—his first night of the competition didn't fare so well. His betting pot dwindled after answering multiple Double Jeopardy questions incorrectly, and he was nearly wiped out of money when he bet everything on a Final Jeopardy question, which he also gave a wrong answer for. He ended the night with only $10,400 from the first game.
Rutter, who has never lost Jeopardy! to an opponent, has an opportunity to redeem himself when the competition continues on Wednesday.
How to Watch 'Jeopardy! The Greatest of All Time': Live Stream and Everything Else to Know About Round 2 of Tournament | Culture