How to Watch Joe Biden's Economic Address
President Joe Biden is scheduled to speak at the White House on Thursday about his economic agenda.
His remarks will come after weeks of negotiations among congressional Democrats on his "Build Back Better" domestic agenda to expand the social safety net and combat climate change.
Biden's address will take place in the East Room of the White House starting at 11:30 a.m. Eastern Time. The speech will be streamed live on the White House's YouTube page as well as on C-SPAN.
The White House released details of the $1.75 trillion spending package Biden will sell to his party before departing for Europe on Thursday. The proposal is a significantly scaled-back version of the originally proposed $3.5 trillion plan.
The new plan would provide universal, free preschool for all 3- and 4-year-olds in the country, which the administration estimated would include more than six million children. The legislation would also aim to lower child care costs by limiting the price to no more than 7 percent of a families' income for those earning up to 250 percent of state median income.
An extended version of Biden's Child Tax Credit is also in the proposal. The expanded benefit, which was bumped from $2,000 to $3,600 under the American Rescue Plan, would be extended for another year.
For healthcare, a provision would allow Medicare to cover the cost of hearing care. Progressives were fighting for expansions to the program to cover hearing as well as dental and vision.
Biden's proposal also includes $555 billion to address the climate crisis, including expanded tax credits for transitions to clean energy and investments to address extreme weather events.
"The Build Back Better Act will create millions of good-paying jobs, enable more Americans to join and remain in the labor force, spur long-term growth, reduce price pressures and set the United States on course to meet its clean energy ambitions," the White House said.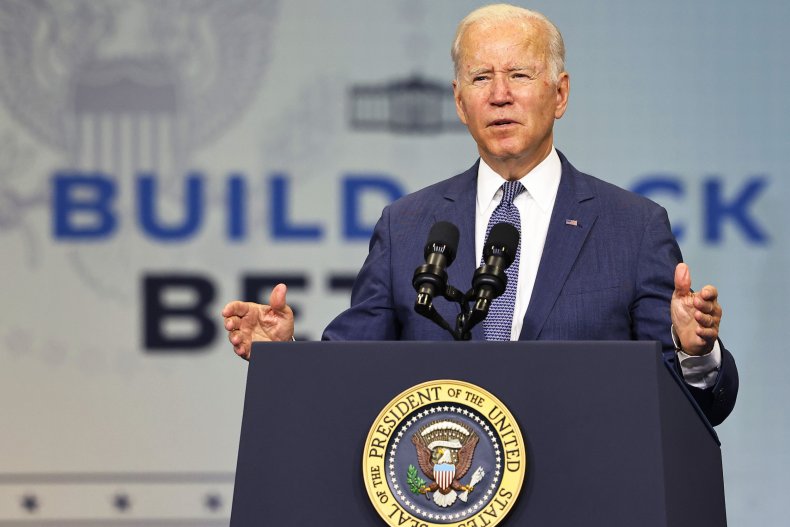 To pay for the trillion-dollar package, Biden has proposed a 15 percent minimum tax on large corporations and a new "surtax" on multi-millionaires and billionaires.
Democrats are aiming to pass the sweeping spending package via reconciliation, a legislative process that will allow them to bypass the Senate's 60-vote filibuster and the need for 10 Republican votes.
The party will need all 50 members of its caucus to back the bill in order for it to be sent to Biden's desk. A senior administration official told reporters that they believe the proposal will be supported by congressional Democrats.
"President Biden is confident this is a framework that can pass both houses of Congress, and he looks forward to signing it into law," the official said.
Representative Pramila Jayapal, chair of the Congressional Progressive Caucus, told reporters Thursday that Biden's framework shows "tremendous momentum."
"But we want to see the actual text because we don't want any confusion, misunderstandings. My understanding is that the framework is very general. So let's turn it into legislative text," Jayapal said.