How to Watch Joe Biden's Rally for Jon Ossoff, Raphael Warnock Ahead of Georgia Runoffs
One day before Georgia's crucial Senate runoff elections, candidates Jon Ossoff and Raphael Warnock will receive a final campaign push from President-elect Joe Biden.
Biden will travel to Atlanta on Monday to stump for the state's Democratic ticket. The event is expected to begin around 4:15 p.m. ET and will be live-streamed on Biden's YouTube channel. The rally can also be viewed on C-SPAN2.
Biden's visit comes just one day after Vice President-elect Kamala Harris campaigned for Ossoff and Warnock in the Peach State. At a drive-in rally in Savannah, Harris slammed President Donald Trump for pressuring Georgia's secretary of state to change the 2020 election results.
"Have y'all heard about that recorded conversation?" Harris asked the crowd. "Well, it was certainly the voice of desperation, most certainly that. And it was a bald-faced, bold abuse of power by the president of the United States."
She added, "That is a direct attack on our democracy, and if David Perdue and Kelly Loeffler had one piece of steel in their spines, one shred of integrity, they would be out here defending Georgia voters from that kind of assault."
The Washington Post reported that during an hour-long phone call with Georgia Secretary of State Brad Raffensperger, the president repeatedly asked for him to "find" enough votes to reverse his loss to Biden. Three recounts and two certifications found Biden won Georgia by roughly 12,000 votes.
"All I want to do is this," Trump said on the call. "I just want to find 11,780 votes, which is one more than we have. Because we won the state."
The president-elect is the first candidate to turn the Peach State blue in 28 years. Democrats are hoping to keep the momentum going on Tuesday, when the state holds its unprecedented double Senate runoff. Ossoff will face Perdue and Warnock will face Loeffler.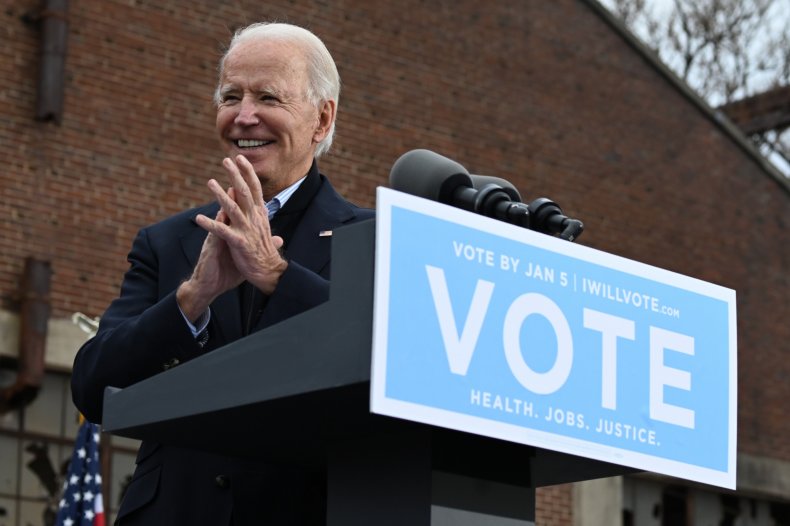 The most recent polling shows the two races to be in a dead heat. A survey conducted by Targoz Market Research found Ossoff and Perdue tied with 50 percent support each among likely voters. The same poll found Warnock leading Loeffler by 2 percentage points, which was within the poll's margin of error of 3.67 percentage points.
Tuesday's elections will determine which party has majority control of the U.S. Senate in the 117th Congress. Republicans are now set to control at least 50 seats in the next Senate, while Democrats will have 46 seats. Two independent senators caucus with the Democrats, bringing their total vote power to 48.
If Ossoff and Warnock both win, party control of the Senate would be split 50-50, and Vice President-elect Kamala Harris would cast any tie-breaking votes. If Loeffler and Perdue win, Republicans would keep control of the chamber with 52 votes.
The national stakes of the Georgia races helped fuel record-breaking early-voting turnout. According to Georgia Votes, a website that tracks early-voting data, 3,041,581 people have already cast their ballot for the January 5 contests.