How to Watch: Former CIA Director John Brennan to Testify About Russia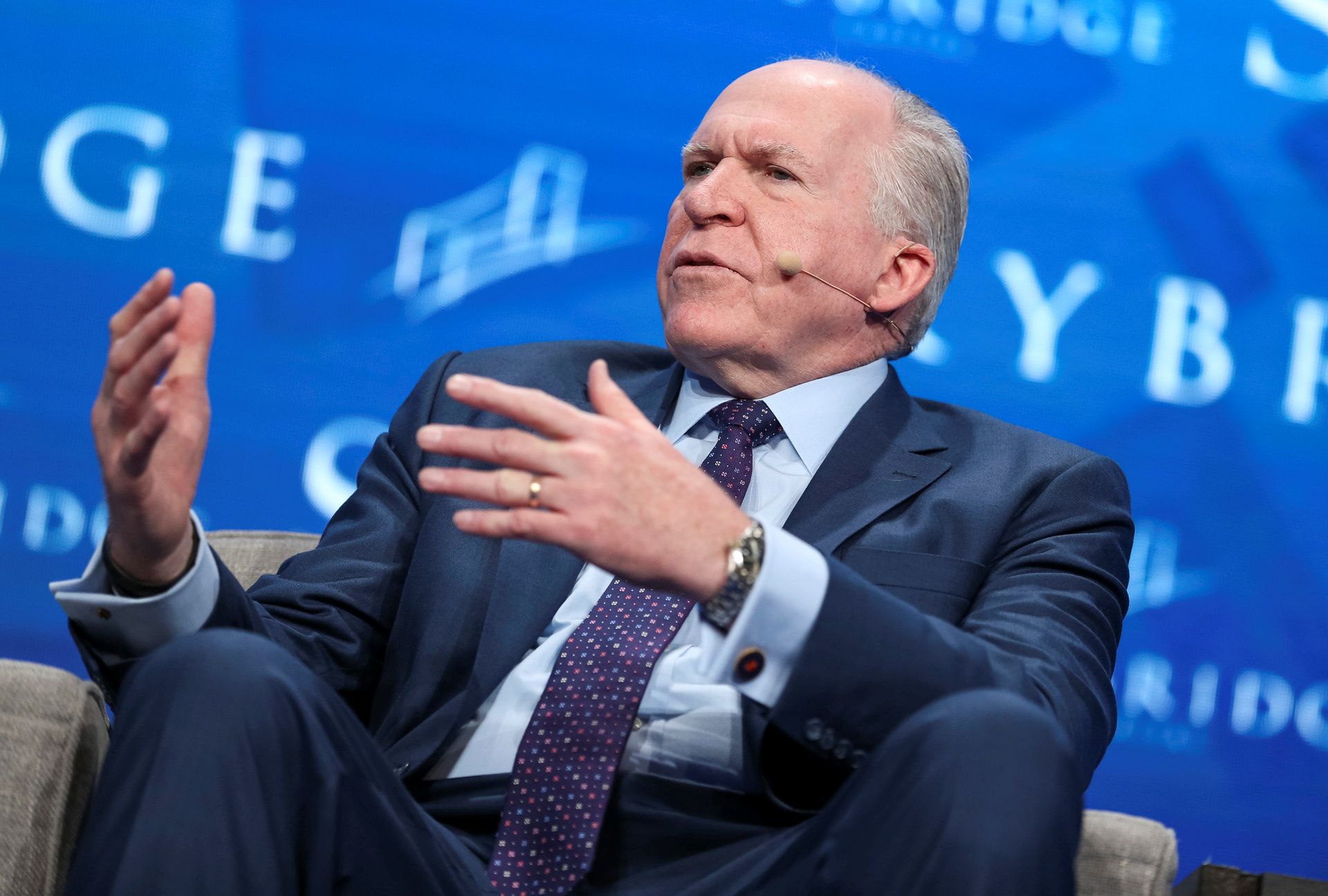 Updated | Former CIA Director John Brennan will testify Tuesday before the House Permanent Select Committee on Intelligence about Russia's influence on the 2016 presidential election. The appearance in open and closed hearings will be Brennan's first before a congressional committee since leaving the CIA when President Donald Trump took office in January.
The open hearing will stream live on C-Span.org starting at 10 a.m. EDT. The public hearing will be the House Intelligence Committee's first since March 20, when then-FBI Director James Comey testified that the bureau is investigating Russia's influence in the election and possible collusion with members of Trump's campaign.
Related: FBI Acting Director McCabe: Russia probe 'continues'
Since the previous hearing, Representative Devin Nunes, chairman of the committee, has recused himself from the committee's Russia investigation after the House Committee on Ethics said it was investigating whether Nunes made unauthorized disclosures of classified information. Also in that time, Trump has fired Comey; the Department of Justice has appointed a special counsel to oversee the FBI's Russia investigation; and a series of news reports have indicated that the president allegedly tried to rebuff the FBI's investigation, which some lawmakers have characterized as a potential obstruction of justice.
Brennan will likely face questions similar to those the committee asked Comey and the National Security Agency (NSA) director, Admiral Michael Rogers, on March 20, such as what information he had about Russia's meddling and when did he know it. Representative Adam Schiff and other Democrats on the committee might question Brennan about knowledge of possible collusion between Russia and Trump associates, while Representative Mike Conaway and other Republicans could ask about the leaking of information to the press.
The hearings come a day after reports that former National Security Adviser Michael Flynn, who was forced to resign in February amid controversy over his undisclosed contact with Russian Ambassador Sergey Kislyak, invoked his Fifth Amendment right to avoid self-incrimination rather than agree to appear before the Senate Select Committee on Intelligence, which is conducting a separate Congressional inquiry into the Russia matter. In a statement, Schiff, the ranking member of the House Intelligence Committee, said, "Flynn's refusal to provide testimony to either the House or Senate Intelligence Committees, is disappointing. We will continue to explore whatever means are necessary to obtain information vital to our investigation, and follow the facts wherever they lead."
The committee members might ask Brennan whether in his final months as CIA director he had concerns about Flynn, who Trump had announced would take the national security role, as The Washington Post reported in February, and whether he voiced those concerns. Former Acting Attorney General Sally Yates has testified before a separate congressional committee that she voiced concerns about Flynn to Trump's White House counsel.
In the open hearing, Brennan could cite the declassified report that U.S. intelligence officials published in January. The report stated that Russian President Vladimir Putin ordered a campaign to influence the outcome of the 2016 election and "denigrate" Hillary Clinton in order to help Trump win. Brennan could provide more information to the committee in the closed hearing.
The House Intelligence Committee is conducting one of several federal inquiries regarding Russia and the election. The Senate Intelligence Committee, the Senate Committee on the Judiciary and the FBI are also looking into the matter. Former FBI Director Robert Mueller is serving as special counsel overseeing the FBI investigation.
Brennan testified about the Russia matter before the Senate Intelligence Committee in January, prior to leaving the CIA. During that hearing, Brennan said that last August he had warned Alexander Bortnikov, a Russian official, that if the reports of Russia's meddling were true, then "Russia was playing with fire and it would be roundly condemned not just by the U.S. government but by the American people." Bortnikov denied such meddling but told Brennan he would relay the message to Putin, Brennan testified.
The former CIA director has criticized Trump's handling of Russia. Days before the inauguration, after Trump condemned U.S. intelligence agencies following the release of an unflattering dossier containing information that Russia allegedly kept on him, Brennan told Fox News, "I don't think he has a full appreciation of Russian capabilities, Russia's intentions and actions that they are undertaking in many parts of the world." He added, "What I think Mr. Trump has to understand is that this is more than being about him, and it's about the United States and our national security." Trump responded by criticizing Brennan in a pair of tweets.
Speaking at a financial investment conference in Las Vegas on May 18, Brennan reportedly criticized Trump's having shared potentially classified intelligence with Russian officials during a meeting in early May. But Brennan went on to say it was the leaks in the media related to that disclosure that had caused "the real damage to national security," according to Yahoo Finance.
Brennan's remarks on Tuesday will come hours after a report by The Washington Post that Trump in March asked Director of National Intelligence Daniel Coats and the NSA's Rogers to publicly deny that members of his campaign colluded with the Russian government. The White House declined to comment to the newspaper.
Correction: This article previously incorrectly stated that reports said Michael Flynn had refused to appear before the House Intelligence Committee. The reports in fact said he had refused to appear before the Senate Intelligence Committee.