In Olympic Dreams Featuring Jonas Brothers, Kevin, Joe and Nick Jonas go up against each other in a series of Olympic sports to attempt to gain their place on the U.S.A. Team.
Of course, given the Olympic teams are already in Tokyo, Japan, the boys may have missed their chance.
Nevertheless, the show will focus on their training with Olympic athletes in gymnastics, BMXing and hurdles, to name just a few.
In the end, there will only be one winner, and even if they cannot join Team U.S.A. in Tokyo, they can at least earn the right to ridicule their other brothers at every future Thanksgiving.
Streaming Jonas Brothers' Olympics Special Online
The show is being broadcast by NBC on Wednesday, July 21, at 8:00 p.m. ET/PT.
For those who want to watch it online, many NBC shows are available via their website and on Peacock.
The special will not only feature the band, but also some major athletes and commentators.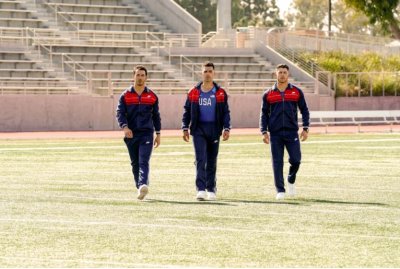 The official synopsis for the show reads: "For millennia, the Olympic Games have been the preeminent sporting competition and the ultimate test of athleticism. Only the world's best ever have a chance to compete.
"For three brothers raised in Wycoff, N.J., becoming Olympians was a dream established at an early age. And it was only sidelined by another lofty goal—pop superstardom.
"Now, after more than a decade as one of music's biggest names, the Jonas Brothers are ready to prove they have what it takes to compete at an Olympic Level. Joe, Kevin and Nick will be trained by some of Team USA's best athletes as they compete against their biggest rivals—each other."
The show is an hour-long special and will show the boys training, but also competing in different sports, with Rich Eisen and Terry Crews acting as commentators.
Their training is with some of the best Olympians in history, many of which hold more than one gold medal to their name.
Here is a list of the Olympians who feature in the special.
Laurie Hernandez: Olympic gold medalist in gymnastics
Nastia Liukin: Olympic gold medalist in gymnastics
Sydney McLaughlin: Olympian and world record holder in hurdles
Sanya Richard-Ross: Four-time Olympic gold medalist in track and field
Alise Willoughby: Olympian in BMX racing
In a sneak peek of the show, the boys are seen practising various sports, including doing some rather extraordinary feats in gymnastics.
Kevin Jonas says: "I think the competitive nature between the three of us is very high, no matter what it is that we're doing. We are always out to win."
Nick Jonas then jokes: "I think it's safe to say we knew this day would come," to which Joe Jonas adds: "We have been preparing for this moment for our entire lives.
"This is a dream come true, we're ready to take the golds home with us."
He then jokes they are "here to win hearts not medals" in their competition, where Nick Jonas says they will make "fools of ourselves."
Olympic Dreams Featuring Jonas Brothers is broadcast on NBC on Wednesday, July 21, at 8:00 p.m. ET/PT.